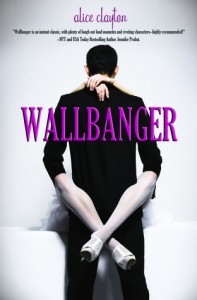 ---
4 STARS!!!
Synopsis
Caroline Reynolds has a fantastic new apartment in San Francisco, a KitchenAid mixer, and no O (and we're not talking Oprah here, folks). She has a flourishing design career, an office overlooking the bay, a killer zucchini bread recipe, and no O. She has Clive (the best cat ever), great friends, a great rack, and no O.
Adding insult to O-less, since her move, she has an oversexed neighbor with the loudest late-night wallbanging she's ever heard. Each moan, spank, and–was that a meow?–punctuates the fact that not only is she losing sleep, she still has, yep, you guessed it, no O.
Enter Simon Parker. (No, really, Simon, please enter.) When the wallbanging threatens to literally bounce her out of bed, Caroline, clad in sexual frustration and a pink baby-doll nightie, confronts her heard-but-never-seen neighbor. Their late-night hallway encounter has, well, mixed results. Ahem. With walls this thin, the tension's gonna be thick…
In her third novel, Alice Clayton returns to dish her trademark mix of silly and steamy. Banter, barbs, and strutting pussycats, plus the sexiest apple pie ever made, are dunked in a hot tub and set against the gorgeous San Francisco skyline in this hot and hilarious tale of exasperation at first sight.
Denise's Review
Simon Parker and Caroline Reynolds meet in a very unique way; this makes for some funny banter and nicknames for each other before they ever know each others names.
How they get those nicknames for each other make sure some laugh out loud moments 🙂
I truly enjoyed watching Simon and Caroline get to know each other; they bonded as friends, they bonded while baking; they engaged in adorable conversations with friends.
The character development for both Simon and Caroline was well done; both became real in my mind even if personally I often could not relate to Caroline and her "struggles."
When these two finally connect the reader can feel the steam through the pages. And when Ms. Reynolds finally achieves what she has been "missing" that too can be felt by the reader.
Seeing Simon start out, as a reader you will start to think about whether he could or would ever settle down. Surprisingly the connection between these two developed into something so strong I found myself thinking yes, he has evolved into a man wanting more, wanting Caroline as only his.
I adored how these two came together the use of much of what they have experienced earlier in the book pull it all together
The last few pages of this book are told in a very unique POV; no I am not going to tell you, you are going to have to read it to find out.
Thank you to Ms. Clayton for a funny, flirty read.
About the Author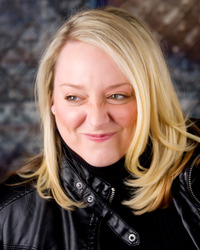 Alice Clayton is a novelist with an unholy love for her KitchenAid mixer. Making her home in St Louis, she enjoys gardening but not weeding, baking but not cleaning up afterwards, and is trying desperately to get her long time boyfriend to make her an honest woman. Hi sweetie!!
After working for years in the cosmetics industry as a makeup artist, esthetician, and national educator for a major cosmetics company, Alice picked up a pen (read laptop) for the first time at 33 to begin a new career, writer. Combining her love of storytelling with a sense of silly, she was shocked and awed to be nominated for a Goodreads Author award in 2010 for her debut novels, The Redhead Series.
Alice has penned three novels, The Unidentified Redhead,The Redhead Revealed, and coming soon in November 2012, Wallbanger. She thinks you should purchase them immediately. She's not kidding, not even a little bit. Everyone needs some comedic erotica in their lives. She is hard at work on the third book in The Redhead Series, set to release in Spring of 2013, continuing the saucy and sexual escapades of everyone's favorite couple, Jack and Grace.
Additionally, Alice loves spending time with her besties on Not Your Mother's Podcast, make sure you check them out at notyourmotherspodcast.com or over on iTunes. 3 women rushing towards their forties still acting like teenagers. A saucy little mix of sex, love, relationships, pop cultural, celebrity gossip and All Things Jake Ryan.
Alice enjoys pickles, Bloody Mary's, 8 hours of sleep, and a good pounding.
Finally Alice would also like all her readers and listeners to help her convince Mt. Alice that the only other thing that would make her truly happy is finally bringing home a Bernese Mountain Dog. She is totally serious. And done talking about herself in the third person…