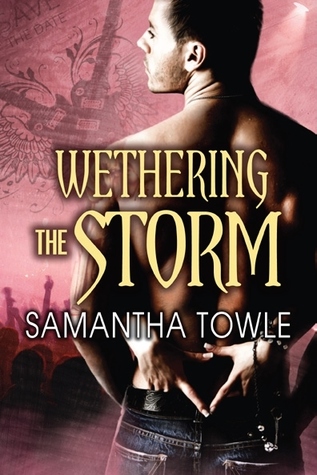 Enjoy a dual review from Denise and Christine below!
Read Christine's 5 STAR review for book 1, The Mighty Storm here.
---
Synopsis
Music journalist Tru Bennett has done the impossible: capture the heart of rock-star bad boy Jake Wethers. Now they're busy planning a wedding and navigating their new life together in the US. Of course Tru misses London and her best friend, Simone, but living happily ever after with Jake in LA is going to be great…right?
Wrong. Even the bright California sun can't whitewash the dark side of celebrity coupledom. Greedy music execs, merciless paparazzi, and Jake's wild past are lurking around every corner. Making matters worse, Jake announces he doesn't want kids, which just may be a deal breaker.
Tru loves Jake more than anything. But when a devastating crisis threatens to destroy everything they've fought for, the couple must face the hard truth: What if, this time, love is not enough?
Denise's 4.5 STAR Review
Wethering the Storm picks up where The Mighty Storm ended so if you have not read The Mighty Storm, stop reading this and go one-click it now.
Ok on to Wethering the Storm – Tru Bennett and Jake Wethers have found each other and re-connected after year of not speaking. But is love enough? How do you turn love into happy? And how does happy even work when you find yourself in LA with a rock god everyone wants a piece of?
I thoroughly enjoyed this book, Jake battles his demons, wanting to find a way to keep his happy with Tru. Tru works to stay true to herself while finding herself in a new city faced with living a world foreign to her.
I am so not telling you how these two find their balance or their happy because it was wonderful for me as a reader to experience.  Jake coming to terms with happy, with learning he would give everything he had for this happy he thought would never be his.
I will say I thought it was so well done, even as Jake finds himself faceing the possibility of great loss, his battle is real and tangible to the read.  Jake is an addict and that does not go away just because you find love.
Tru and Jake's family are used really well in this story it makes their happy more fulfilling as these two show the power of love and mend fences and re-connect wounded hearts.
I do want to say that Ms. Towle's use to Johnny, Jake's deceased friend, was a wonderful touch and when Tru's "gesture" brings this full circle it brought a tear to my eye.
Ms. Towle's story for a secondary character Stewart truly warmed my heart. And yes I was so happy for him.
I adored, adored the end of this book.
I am very much looking forward to Tom's story and did like that given the events in Wethering the Storm that Tom Cat appears to growing up a bit.
Hats off to Ms. Towle – the wait was well worth it! Tru and Jake's story was so much fun to experience, roller coaster and all.
Christine's 5 STAR Review
…once upon a long time ago, in Manchester, a girl moved next door to a boy…
And so continues the story of one of our favorite rock star couples of all time – Jake Wethers and Tru Bennett.  OMG I am so happy to be reading about this couple again!  I am excited for the next chapter in their life and have looked forward to Wethering the Storm since The Mighty Storm ended!
Without going into too much detail as this is a dual review – Tru and Jake are in a great place in their life.  I LOVE the alternating POV's and seeing the happiness and love that just radiate from this couple.  Their easy going banter put a smile on my face and I'm just as in love with Jake as I was in TMS – only this time around he is even more domesticated, loving, sexually demanding and HOT as ever!
Jake and Tru will find themselves facing many real life issues and like any ordinary every day couple will have to deal with all of relationships ups and downs.  Through it all, their love never faltered and they loved so intensely that I felt and understood a lot of their reactions as I felt the same as I experienced it with them.  I cried, I laughed, my heart broke a little – I felt a range of emotions from this book…
This was a beautiful journey that started off when two people met as kids and it took a long time and some mistakes for them to realize that they were each others' home – they were each others' soul mates and always meant to be.  The ending was so romantic and was in my mind complete PERFECTION…I wouldn't have wanted it any other way.  My heart felt so full and complete and was bursting with the love and warmth I felt from Jake and Tru's story – most of all Ms. Towle's beautiful writing.
I couldn't be happier – The Mighty Storm family is one you want to know and be a part of and watch grow.  I loved every single character including the secondary characters and the beautiful family that Ms. Towle created.  I can't wait to read Tom's story!!!  Hurry please!!!!
Job well done! <3 <3
About the Author
Samantha Towle began her first novel in 2008 while on maternity leave. She completed the manuscript five months later and hasn't stopped writing since. She is the author of The Mighty Storm, The Bringer and the Alexandra Jones series, all penned to tunes of The Killers, Kings of Leon, Adele, The Doors, Oasis, Fleetwood Mac, and more of her favourite musicians. A native of Hull and a graduate of Salford University, she lives with her husband, Craig, in East Yorkshire with their son and daughter.