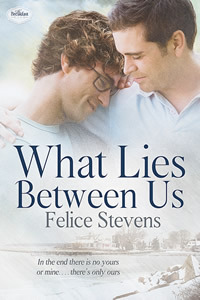 What Lies Between Us

by Felice Stevens
on February 14, 2016
Pages: 78
Buy on Amazon
Goodreads


Now that he's living with Sam Stein, Zach Cohen is finally ready to move on from his unhappy past. His days are filled with wedding preparations, yet he still finds time to make plans and decisions without consulting Sam and his mother, firmly believing he knows best.

Sam is ready to settle in for the perfect life with Zach but years of bad habits have come back to haunt him. Struggling to accept himself and his future, he chooses not to share his fears, unwilling to look weak in Zach's eyes.

Real life gets in the way of the best intentions and when their secrets explode, the aftermath challenges the foundation of a relationship both believed unshakeable. Falling in love is the easy part, and Zach and Sam discover that only with honesty can they overcome what threatens to tear them apart.

This is a novella of approximately 25,000 words in The Breakfast Club series
Please do NOT read this book unless you have read Betting On Forever as it is the start of Sam and Zach's story. This novella offers insight as they move their relationship forward.
I loved this edition to this series. Ms. Stevens offers a wonderful look into the lives of Sam and Zach as they plan their marriage and work to build a life together.
You can truly feel that Zach and Sam are meant to be together:
"You know I can't sleep without you anymore."
Having said that, building a life together isn't easy. You have to learn to change, to adjust and how to make decisions together. I adored the realistic way the author handles this one, especially the line between a romantic gesture and making a decision without your partner; relationships are such a balance and the author highlighted that here!
The author did a wonderful job using the supporting cast to craft the story; the use of Zach's mom really added to the story and all those involved with planning the wedding made this book so much fun!
This book took a happy for now and made it a true happily ever after.
♥READ THE SERIES♥
Book 1 – Beyond the Surface
Book 2 – Betting on Forever
Book 3 – Second to None
Book 4 – What Lies Between Us