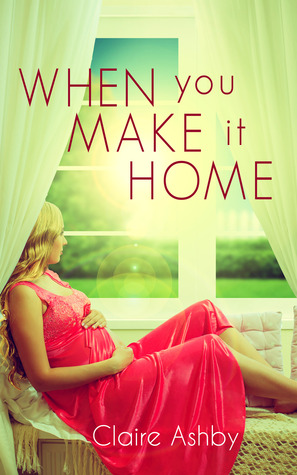 When You Make it Home

by Claire Ashby
on July 2014
Pages: 320
Buy on Amazon
Goodreads


Meg Michaels, a bookstore owner, has already walked away from two cheating exes. She's learned her lesson and has her mind set on success—until she gets knocked up. Embarrassed and unwilling to discuss her situation with friends and family, she wears layers to hide the pregnancy.

When Meg gets sick at a party, she's mortified. Even worse, Theo Taylor, the guest of honor, discovers her secret. Theo, an Army medic wounded in the war, agrees not to reveal her condition, and the two forge a bond of friendship that blossoms into love.

Theo is soon filling all of Meg's late-night cravings—and not just the pregnancy-induced ones. But can their love overcome all the obstacles that stand between them and creating a happy family?
This is one of those books that took me by surprise. I took a chance with a new author when the blurb caught my attention and I am so glad I did. This is not your typical boy meets girl story and I was so thankful for that!
After a few weeks of highly anticipated books disappointing me, this one took me by surprise. And I started to write a review after spending days not being able to get this one out of my head. I am rating it 4.5 stars!
From the moment Meg and Theo meet, I was engaged in this book and  I was thankful I started this book during a long car trip as it allowed me to spend hours lost in this touching story.
Theo Taylor is an Army medic wounded in war while Meg Michaels, a bookstore owner,  is trying to hide her unplanned pregnancy due to the circumstances around it and the fact that she walked away from a cheating ex.
I want to pause and say that Meg's pregnancy and how this plays out in the story was so well done.  How it affected each character and how it was woven throughout the story kept me glued to my kindle.
Theo quickly figures out Meg's secret, her trying to hide her pregnancy and these two form an unlikely friendship, one that was so heart warming to read. Bearing witness to friendship turn into love well that was what truly made this book so wonderful to get lost in!
I loved the relationship between Ellie and Meg, two best friends pregnant at the same time, though under very different circumstances.
As a Mom, I loved some of the conversations around this:
"By becoming pregnant, I'd unsuspectingly signed up for a club that I couldn't cancel the membership to. The rules of the club were that one must smile and nod politely while being force-fed graphic information about a billion little nasty things that would most definitely happen in the near future."
As I mentioned Theo is a wounded Vet and although there were times this made for some very cute banter, there were some memorable scenes as he struggles to re-adjust to civilian life.
Lines like this:
"The pills were taking his pain, and they were taking him with it."
The end of this book was so well done, it tied Theo's past to his future and truly made me believe this couple is on a path to true happy.
I adored how in the end the secret Theo was waiting to reveal to Meg was kept and the reveal of it capture my heart!
Thank you, Ms. Ashby – the road to happy is not always easy but when the struggles fit the characters so perfectly it means the author nailed it!
I am so excited to have learned that Steve, Meg's twin brother is getting a story.
It may be important to note that the one thing I felt like I truly wanted was to hear from Theo and since this was a single female POV book that has nothing to do with the author's writing ability, simply a desire in my heart to know more about this man who the author masterfully transformed into a man I want to know more about.
So yes finger crossed that in Steve's book we see more Theo! .. more Theo in his NEW role in life!