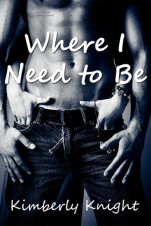 3 STARS!!!
Summary
Spencer Marshall was done moping. After catching her boyfriend cheating with his secretary, she decides to have a girl's weekend in Vegas with her best friend Ryan. Lady Luck must be looking out for Spencer, because that weekend will change her life forever. Despite what people say, not everything stays in Vegas.
Christine's Review
Where I Need to Be is a debut novel by Kimberly Knight.  I was provided an ARC copy for an honest review.  I have to say that I was immediately drawn to this book because the cover is super-hot and gorgeous!
That being said, I did have some issues with the book.
Spencer Marshall is 27 years old and has caught her boyfriend Travis cheating on her.  What better way than to move forward and onward then a girl weekend in Vegas! 
Brandon and Spencer meet and there is definitely an incredible attraction between them.  But I had a hard time getting truly engaged with them because I felt that the pace was very rushed and I couldn't connect to them because there was no actual description of what they looked like so I had a hard time imagining them in my mind.  Don't get me wrong, I enjoy a good sex scene which there was plenty of and I thought that the author had a great storyline and it had so much potential but I just wish that the tone was paced a little better and that there was more character development.  I am very interested to see what will happen to these characters so would love to read the 2nd book in this series to see where the author takes this. 
If you are looking for a fast paced hot read, I encourage you to give this book a try.   I definitely look forward to reading Ms. Knight's future works and feel that with more time and work on her craft that she will grow into her writing style and voice. 
About the Author
Office Manager/Paralegal by day, Author by night. Oh who am I kidding, I write at work too!
What would you like to know? Send me an email at authorkknight@gmail.com.
Twitter  https://twitter.com/Author_KKnight
Website http://authorkknight.blogspot.com/
Facebook https://www.facebook.com/AuthorKKnight
Goodreads http://www.goodreads.com/author/show/515767.Kimberly_Knight