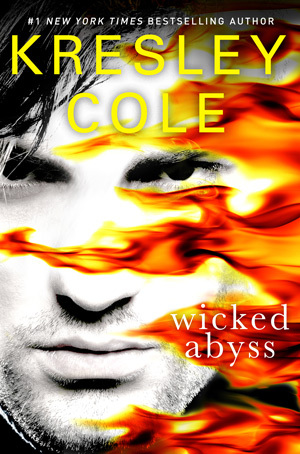 Wicked Abyss

by Kresley Cole
on April 25, 2017
Pages: 400
Buy on Amazon, Buy on B&N, Buy on iTunes, Buy on Kobo
Goodreads


This fairy tale doesn't end with a kiss... A spellbinding Immortals After Dark tale from #1 New York Times bestselling author Kresley Cole!

The terrifying king of hell...

As a boy, Abyssian "Sian" Infernas had his heart shattered by a treacherous fey beauty who died before he could exact vengeance. Millennia later, a curse has transformed him into a demonic monster--just as she's been reincarnated. Sian captures the delicate but bold female, forcing her back to hell.

Meets his match.

Princess Calliope "Lila" Barbot's people have hated and feared Abyssian and his alliance of monsters for eons. When the beastly demon imprisons her in his mystical castle, vowing revenge for betrayals she can't remember, Lila makes her own vow: to bring down the wicked beast for good.

Can two adversaries share one happily-ever-after?

As Calliope turns hell inside out, the all-powerful Sian finds himself defenseless against his feelings for her. In turn, Lila reluctantly responds to the beast's cleverness and gruff vulnerability. But when truths from a far distant past are revealed, can their tenuous bond withstand ages of deceit, a curse, and a looming supernatural war?
I LOVE Kresley Cole and the Immortals After Dark series…I have been reading this series for many years and am just catching up by reading Wicked Abyss, a book that has been sitting on my shelf since April waiting for me to pick it up.
I love feisty heroines, sexy heroes, and a story that keeps you at the edge of your seat until the very end. And in true Kresley Cole fashion, this book is HOT AS HELL (pun totally intended).
"Where is the Magic Kingdom?"
"Right between Rivendell and Narnia, asshole."
Omg I was dying reading the banter between these two. Of late, I have been feeling pretty blah about books but Cole is a must read on my list of authors to read and always successfully pulls me out of my reading slump.
I enjoy catching up with old friends from previous books and more importantly falling in love with new couples and their stories of finding their mates and happily ever afters.
Cole continuously gives us alpha males with dirty mouths that we readers guiltily love, and sassy smart heroines that we want to be. This is definitely a re-creation of Beauty and the Beast that readers will fall in love with and enjoy! If you like paranormal romance, this is a must read series.
I can't wait for more in this series that I never want to end!!!! <3