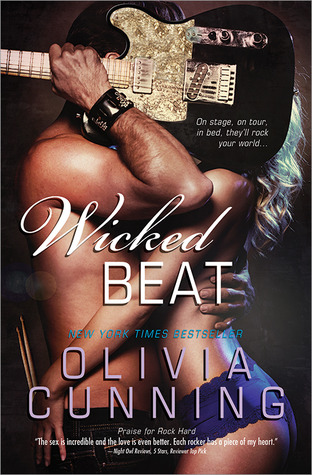 ---
4.5 STARS!!!
Synopsis
From the moment he lays eyes on Sinners' new front of house soundboard operator, drummer Eric Sticks knows he has to make Rebekah his. Unfortunately, she's too busy trying to seduce guitarist Trey Mills to pay him much attention. Rebekah never planned to fall for the tall, goofy drummer with the weird sense of humor and a heart the size of the galaxy. But Eric makes her laugh and his constant attention makes her feel sexy and irresistible–exactly what she needs after the things her last lover said to her. A woman who gives as much as she takes, Rebekah makes Eric feel like a total stud–exactly what he needs after surviving a decade of watching the incredibly talented members of Sinners from the wings.
Denise's Review
Wicked Beat is Eric Sticks story, the Sinners' drummer, when Eric sees Rebekah he has an instant attraction.
Though it appears at first Rebekah's only has eyes for Trey Mills, you know the sexy guitarist both men and women lust after.
If you remember Eric from the prior books he prefers to "watch" so his desire to "touch" is fun to watch him process and hysterical to watch the other band members deal with.
As the story unfolds the use of Trey to pull these two together spoke volumes to me about not just Eric but Trey. Trey sees these to belong together and his actions throughout the book to help ensure these two are together range from heartwarming to in typical Olivia Cunning fashion hot as well.
Rebekah is taken aback to find yes she lusts after Trey but she is drawn to by Eric, his sense of humor, the goofy sense of humor they share, she is developing a deep connection to him. This was wonderful for me, it highlighted the difference between desiring a star from afar for his talent and looks and falling in love with someone for their soul and how they touch yours.
The connection Eric and Rebekah feel is something the reader can almost touch. Ms Cunning masterful use of words opens up Rebekah heart and body to feels she thought she lost forever. No, I won't tell you why you need to read the book.
Those who read my reviews know I love Ink with a story; well the use of Ink in this book as one of the best I have seen, it not only highlight the connection these two share but also Eric's musical genus something he seems to hide a bit.
Eric and Rebekah's backstory weave together almost perfectly, the future it will creates provides both what they need in a happy.
I thoroughly enjoyed reading Wicked Beat, it was the kind of read that make you wish you could sit all day alone and get lost in the world Ms Cunning created.
The way the band interacts with each other makes for many truly enjoyable scenes.
The Sinners series for me creates a 5 star timeline and an amazing read.
About the Author

Combining her love for romantic fiction and rock 'n roll, Olivia Cunning writes erotic romance centered around rock musicians. Raised on hard rock music from the cradle, she attended her first Styx concert at age six and fell instantly in love with live music. She's been known to travel over a thousand miles just to see a favorite band in concert. As a teen, she discovered her second love, romantic fiction — first, voraciously reading steamy romance novels and then penning her own. Growing up as the daughter of a career soldier, she's lived all over the country and overseas. She recently moved to Galveston, Texas.