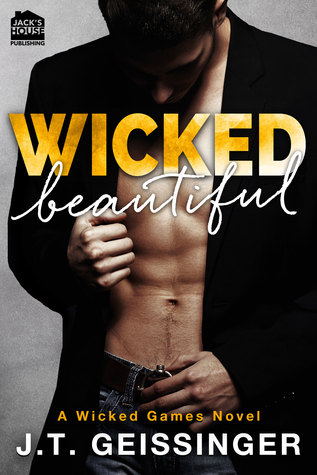 Wicked Beautiful

by J.T. Geissinger
on July 12, 2016
Pages: 380
Buy on Amazon, Buy on B&N, Buy on iTunes, Buy on Kobo
Goodreads


A ruthless businesswoman and the playboy who dumped her long ago find themselves embroiled in a high stakes game of love, lies and revenge.

Life coach and best-selling author Victoria Price has it all: a successful career, fabulous friends, a fantastic penthouse in Manhattan. What she doesn't have—and doesn't want—is a husband. Fifteen years ago her high school flame broke her heart so badly she swore she'd never love again. Now she makes millions teaching other women how to be just like her: a ruthless bitch.

Drop-dead sexy restauranteur and infamous playboy Parker Maxwell has only three rules for the women he dates: no questions about his past, no expectations for the future, and no spending the night. When he meets Victoria, however, he's willing to break his own rules if it means sating the explosive desire she arouses in him. What he doesn't know is that the alluring Victoria Price used to be the mousy Isabel Diaz, the girl he deflowered and dumped long ago.

Presented with a perfect opportunity for revenge, Victoria decides the game is on. But when her connection with Parker proves more than just skin deep, she has to make a choice: continue with her plan for payback, or risk her career, her reputation, and her heart by taking a second chance on love?
If you are looking for a new author to absolutely fall in love with then look no further than J.T. Geissinger! I picked this book up on a whim after seeing one of my blogger friends say so many wonderful things about this book (Thanks to Natasha is a Book Junkie <3!). And then I started this book and I was hooked…like hooked in a way that I couldn't stop reading, I couldn't put this book down, I took it in the car with me when my hubby was driving to the beach to take the kids crabbing, I was picking it up at every second I could – because I COULD NOT STOP READING – it was so DAMN GOOD!
I love finding new authors to read – that was one of my biggest goals this year and I have to say that I really feel like I succeeded in my plans because this is another #mustread author for me.
So what's this book about?
Well, Victoria Price is the Queen of Bitches everywhere. She gives seminars to women on how to be strong and successful in a man's world. She doesn't do relationships, she is as cold as ice.
Parker Maxwell is a restauranteur and known player – he doesn't date but has fun with women, no commitments, no future plans.
Holy hell when these two meet – their eyes meeting across the restaurant, readers will feel their connection. You see Victoria and Parker have a past; one that Victoria is aware of and Parker is clueless about. Victoria's instant hatred is apparent while Parker is immediately attracted to her on a physical level. And all the while Victoria is planning her revenge on a man who stole her heart completely, Parker is plotting to woo this woman and win her over because for the first time, he feels like he wants more, he feels like he is coming home.
And we know that revenge isn't always so sweet right?? And that sometimes beyond the hate, the heart will overrule because how can you ever forget your first real love??
I can't tell you anything more because I don't want to ruin this story for you but just BUY IT! Seriously BUY IT!
OMG guys! If there is any book that you must stop and drop everything else for, it's this one! Refreshingly different, completely addicting, and wicked, this book has it ALL! I completely fell in love with every single character…every emotion touched my heart…every turn of the page intense and amazing. I love when an author can write a really great story infused with great dialogue and incredible characters. This was beyond anything I expected and I have to say that this author has found a new and forever fan.
I definitely plan on picking up book 2 in this series very soon because I fell hard for all of the secondary characters too and I WANT MORE!!!!
<3