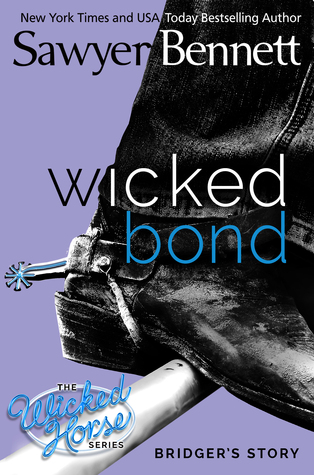 Wicked Bond

by Sawyer Bennett
on September 13, 2016
Buy on Amazon, Buy on B&N, Buy on iTunes, Buy on Kobo
Goodreads


Bridger Payne is an enigma that no one can figure out. Wise beyond his years, eerily intuitive and sexy as hell, every woman in The Silo wants him.
None can have him.
Not the real man, anyway.
He might wield the lash for you if you ask prettily, but he'll get no gratification from it. He'll definitely make you scream, but he won't think twice about you when he walks away.
Bridger carries the darkest of secrets. He's filled with too much pain.
He's utterly untouchable.
Until she came along.

**Warning: this book has sex in it. Lots of sex. Dirty sex. The Wicked Horse Series is a bit different than what Sawyer Bennett normally writes. While you'll still enjoy fabulous characters, a suspenseful story, some witty banter and an epic romance, there's just… a lot of sex. You've been warned.
It is no secret that I have loved this series from book 1; book 1 which was smoking hot. Well for as a hot as book 1 Wicked Fall was book 5 Wicked Bond is that emotional.
If you are as big a fan of this series as I am, you know that the epilogue of book 4 Wicked Ride finally provided some OMG insight into Bridger.
This "insight" plays out through Wicked Bond and let me tell you that your heart will continue to break for this man. There is so much pain as the demons of his past threaten the happy right in front of him.
This series proves in spades Ms. Bennett's prowess as an author as the range of emotions and writing in this series is amazing.
I adored how Adrian was layered into the story, adding much needed backstory for Bridger while pushing the story forward.
Wicked Bond sees a sexual act portraying such emotion (oh yes a great visit with a prior Sawyer Bennett couple to The Silo) that is a catalyst for Bridger.
I truly don't want to reveal too much but what Maggie brings with her offers so many amazing scenes with Bridger that throughout the book, I often found myself smiling (see a huge range of emotions).
The epilogue of this book was unlike the ones in the prior books. It is still about the couple featured and well ear to ear grin as Bridger (and readers) waited a long time for this happy (a perfect happy for him by the way).
Thank you Ms. Bennett for the amazing series!
If you have not read this series 1-click it now as binge reading will make for such an enjoyable experience!