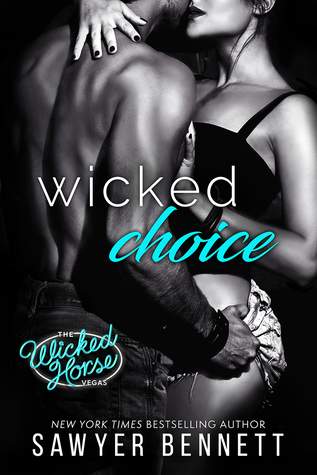 Wicked Choice

by Sawyer Bennett
on January 2, 2018
Buy on Amazon, Buy on B&N, Buy on iTunes, Buy on Kobo
Goodreads


Rachel Hart and Bodie Wright are nothing more than teammates. As mercenaries for hire with the elite Jameson Group, they have each other's backs in the most dangerous of circumstances. But after a mission gone deadly wrong, Rachel does something she's never done before. She crosses the professional line and takes comfort in Bodie's arms.

One night of passion turns their lives upside down with a pregnancy neither of them expected, and one that Rachel was too terrified to ever want. Bodie, however, is a family man through and through, and he's determined to raise their child alone if necessary.

The only common thread Rachel and Bodie have is their membership at The Wicked Horse, a sex club that lets them both fulfill their dirtiest fantasies with each other. As they become more intimately entwined, the strong, steady man with a heart of gold makes Rachel question everything she ever thought she knew about herself. Their wicked nights together make them so much more than teammates and Rachel is about to discover the choices she thought were the most difficult are actually the easiest ones to make.
Please make sure to read the author's message in Wicked Choice prior to reading the story as it is key I think to understanding how this story fits. What do I mean by fit? Well, this story isn't what I think most readers expect from a "Wicked Horse" book.
Now the story, I really did enjoy this one! Bodie Wright and Rachel Hart both work for The Jameson Group, an elite high end security firm owned by Jericho, the hero of book one of the Wicked Horse Vegas series. Oh I should say this book can absolutely be read standalone. These mercenaries have a strictly working relationship built on trust and mutual respect… until they don't.
One night crossing that line in the heat of the moment leads to more complications than they could have ever imagined…
When futures are forever changed and careers are on the line… I love Brody so much it was hard not to want to jump into my kindle and hug him!
Besides their work, the only other thing Rachel and Bodie have in common is their membership at The Wicked Horse. This makes for some very hot scenes but ones the author masterfully weaves emotion into as the story develops.
The Choice in the story is a wonderful one; and one I think will have many readers thinking… I truly enjoyed this angle. The expectations society puts on women can be overpowering and judgmental and constraining. In light of this I loved the hero even more, as he never judged, only asked for concessions and in the end the heroine made her OWN decisions!
I am very much looking forward to the next Wicked Horse book as I hope it will return to what I have come to love about this series!


Rage and guilt and booze swim through my blood. For a split second, I feel like I'm in another world. But then my eyes focus and I see Bodie staring down at me, his eyes soft and almost nurturing, and I hate that even more.
"Fuck you," I curse under my breath right before I choose to get my release another way. 
I jump on him.
That gets the big lug to move since he's so surprised by my attack. But it's not to hit him or strike out in my anger. It's a way to release my emotions in a way that feels good.
My legs spread and go around his hips, locking tight. Hands to his neck, I stare at him for what seems like an eternity but is only a second or two, and then my mouth is on his.
Bodie makes an unholy sound from deep within his chest. For a moment, I think it's disgust, but then his hands go from my shoulders down to my naked ass, bare since the towel fell away from my body.
We kiss so hard my lips feel bruised and my blood now rages with something other than anger.
Pure white-hot lust.