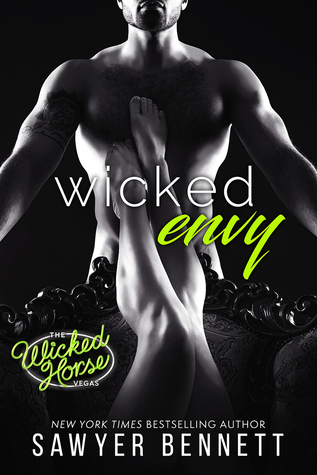 Wicked Envy

by Sawyer Bennett
on October 27, 2017
Buy on Amazon, Buy on B&N, Buy on iTunes, Buy on Kobo
Goodreads


The best of friends.
Two men. One woman.
A sinful playground called The Wicked Horse.

Entrepreneur turned millionaire, Dane Hawthorne, has been known to get his kicks at The Wicked Horse Vegas, and he has no shortage of beautiful women waiting for a shot at him. Driven to succeed, no matter if he's in the boardroom or the bedroom, Dane never backs down from a challenge.

Avril Carrigan isn't the type of woman to take risks in her personal life but after a broken heart and too much liquid courage, Avril decides to best way to get over one man, is to get under another. Looking to experience all the debauchery she's heard about from her best friend and business partner, Dane, she requests one thing of him—take her to The Wicked Horse.

The request seems simple. One friend helping another in her time of need. But now that they've crossed the threshold, things aren't as easy as they once seemed. Not only is Dane looking at Avril in a new light, but so is their other business partner and best friend, Andrew Collings. As Dane's envy blooms, he wonders if he made the right decision when he agreed to show Avril his wicked world.

What happens when the lines of friendship are blurred and boundaries are crossed? Will their relationships survive or will jealousy tear them all apart?
Wicked Envy by Sawyer Bennett is a  book was laced with heat (and I mean HOT) all while being woven with deep emotion.
Dane, Andrew, and Avril are best friends who met in college and just clicked.  I love the prologue to this story and the glimpse at this past.  The story takes place years later as the three run a successful biotechnology company. I want to pause and say I adored this part of the story—smart, 
successful, driven characters who now need to find a way to make a relationship work in their very busy lives.
Dane, Andrew, and Avril built their wealth together—their friendship and bond bleed off the pages.  As the book starts to weave lust and desire into these relationships, this book becomes WOW.
Make no mistake though, despite being set in a sex club, this book is pure romance.  This author's talent shines through as during a sex scene she gets the characters to connect with simple looks from across the room.
This book contains, epic banter, heated scenes both with sex and deep emotions and it kept me so engaged as these three moved their relationships to new levels. 
Avril as a powerful busniessneowmn embracing her sexuality, opening herself up to new experience, enjoying her own body was so well done! 
Dane's backstory unfolded with pure literary genius and plays perfectly into the "I want to strangle you" moment.
Andrew was such a great friend throughout this book; and his choice, well they spoke volumes to that friendship. Nope not telling—read the book!
I am not going to tell you how the book ends. I will say that after having taken the journey with these three, it was an ideal ending… and then I will say I would love an additional book maybe outside of The Wicked Horse series so.. Well you will know when you read the book.
Make no mistakes about it—you get an epic and so well crafted happy at the end of Wicked Envy. 
If you like HOT, 
threesome, sex clubs, hot with deep emotions—make sure to one click this book. No worries about it being a part of a series as it is easily read as a stand alone.
BUY WICKED ENVY