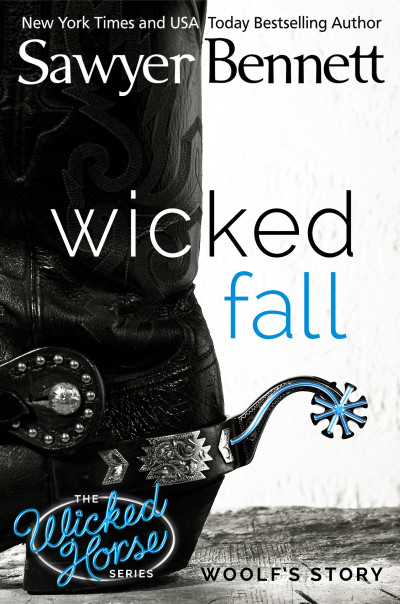 Wicked Fall

by Sawyer Bennett
on July 28, 2015
Buy on Amazon
Goodreads


Never in your wildest dreams could you begin to imagine all the filthy and depraved things that go on inside The Wicked Horse. Step inside and Woolf Jennings will make every one of your dirty fantasies come true.

He's covered in a facade of deception. An enticing blend of multi-millionaire and hot-as-hell Wyoming rancher, those that think they know Woolf Jennings admire his abilities to preside as CEO of his family's cattle and oil empire. But only a privileged few truly understand what fuels the glitter of depravity in those gorgeous blue eyes. Only a few know he's opened up a sinfully erotic and private sex club named The Wicked Horse right at the base of the beautiful Teton Mountain range.

Sweet Callie Hayes has returned home to Wyoming and is looking forward to starting her life over again. After a night of impetuosity, she's managed to put herself right in Woolf's line of sight… the man who she foolishly offered up her virginity to years ago and was flatly turned down.

Now Woolf is seeing that Callie is all grown up and has a kinky side to her that leaves him as confused as it does turned on. Worse yet, both Callie's dirty desires and sweet heart are getting under his skin, and making Woolf question everything he's ever believed about himself.
Readers were first introduced to Woolf Jennings in Shaken, Not Stirred (Last Call #5) http://amzn.to/1HuJ9ut  as he is Tenn's brother.
Woolf runs the Jenning's family business empire JennCo and Double J Ranch but he has a secret… the nightclub called The Wicked Horse… a nightclub that is a facade for a sex club and as the blurb says …
Never in your wildest dreams could you begin to imagine all the filthy and depraved things that go on inside The Wicked Horse. Step inside and Woolf Jennings will make every one of your dirty fantasies come true.
Having said the above, please know this book is 100% stand alone as Woolf is only seen for a scene or two in the Shaken Not Stirred. I only mentioned the above in case for die hard Sawyer Bennett fans his name sounded familiar and your couldn't place it.  Wicked Fall is book 1 for a new must read series!
When the book opens like this:
I didn't want it to be my whole life. Like Tenn…I had other desires.  Unlike Tenn…mine are a bit darker. 
A bit more lecherous.  They are altogether nasty at times.
….  you know its going to be hot but as the story progresses, I think readers will love the fact that this book has a wonderful story and well rounded characters layered into this story that pushes boundaries for the readers and the characters!
Woolf's love interest in Wicked Fall is the governor's daughter, Callie Hayes. Woolf and Callie have history; one I won't go into as it is best provided to the reader in the format Ms. Bennett intended by reading this wonderful story!
Woolf will capture your heart with lines like this:
"I always wanted you, Callie," he says, and I hear truth in his words. 
"I just didn't think I should have you. Big difference."
Wicked Fall is such a great book one, it introduces the reader to so many intriguing characters that I wish I could read about right now!!!
Woolf's best friend and business partner, Bridger, grabbed my attention, from the moment you meet him and Woolf going over the plans for The Wicked Horse and The Silo you know you are in for wild ride (no pun intended).
But beyond that as these two interact, it is clear that they communicate often without words as they understand each other at a deeper level.  I will say the backstory here is EPIC and unique. And yes I so want to know more about the mystery that is Bridger!
With words like this is is clear Bridger can read people:
"I know you think that girl is too sweet for the likes of you, but I'm telling you, Woolf… look at her spine. It's all in the backbone… the way she holds herself. That girl is built for some raw and dirty fucking. She wants it, too. No wait… it's more than that. She needs it. Yeah, that girl needs it, Woolf."
And with words like this even Bridger will call Woolf out (which is what only a true friend will do):
"Your heart's tied up big time, man," he says sagely.
"It would appear so," I mutter.
As Woolf and Callie spend more time together, something that had a very cute set-up, Callie starts to open up about her recent heartache and starts to push Woolf to see her as the grown up woman she is now.
At 69%, OMG not only will you wish you were Callie to experience what she is feeling but you will wish you were her so you could see #thelick for yourself!  Hot and boundary pushing all while the scene is layered with emotions for all those involved (nope not telling read the book)!
As this story unfolded, I kept thinking that I can't wait to read Bridger's story, G-d I hope Bridger is next… and then I got the epilogue and now well now I am so excited Cain is next! Be warned the epilogue will continue to push your boundaries as adults explore their deepest fantasies.  And it may continue to run through your head long after you put the book down.
I am often asked what makes a 5 star book and though I often can't put my finger on what that is exactly, I can say it is a story where after I close the book I am still living in that moment. It is a book where scenes keep running in my head and it is book where even days or weeks after I put it down, I can still remember all the characters names and the plot details.  The Wicked Horse does all that and more in spades!
Hats off Ms. Bennett, I can't wait for more and I am HOOKED on the Wild Horse series! This is now a must click, stalk the next release kind of series for me!!