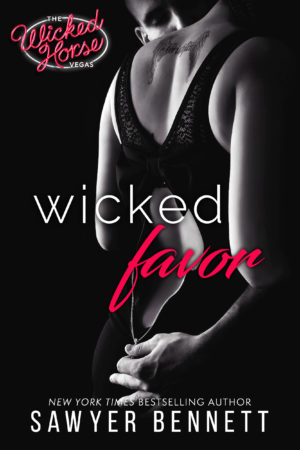 Wicked Favor

by Sawyer Bennett
on June 5, 2017
Buy on Amazon, Buy on B&N, Buy on iTunes, Buy on Kobo
Goodreads


New York Times bestselling author, Sawyer Bennett, is happy to introduce a new Wicked Horse club in Las Vegas and you're cordially invited to attend the grand opening...

As the owner of The Wicked Horse, an elite sex club located along the Vegas Strip, Jerico Jameson never spends the night alone. Gorgeous, ripped, and totally alpha, Jerico doesn't grant favors and will rarely give you the time of day—unless he wants you in his bed. So when the sister of his sworn enemy shows up asking for help, saying no should be easy. But when Jerico takes one look at her and sees an opportunity to help this beautiful woman while exacting revenge on her brother, he's not about to pass that up.

Beaten and bruised, Trista Barnes is running out of options, and Jerico is her last chance to get out of the mess she's in. She doesn't know why Jerico despises her brother so much, but as long as he can help her, she doesn't care. Jerico offers her safety while opening her up to a sinful world she never knew existed.

As she succumbs to Jerico's erotic charm, Trista lets herself fall into the wicked world of guilt free pleasure with no regrets. Under his strong alpha hand, she blooms, and so does Jerico's possessiveness. But what happens when Trista finds out she was a pawn in Jerico's game all along, and that the price for his favor was steeper than she ever imagined – her heart.
Wicked Favor returns readers to Ms. Bennett's Wicked Horse world… though this time the club is set in Vegas and owned by a man I think readers will quickly fall hard for—Jerico Jameson
Trista Barnes comes to Jerico for a favor… hence the book name.
The reasons Jerico says yes—well those are so layered; they are deeply emotional and when the full story is revealed, my heart broke for Jerico even though I sometimes did love his plan. Speaking of his plan; keep with it, things don't always play out like you think and in the end Jerico and the readers know he wants Trista!
This book is not for the faint of heart but heck what would you expect it is about a sex club after all.  The sex was hot but it was also emotional.  In addition to that the sex and the desire to have sex and who you have sex with was masterfully used to show how Trista is DIFFERENT and that made me want to hug Jerico!
The use of Trista's family added to the many dimensions to this story… actually her family was the driver behind the story line.
I loved LOVED Jerico's best friend Kynan. Yes, he was sexy, yes there was some great banter, but he was also Jerico's confidant trying to talk reason into him and in the end… well in the end this man who knew Jerico better than anyone takes a chance and well he is integral to the happy; the happy I so loved!
I hope we get a story for Kynan as this sexy man needs a happy… and I hope we get to see a bit of Jerico and his new happy in book 2. This man so deserves to end what was stolen from him years prior… nope not telling read the book!