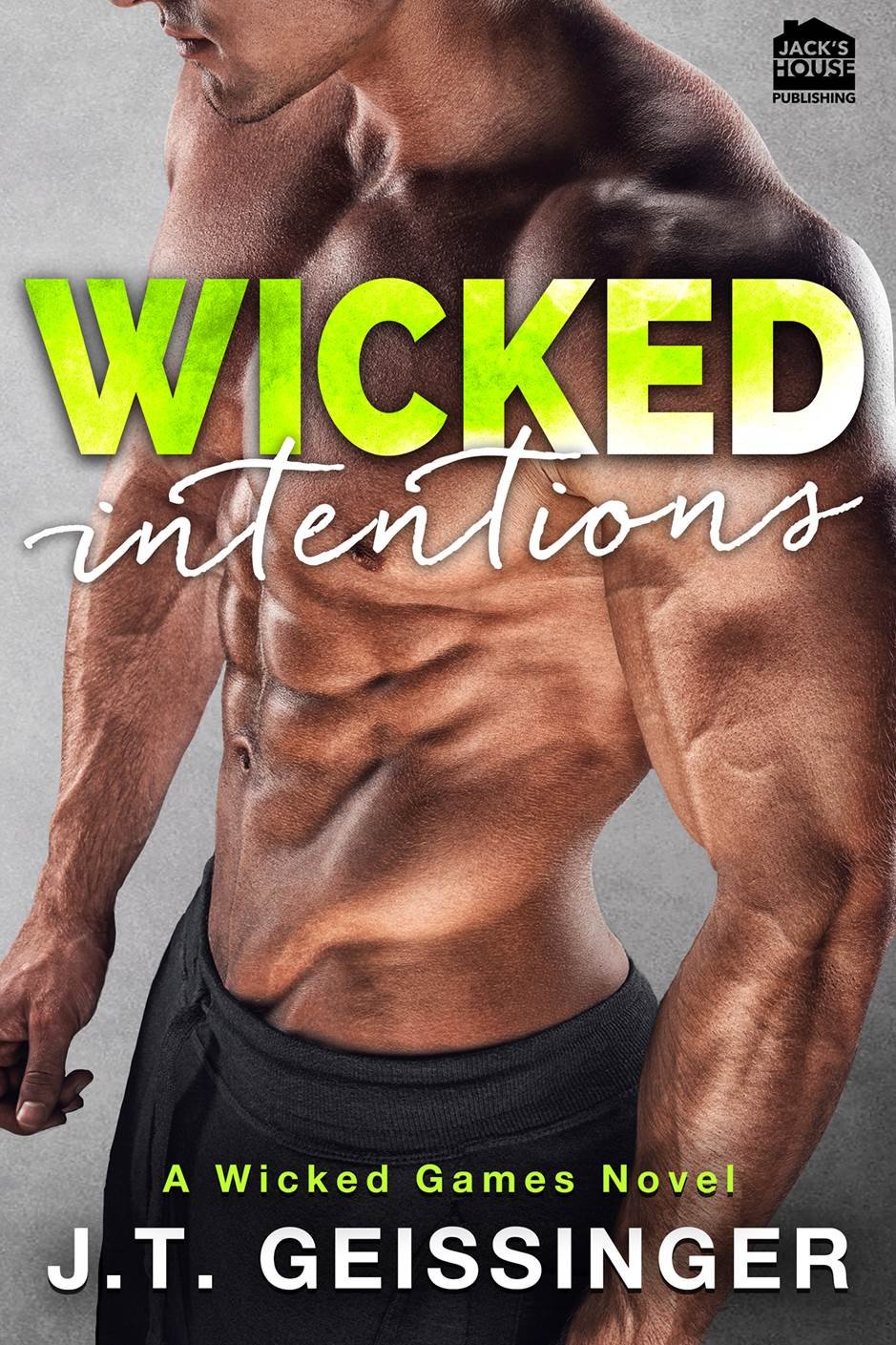 Wicked Intentions

by J.T. Geissinger
on July 11, 2017
Buy on Amazon, Buy on B&N, Buy on iTunes, Buy on Kobo
Goodreads


In the Caribbean for his best friend's wedding, ex special-ops officer and security expert Ryan McLean meets a beautiful woman in the hotel bar. Their connection is immediate and intense, and they spend a passionate night together with pleasure as their only goal.

But when Ryan wakes the following morning to discover the beautiful woman has vanished, along with millions worth of jewels from the safe of the Saudi prince staying in the suite next door, he realizes their meeting wasn't accidental and becomes determined to find her.

A notorious thief known to authorities only as the Dragonfly, Mariana Lora has one final job to complete before she's free from the oath that bound her to a life of crime, but the sexy-as-hell Marine she spent one explosive tropical night with is hot on her heels at every turn. She has to outwit him to stay out of jail, but fighting their magnetic attraction soon becomes a game neither one of them can resist.

When Mariana's last job goes dangerously wrong and she needs Ryan's help to survive, he has to decide if their game of cat and mouse is only a game, or if he can trust this beautiful thief with something no woman has ever stolen: his heart.
There is something about JT Geissinger books that I just love. Truthfully I think its a combo of hot alpha men, strong female characters who give their men sass, captivating stories that are so suspenseful that you are sitting on the edge of your seat wondering what will happen next, the heat..OMG THE HEAT. But when it boils down to it, its really that they are just written so damn well…that my friends is what makes a really good book—a well written story. Wicked Intentions is another favorite to add to my list from this author!
I have read this series since the beginning and while this book can probably be read as a standalone, I would recommend reading the entire thing because I love all of the characters in this series.
Ryan McLean is in the Caribbean for a friend's wedding and he sees Mariana Lora for the first time. Though their meeting isn't accidental as she is a jewel thief looking to steal from the hotel room next door from his.
What she doesn't count on is this sweet, romantic southern man and his words…and their chemistry…and when she leaves that night, I KNOW that he will be on her tail looking for her.
Mariana's job is dangerous and Ryan wants to get her out, and though there is a blood oath, he will stop at nothing to protect her.
I just have to say that the secrets and suspense were just WOW! I could not put this book down. But even more than that watching this couple build trust and find love from the unexpected melted my heart.
Readers looking for fun and excitement mixed in with your romance should pick up JT Geissinger books—I am a fan for life!

A secret smile hovers around her lips. She crooks a finger, inviting me closer. I'm in her face so fast, I've probably set a new land speed record. She puts her lips against my ear and whispers, "You don't really think I'm going to sleep with a man I met five minutes ago, do you?"
Something inside my chest does this flopping, dying fish thing that doesn't seem healthy. I have to stifle a groan. I want this woman so bad, I can taste it.
I turn my head a fraction and now we're nose to nose, staring into each other's eyes. Hers are a gorgeous caramel brown, twinkling with mischief.
I say, "Of course not. I'm a gentleman. I was gonna let you finish those conch croquettes first."
She slow blinks and smiles.
My titanium boner is in serious jeopardy of exploding in my shorts.
"You haven't even asked what I'm doing in St. Croix." Angeline leans back and lazily selects another of the croquettes from the plate. "I could be vacationing with my husband."
"No ring," I counter, watching her make eating a piece of fried seafood look like dirty fetish porn.
She swallows and licks her lips, obviously enjoying torturing me. "My boyfriend, then."
"You don't have a boyfriend."
My tone of total confidence makes her arch an eyebrow. "No? What makes you so certain of that?"
"Because you kiss like you're starving, you look at me like a little kid looks at all the presents under the tree on Christmas morning, and you're not the type of woman who cheats on her man. You're too serious for that, even though you try to seem carefree."
Something crosses her face, a look of surprise or irritation, instantly erased. She says, "I had no idea I was so transparent."
Though her tone is casual, I can tell she's disturbed. She doesn't want me to look too closely, to notice things about her. Naturally, that makes me want to notice even more. I'm a bloodhound with the fresh scent of fox in my nose.
Let the hunt begin.
"Ignore me," I say, watching her compose herself. "I've been out in the sun too long. So tell me, Angel, what brings you to St. Croix?"
She flips a lock of long brown hair over her shoulder and swivels on the stool so she's facing the bar counter, her eyes turned away. "Work."
I look at the infinity pool, the lush green mountains in the distance, the sparkling Caribbean Sea dotted with sailboats. Then I look back at her, in all her exotic glory. "Lemme guess. You're a model."
"I'm a travel writer, doing a piece on the fine resorts of the Caribbean."
"A writer." Sure you are. And I'm Dolly Parton. I slide onto the barstool next to her and take a slug of my warm beer. "Guess you're not just a pretty face after all."
I'm gifted with her full-throated laugh again. "You mean you couldn't tell from that line I used on you when you came back from the pool?"
"So it was a line," I drawl, gently bumping her shoulder with mine. When she looks at me, I grin. "You are gonna sleep with me."
She tries to look offended but completely fails. "You think you're extremely charming, don't you?" she says, all prim and proper. Now it's my turn to laugh.
"Hardly. My mama always said I've got the manners God gave a goat. I'm just a beer-drinkin' good ol' boy from Georgia with more balls than brains."
Angeline eyes me. She lets her gaze linger on my tattoos, the scars on my stomach, and my hands, which have spent near equal time on the keys of a piano as they have on an M16 rifle. She says softly, "Or maybe that's what you want people to think."
Our eyes lock. A strange sensation makes its way through my stomach. It's fizzy. Fluttery. If I didn't know fucking better, I'd describe it as butterflies.
"I'm leavin' tomorrow," I say abruptly, holding her gaze.
"Me too."
READ THE SERIES
BOOK 1 WICKED BEAUTIFUL:
Amazon | iBooks | B&N | Kobo | Amazon Paperback | Google Play
BOOK 2 WICKED SEXY:
Amazon | iBooks | B&N | Kobo | Amazon Paperback | Google Play