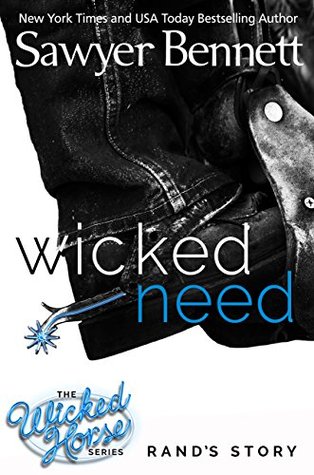 Wicked Need

by Sawyer Bennett
on April 19, 2016
Pages: 364
Buy on Amazon
Goodreads


Rand Bishop's dreams of Olympic gold were shattered years ago but he's left that all behind, settling into a new career and lifestyle that would make any man jealous. While he may not be competitively racing down the ski slopes anymore, he's just as happy getting his rocks off as a Fantasy Maker for The Silo.

He's good at what he does.
Damn good.

But while life couldn't be better for Rand, it seems to be falling apart for Catherine Lyons Vaughn, the dark haired, brown-eyed beauty that has captivated an entire sex club.

Having spent years degrading herself on her husband's whim and now left destitute after his death, Catherine has hit rock bottom. With nothing but her body to peddle, Catherine is merely trying to figure out how to survive in a harsh, cruel world. Lucky for her, Rand has taken her under his tattooed wing, and he's determined to give her a safe life where she can be the woman she was always meant to be.

Now all Catherine has to do is believe she deserves the chance.
I love the 
Wicked
 Horse series!!  I was so excited to dive into Rand Bishop's story…. we saw a bit  of him in 
Wicked

 Lust
(Cain's story), ok a lot of him in one scene in 
Wicked

 Lust
lol and I was so excited to learn more about Rand.
As with the prior books in the series, the prologue is the epilogue of the prior books, so it is a great "refresher."
Wicked
Need
 pairs Rand with Catherine Lyons Vaughn, yes Catherine was seen in prior books, and watched, watched as her now dead husband made her play at The 
Wicked
 Horse. Because of this element I would suggest reading this book as a book 3. I think it allows a deeper understanding of Catherine and as to why Rand doesn't care about her background.
Rand is looking for love:
"I'm definitely unlucky in love, but I'm okay if it never comes my way again. I've got friends, a great job, and all the kinky fuckery I could ever imagine."
Yes, the use of kinky fuckery is explained and it made me smile.
When Rand stumbles upon Catherine, yes he knew her before…. but when he discovers her new circumstances, emotions start to whirl for him.
Rand and Catherine or Cat as she makes it clear she prefers to be called, build an easy friendship one without judgement of the past; one that makes you feel them connecting deeper and deeper.
I adored Rand and his desire to help Cat "right" her life, and how he wanted her to find her own way, offered her support but not answers.  Yes, the book is hot, it is the 
Wicked
 Horse series but for most of this one, the hot is not at the club it is home, still hot but always layered with emotion.
"Well, I think we're a little north of roommates, a little east of friendship, and probably a little south of f*ck buddies."
I freaking love the use of Logan in this one, yes Ms. Bennett pushed the envelope yet again, I loved this scene, it was hot, well written and truly fit for this couple, not giving it away, read the book!
Yes, Bridger makes an appearance in this one, yes he is still very observant, yes I want this story now!
Speaking of not providing answers;  when Cat pulls away, Rand's response is so perfect, as I said he before he knows she 
needs 
to find her own way.
There is great additional element; what Rand brings back to Cat was so epic!
Rand's deep desire to help Cat move forward touched my soul! Nope not telling read the book – yes it is a secret from her past, not her secret, someone else's but it touched her life deeply and so affected her life, yes I know that this is vague…Read the book!
P.S. Ms. Bennett speaking of pushing horizons, I hope you might branch out a bit as I think a male male romance would play perfectly in this series 😉
♥READ THE SERIES♥