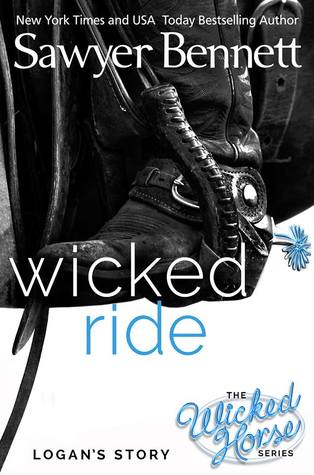 Wicked Ride

by Sawyer Bennett
on June 28, 2016
Buy on Amazon, Buy on B&N, Buy on iTunes, Buy on Kobo
Goodreads


I think this woman may be the death of me. A dire prediction, but probably true.
Probably true because she's not mine to have and I'll probably take her, even at the risk to my own safety. So many men slobbering to get a taste of her and only one, sweet, virginal girl to go around.
That's right.
She's a virgin.
Looking like a porcelain china doll that would break if not handled carefully. But I also know she's stronger than she looks.
She's a contradiction.
She's most likely my downfall.
Like I said, she'll probably be the death of me, but it's a risk I'm willing to take.

**Warning: this book has sex in it. Lots of sex. Dirty sex. The Wicked Horse Series is a bit different than what Sawyer Bennett normally writes. While you'll still enjoy fabulous characters, a suspenseful story, some witty banter and an epic romance, there's just… a lot of sex. You've been warned.
Wow, this series just keeps getting better and better… I think for this one I am going to start backwards and say the epilogue of this book is by far the best of the series. If you have read this series, you know that says a lot as many of them were jaw dropping.
In this case the epilogue is NOT a cliffhanger but finally, finally some very deep insight into the enigma that is Bridger!  So yes, I am now dying even more for Wicked Bond, Bridger's book!Now back to the rest of the book that is Wicked Ride, Logan's book.  Readers of this series have seen Logan's presence in prior books (well and a lot of him in the prior book Wicked Need) but never really knew much about him and for most of this book, he continues to be somewhat of a mystery.  This so fits in the context of the story, why Logan is so closed off makes so much sense and when he is finally revealed, will pull at your heart strings and make you love him even more!
Why will you love him? Well, throughout this book Logan's attraction to the woman described in the blurb, the "virgin' being paraded around the club, the woman he initially speaks to only with his eyes; the woman who has touched his soul simply from across the room, the woman he is willing to go through any lengths to get his hands on and to connect with on a deeper level.
Bearing witness to these two connect, yes first sexually because this is The Silo after all, but eventually on a deeper level, truly kept me engaged!
Ms. Bennett masterfully weaves sexual content with emotions, this story keep me wanting to know more. Hoping Logan was able to get this woman to open up and in the end had me hoping she too would get Logan to share and grab the love that was right in front of him.
Why Logan is wounded and the how he finally gives in is something I will let the reader uncover for themselves.
On a personal note, Thank you Ms. Bennett. I read this book while spending the evening in the ER, at a time when I needed an escape and had put down two books trying to make that happen. From the moment I opened Wicked Ride, I was pulled right in and I was so happy to have Logan with me through the tough evening and into the early morning hours!