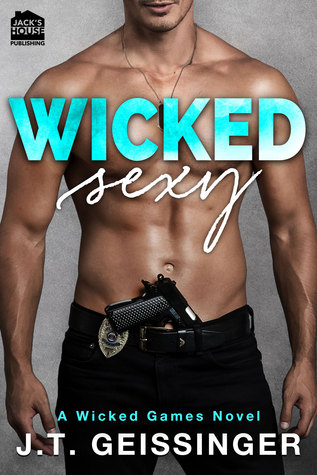 Wicked Sexy

by J.T. Geissinger
on July 19, 2016
Buy on Amazon, Buy on B&N, Buy on iTunes, Buy on Kobo
Goodreads


A badass ex-Special Ops officer and a smartass hacker fight a dangerous enemy…and a blistering attraction to each other.

Connor Hughes is an ex-special ops officer, CEO of Metrix Security, and bonafide badass. His private security firm is renowned for its effectiveness. He's renowned for his lethal precision and iron self-control. But when the former Marine meets a gorgeous young hacker with a mouth as smart as her brain, his control unravels in ways he never could have predicted.

Tabitha West is a genius MIT dropout with a bad attitude, an obsession with Hello Kitty and piercings in unmentionable places. Tabby amuses herself by outwitting the most secure technology systems on the planet. Known in hacker circles as Polaroid due to her photographic memory, she's as secretive as she is accustomed to working alone. So when Connor decides she's the only one who can help him catch a cyber criminal intent on taking down one of his clients, she tells him exactly where he can stick it.

But when the cyber criminal turns out to be the Hannibal Lecter of computer crime—and a dark presence from Tabby's past—Tabby and Connor are drawn into a dangerous game of cat and mouse. They quickly find themselves fighting not only their common enemy, but also an explosive desire that threatens to consume them.

When the stakes are this high and the game this deadly, will falling in love be the most dangerous move of all?
So there aren't many authors that I would say this about, but truly I would read anything by J.T. Geissinger  including her grocery list. I fell in love with this author because of a blogger friend recommendation (Thank you Natasha is a Book Junkie) and after reading book 1, I HAD to continue on with book 2, Wicked Sexy.
Wicked Sexy is the story of Connor Hughes an ex special ops officer now CEO of Metrix Security and Tabitha West, a Hello Kitty loving, smart and sassy genius who is also a tech whiz and is a known hacker aka Polaroid.
So we met Connor and Tabby in Wicked Beautiful and from the start, their bantering and almost dislike for each other just made me want more – I SO wanted them to get together!
In Wicked Sexy, we get another side of them. We get the true story behind Tabby's history and quite honestly it was so heartbreaking for me and so emotional. You see, underneath the sassy layers, is a woman who is alone, someone who never had someone she could trust behind her supporting her, someone who never knew love.
Wicked Sexy is three years later and yes from the start, Connor and Tabby will get on each other's nerves but their chemistry is seriously to die for. Connor is the first person to truly care for Tabby's well-being, he is protective and kind and Tabby against her better wishes feels something for him too.
This book was another WOW for me! Without giving anything away – J.T. Geissinger writes romance with a twist – we get delicious characters, steamy scenes, and REALLY AMAZING storytelling. Reading a J.T. book reinvigorates my love for reading because in a sea of so many books and not knowing what to read next, you pick up a J.T. novel and can trust that you will get a shining star!
Wicked Sexy is action packed, fun, and suspenseful. I loved these characters – their interactions, their growth, and even more that it is a story that is different than what is out there and it was just so exciting that I didn't want it to end.
I can't wait to get my hands on the next J.T. Geissinger book because I am sure it will be another hit!!
"I loathe everything about you."