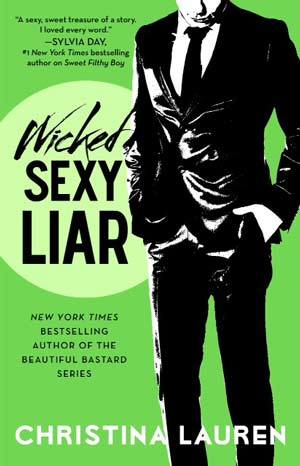 Wicked Sexy Liar

by Christina Lauren
on February 2, 2016
Buy on Amazon
Goodreads


When three college besties meet three hot guys in Vegas, anything can—and does—happen. Book Four in the New York Times Wild Seasons series that began with Sweet Filthy Boy (the Romantic Times book of the year that Sylvia Day called "a sexy, sweet treasure of a story"), Dirty Rowdy Thing, and Dark Wild Night.

For two people ambivalent about dating and love, they sure get naked around each other an awful lot . . .

London Hughes is very content to surf daily, tend bar, hang out with her group of friends, and slowly orient herself in the years after college. Everything's going great and according to the non-plan.

But when a wave knocks her for a loop one morning, then Luke Sutter's flirtatious smile knocks her for another that evening, she veers slightly off course…and into his path. Sure, he's a total player, but the Why not—it's only one night is a persistent voice in her ear.

For his part, Luke's been on hookup autopilot for so long that he rarely ever pauses to consider what he's doing. But after an amazing time with London, he realizes that he hasn't been moving on from a devastating heartbreak so much as he's been drifting to wherever—and whomever—the current takes him. With London he wants more.

Every relationship involves two people…plus their pasts. And as much as she enjoys her fling with Luke, when London learns about his past—more specifically, who's in it—everything becomes the brand of complicated she strives to avoid. It's up to Luke then to change some things in order to try and ensure he's not something she'll outright avoid as well.
Wicked Sexy Liar can easily be read as a standalone though I think it will be appreciated more if read in the series reading order.
These authors did an outstanding job with this book. London was not super close with the three women who starred in the prior three books and since Luke is the ex to Mia, the female lead of book 1 Sweet Filthy Boy (a book I adored by the way) you don't see a ton of the cast and that works so well.
London and Luke meet when Luke comes into the bar that London bartends at. These two have no idea their connection to each other and it such a great example of it's a small world.
"So is this no-dating-guys-you-meet-at-work thing, like, an actual rule?"
"Sort of."
"What if I promised I was absolutely worth it?"
Why do I think he is absolutely telling the truth? He smiles shyly, but behind his honey brown eyes, I can see he's still hunting.
"I'm sure you're amazing, but I don't even remember your name."
"Yes, you do."
When these two get together the first time, I loved the tool the authors used to show that London was not emotional invested. So it may be important to note here that I loved the use of Logan throughout the book, it made for some hilarious moments. Nope, not telling read the book.
The authors give the readers new characters to adore, one being Luke's sister Margot, she was funny, engaging and pushed Luke at all the right times…. oh and speaking of funny, Luke's Gram will have you laughing out loud. I loved the Sutter family from the moment Luke joined them for family dinner!
Luke made me smile so many times in this book:
"I swear I'm progressive and not a caveman and, thanks to the women in my family, I'm probably the biggest feminist around, but f*ck, I like the way my soap smells on your skin"
I adored how it was clear to the reader early on that Luke was attracted to London, the want he was feeling was so different than anything he has felt before.
"Please." I rub my thumb over the back of her hand. "Let me show you that I'm not the guy you think I am."
Sadly, the truth is Luke is the guy London thinks he is and the way Luke finally figures that out almost made me want to gag. But don't worry just when you hate Luke about a millisecond later he hates himself… so….that's an odd sort of justice.
Luke seeing himself for who he has become since his breakup with Mia was well orchestrated and provided true character development. Luke changes because he didn't like the man he had become. His sister's pushing worked so well here.
Luke wants to be something to London, something he may have forgotten, something he isn't radiating anymore; that good man he knows he can be, isn't what London sees. Luke hasn't been that man in years.
Luke and London finding there way to each other, discovering who they want to be and who they want to be to each other, kept me engaged throughout my read. I was so happy I was trapped inside during a blizzard curled up with this one!
The epilogue to this story was so much fun, visiting with the Sutter family was an ideal ending and left me with a huge smile on my face!
A huge Thank you to Christina Lauren and Gallery books for this wonderful series! Wild Seasons is a top series read for me.