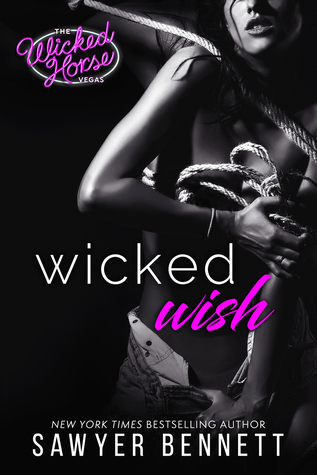 Wicked Wish

by Sawyer Bennett
on August 11, 2017
Buy on Amazon, Buy on B&N, Buy on iTunes, Buy on Kobo
Goodreads


Jorinda Pearce thought she did everything right – graduated from college, married her long-time sweetheart, established a career. But what does she have to show for it now? A degree she doesn't use, a job she hates, and an ex-husband that broke her heart.

Looking for a long overdue adventure, Jorie takes a walk on the wild side and attends a masquerade event at The Wicked Horse Vegas. It's exactly the escape she's looking for, and even better, she can explore anonymously. Drawn to the man masked in black leather with the body of a god, Jorie finds the greatest pleasures of her life at the hands of a stranger.

Walsh Brooks is the most sought after man in The Wicked Horse. Sex is nothing but a game to him and he's the type that will always leave at the end of the night without looking back. Unfortunately for Walsh, there's no way he can walk away from the mysterious green-eyed beauty behind the mask of sapphire feathers, because he knows exactly who she is.

Jorie is his best friend's little sister and there's not another woman in the world that's more off limits.
You can read an exclusive excerpt from Wicked Wish HERE – and we have a giveaway too!
I loved Jorie and Walsh!!!
Wicked Wish
is hot from almost the moment you open the book… but within minutes, that heat is laced with deep emotions.
Jorie and Walsh's first interaction is WOW on so many levels.  The hint of the past had me forcing myself to read slow and enjoy the journey and I so wanted to know how this played out and what happened in the past.
As the blurb shared, Jorie is the little sister of Walsh's best friend, Micah, who by the way I hope gets a happy as this series moves forward. But I digress… Yes this relationship is central to the story but with good reason as these are deep ties—one the author does a wonderful job at allowing the reader to experience.
There is a moment in the book when you go OMG did that just happen—a moment that simply can't be undone. Walsh regrets it and then you know in time Jorie will find out.  LOVE IT, nope not telling read the book!
I truly love both the original Wicked Horse series and this Vegas spin-off. Ms. Bennett takes the reader into a sex club but she also fills the pages with emotions and deep connections.  In this book, Jorie exploring her sexuality was done with beauty and grace.
Bearing witness to Jorie and Walsh's connection growing deeper as each allows themselves to feel feelings buried for so long was engrossing.
The happy Jorie and Walsh get to is one so perfect for them.  I am very much looking forward to learning what the next book in this series will be and I must say it again… I hope Micah finds his match in a story to come!
Ms. Bennett has become one of my favorite authors and is a definitely must click!
I want to add the foreward of this book is a beautiful window into the author's soul—make sure to read it before you venture into this Wicked Horse story!