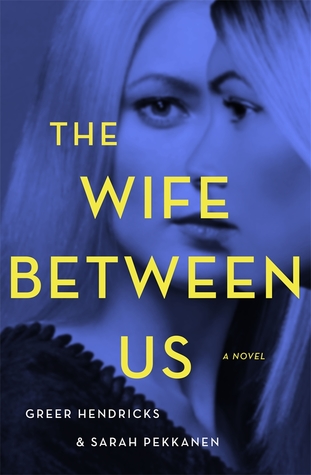 The Wife Between Us

by Greer Hendricks, Sarah Pekkanen
Pages: 352
Buy on Amazon, Buy on B&N, Buy on iTunes, Buy on Kobo
Goodreads


A novel of suspense that explores the complexities of marriage and the dangerous truths we ignore in the name of love.

When you read this book, you will make many assumptions.
You will assume you are reading about a jealous wife and her obsession with her replacement.
You will assume you are reading about a woman about to enter a new marriage with the man she loves.
You will assume the first wife was a disaster and that the husband was well rid of her.
You will assume you know the motives, the history, the anatomy of the relationships.
Assume nothing.
My goal this coming year as a blogger is to read books outside of the romance genre and The Wife Between Us is a book I saw online that people were talking about that I had to get my hands on. And… WHOA! Reading this book was completely INSANE! In a good way mind you… I love psychological thrillers as they are different for me and outside of my norm but also because of the emotions it evokes in me… the heart racing palpitations, the second guessing everyone and everything, the trying to figure out what will happen in the end so I race through without putting it down…
Reading The Wife Between Us was simply… WOW!
I will admit that the first half of the book was a bit slow moving for me and I wasn't sure how I was feeling but when the big secret was revealed… Just WOW! I know I am saying that a lot, but I don't want to give anything away. I just want to tell you how this book blew my mind! Everything you need to know is in the blurb… seriously though… ASSUME NOTHING! I flew through the second half of the book because I couldn't get enough… I had to know ALL THE THINGS!
Don't go in with any expectations… don't start reading and thinking that you have this all figured out because you don't… I can promise you that.
Nothing is at it seems… nothing is completely perfect… no one is being completely honest… simply put—the way that these authors executed this book was seamless and pretty darn brilliant. I would totally read another book from again… and hopefully soon 🙂
I know I am not saying much about the book and for that I apologize. But if you are looking for a masterfully told story with twists and turns and a clever storyline that is different and exciting then look no further than this book!
Watch this video from St. Martin's Press and it will give you the chills….. ahhhhhh!!!