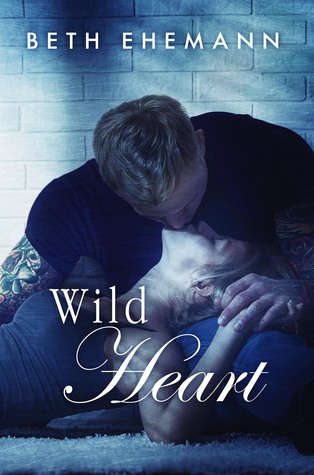 Wild Heart

by Beth Ehemann
on August 9, 2016
Pages: 193
Buy on Amazon
Goodreads


For Lawrence "Viper" Finkle, hockey isn't just a sport, it's a way of life. Since the first time he stepped onto the ice at just eight years old, he knew what he was meant to do, and he does it well. When his career takes an unexpected hit, and his relationship is pushed to the breaking point, he's left sidelined and wondering what his future holds.

Just when he's sure things can't get any worse…they do.

Can Viper pull himself together in time to save his career, his girl, and his sanity? Or will he be permanently benched?
I adored Wild Heart but do not read it unless you have read Cement Heart as this is a duet; two books to get Viper to his happy! A happy that suits him so well, one that is not gotten to easily but attained in a fashion so true to the character crafted.
Since the blurb of Wild Heart and Cement Heart don't reveal much, neither will I. As reading both without knowing much was so enjoyable, I want readers to experience it like that as well.
Wild Heart finds Minnesota Wild NHL Star Lawrence "Viper" Finkle, living out his happy, with his girlfriend …. that is until something threatens what he thinks is the love of his life — hockey.
Viper's reaction to this and other events in this book were so pure to the character crafted. Did I always love him? No. Did his actions make sense given who he was? Yes. Does he find his way? H-E- double hockey sticks YES!!!
As with the first book, I adored Viper's Grandmother, Gram. In Wild Heart, I thrilled to see her play an even more prominent role; she is witty, sassy and pushes her grandson like almost no one else can.
Oh, speaking of pushing. I love Kacie's epic scene toward the end (she is the heroine in Ms. Ehemann's Canterbury Inn series). I don't want to give anything away but I just want to say great job with this scene; yes you will know it when you get to it.
I would be remiss if I didnt add that the moment Michael appeared, I had tears in my eyes!
The happy Viper finds filled my heart with hope and joy! Ms. Ehemann wrote a story with a wide range of emotions.
I should note that I think if I read these two back to back the rating might be a bit higher. I read and loved Cement Heart a number of months ago and I did forget some details, so I think if a reader is immersed in all things Viper, his journey will be even better!
♥ Read the book that started it all! ♥
Book 1 – Cement Heart