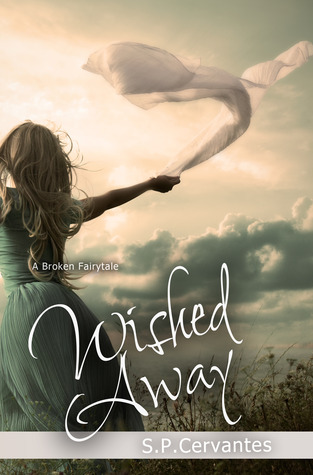 Wished Away

by S.P Cervantes
on August 5, 2014
Pages: 248
Buy on Amazon
Goodreads


Imagine that you were married to the love of your life and had a happy family. Now imagine everything was destroyed in an instant, making you question who you are and how you can possibly go on once the one person you truly love is gone.

It is a rare thing to find your soul mate, but Jess found true love in Dave when they were only teenagers. They've built a happy life together in a small shore town, becoming pillars of the community and making everyone around them envious of the seemingly perfect life they have built together. Jess has always been the life of the party, and Dave was always there to reel her in and keep her safe. But one night, while on duty as the town Sheriff, the unimaginable happens, altering the directions of their lives forever. 

This is a story about finding love, having it all taken away, and discovering that moving on doesn't mean forgetting the past.

**DUST TO DUST is the first book of the series and introduces you to the close relationships these five friends have with each other. This is the second book of the series, but can be read as a stand alone.
I truly have been enjoying the Broken Fairy Tale series by S.P. Cervantes. This book for me took it up a notch and the author delivered a magically beautiful and emotional story, this book even better than the first and I look forward to what S.P. has for us next.
Wished Away follows the story of Jess and Dave who we met in Dust to Dust. These two characters have the perfect marriage and relationship having known each other since children, always being each other's constant support and having a love so real and deep that the reader can feel it too.
If you read Dust to Dust you know what happens to Dave and having to relive it through Dave's eyes and mind was so painful to watch unfold that all I could wonder was how Jess would survive it and how she would be able to continue living knowing that the person who kept her grounded and from getting lost was forever gone.
I do want to say that I enjoyed how Dave remained a character throughout the remainder of the book, as if watching Jess and his daughter from heaven. I am a somewhat spiritual person and have always wondered what happens when a person dies and if we can watch our loved ones because this is exactly how I would want heaven to be for me – watching our legacy live on.
Dr. Gage Scott is someone that Jess and Dave knew previously in their life together and I adored watching them reconnect on a new level. Gage also has suffered something similar in his life, he is kindhearted, determined, attractive and not what you would normally expect from a doctor but I liked that he was so different from Dave and someone that Jess could eventually learn to love if she allowed her heart to move forward.
I will admit that I was a little emotional about her and Gage because they were so sweet together, tentatively and slowly trying to get back into the dating world. Gage proved time and time again what a great man he is – patient and thoughtful, good to her daughter. Most of all, Gage wanted to help bring her back to life.
So will he succeed? Can Jess move on from the only man that she has ever loved and find a way to happily ever after?
You will have to read this book to find out.
In a word – perfection. Make sure to have tissues because you will need it.
♥READ THE SERIES♥
Book 1 – Dust to Dust

Book 2 – Wished Away