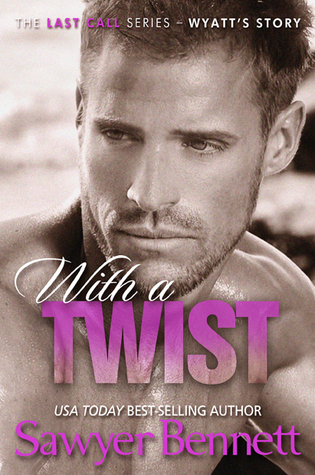 With a Twist

by Sawyer Bennett
on January 6, 2015
Pages: 322
Buy on Amazon
Goodreads


Wyatt Banks is ready to give one woman the world. Unfortunately, his job as a cop tends to interfere with other goals. When Wyatt is sent deep undercover to investigate a sex slave ring, he doesn't have time to do anything but focus on staying alive in a dark and dangerous underworld.

Wyatt isn't alone though in his quest to save the women that are being sold into sexual slavery.

His partner, FBI Agent Andrea Somerville, is immersed just as deeply as he is, and she's the bait to lure the sex slavers out into the open, as she poses as an erotic dancer in an attempt to snare the enemy. But danger runs as high as the sparks between them, and now Wyatt is caught between the job he loves and the woman he wants.
With a Twist can easily be read as a stand alone. Though Wyatt is mentioned in prior books, this is not a book were tension builds through the prior books in the series as the first time the reader meets Andrea is in this book!
Ms. Bennett does a wonderful job in the prologue of this book introducing the cast of the series, a great catch-up for readers of the series and a wonderful 'get to know the characters' if you have not read the prior books.
With a Twist is the story of Wyatt Banks, a local cop and FBI Agent Andrea Somerville. These two become partners as they work to uncover a sex slave ring. I do not want to give away the plot here or how these two find each other.
I will say I did love the relationship that develops between them; I adored Wyatt and the friendship he forms with Andrea, the respect he has for her is truly the foundation for something great.
And I want to make note the first "sexual" encounter between Wyatt and Andrea is WOW; and not for the reason you think; well OK partially for the reason you think. It is hot but it is layered, deeply tied to the story and impacts both characters emotionally. It also speaks to their attraction and their dedication to their jobs (trust me read the book – it will all make sense)
Wyatt and Andrea are adults with lives and careers; coming together is not easy as they both have plans and professions.
In the end, I loved the happy these two found, though Andrea thinks she knows what she wants out of life; I loved the lesson that sometimes you need to re-evaluate; that sometimes the dreams of a child become more as you grow up. That it is not about sacrificing but about finding a happy you never even imagined!
Thank you, Ms. Bennett for a wonderful read. I am very excited for Shaken, Not Stirred as little Casey needs to find her happy.. and it is going to be so much fun to watch this cynical woman fall in love just like her big brothers did!
♥READ THE SERIES♥
Book 1 – On the Rocks
Book 2 – Make it a Double
Book 3 – Sugar on the Edge
Book 4 – With a Twist
Book 5 – Shaken, Not Stirred