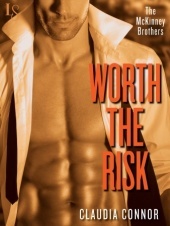 Worth the Risk

by Claudia Connor
on February 3, 2015
Pages: 272
Buy on Amazon
Goodreads


When a McKinney brother falls in love, powerful emotion and overwhelming desire are never far behind.

Two hearts locked away . . . Hannah Walker spends her days coaching children through injury and trauma, one therapeutic horseback ride at a time. She knows all too well how violence can change a child and leave scars that never heal. It's easy for her to relate to the kids; what isn't easy is the thought of facing her own harrowing past.

Millionaire playboy Stephen McKinney could use a little coaching himself. Five years ago he encountered his most horrible nightmare—and the nightmare won. No matter what he achieves, nothing can make up for that awful night . . . or so he believes.

Both desperate for a second chance . . . Stephen is used to getting what he wants. And he wants Hannah. So when she turns him down, he's intrigued. What he doesn't know is that her secrets will lead him to a place he never wanted to go again . . . to a side of himself he's tried to forget . . . a side that would scare Hannah away from ever loving him. Now his only chance to win her trust is to bare his soul, risking everything he tried so hard to protect.

Includes a special message from the editor, as well as an excerpt from another Loveswept title.
Read an excerpt from the book HERE
Worth the Risk is the story of Hannah Walker and Stephen McKinney. Though you meet Stephen in book 1, Worth the Fall, (a book I loved by the way) it is not necessary to read that book to enjoy this one.
As the blurb suggested, both Hannah and Stephen are wounded.  I truly do not want to tell you how because reading it was so powerful.  Ms. Connor did a masterful job at portraying the pain and heartache that was palpable.  Both Stephen and Hannah have traumatic events that have shaped who they are, when they meet each other and when the reader meets them.
The connection between Stephen and Hannah was well crafted, it came through each page and truly had me believing these two healed each other's souls.
Hannah and Stephen find a happy that had me smiling from ear to ear as I purposely read the epilogue slow to savor each moment of this well deserved happy for both wounded souls.
It's not what life gives you but what you do with it and Hannah and  Stephen proved that. They moved their lives forward and built something strong enough to heal the hurt buried so deep.
I can't wait for JT, the youngest and wounded McKinney brother, to get his story told so I was so excited to learn that JT is next up in this series!
I so hope Hannah's brothers, the Walker man get a spin off series!
I want to know about Dallas, why is he gone and Zach and Luke deserve a happy too and and I am hoping Nick and Mia will be a second chance romance. Yes, Hannah has 4 brothers (you will learn why they play such a part in her upbringing when you read the book and you will also likely giggle as Stephen butts heads with three of the four)
Thank you Ms. Connor for a wonderful family saga