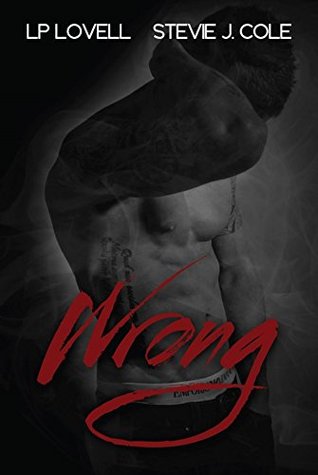 Wrong

by LP Lovell, Stevie J. Cole
on June 2, 2015
Pages: 234
Buy on Amazon
Goodreads


Tor

My life was mapped out and planned to perfection. I knew exactly what I wanted and where I was going, until I was thrust into his world and ripped from mine. In the blink of an eye everything shattered, proving to be nothing more than a cheap illusion. Now I'm living in this twisted form of hell, where enemies and friends are one and the same. I thought I wanted perfection. Now I don't know what I want - perhaps not even my own freedom.

Jude

I'm the definition of wrong. I'm violent, I'm greedy, and I stop at nothing to win. I'm a notorious bookie and in my game paying with your life is not just a figure of speech. You lose, I collect. I take whatever you have. She's collateral for a debt, and if that debt's not paid someone will die. This should be just business, so why can't I kill her?
Everything is not always as it seems.

Lust. Blood. Lies.

Nothing this wrong should feel so right.
How can something so wrong be SO right?? WOW!
So my good friend Jennifer from Schmexy Girls Book Blog recommended that I read this book ASAP and when I was contacted by the author, of course I had to say yes. I am SO glad that I dropped everything to read this book!
I have never read a book about a bookie and gambling before so this was different and exciting for me.
So what's it about?
Well Victoria (aka Tor's) is in her residency to become a doctor and boyfriend has been gambling unbeknownst to her and when it's time to pay off his debt, he can't. So Tor is taken as collateral until he can come up with the money (which he promises will only take a couple of days).
But it doesn't take a couple of days….and what ends up happening while she is in captivity ends up being much more than she bargained for…
So what did I love?
Well pretty much everything!
I love when a heroine is strong and stands up for herself and Tor is the epitome of an awesome chick. She is feisty, totally badass and had me rolling on the floor laughing for all of her antics in trying to escape (the wedgie scene had me dying laughing!)
I completely loved Jude. So he is the bookie, the collector of debts. But besides that he is a good combination of alpha male AND is smart, he is caring and protective and for once he feels something that he never expected. The chemistry between them was off the charts and despite their circumstances and the wrongness of the situation, I couldn't help but root for them and want something more to happen between them.
Wrong is violent, somewhat dark, raw and dangerous. It kept my heart racing while I sat at the edge of my seat waiting for what would happen next. To forewarn you, there is a cliffhanger and I can't wait to see what happens with these characters next. I adored the secondary characters as they brought another level to this already amazing and well written story and all together, Wrong is a must read for anyone looking for something different that is edgy and has the hot factor.