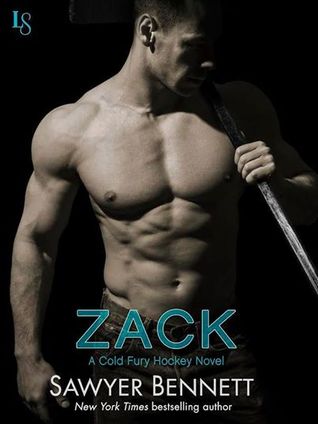 Zack

by Sawyer Bennett
on June 9, 2015
Pages: 325
Buy on Amazon
Goodreads


New York Times bestselling author Sawyer Bennett goes for a hat trick with the latest romance in a sexy series about cool-as-ice hockey players and the women heating up their lives.

Rising star Zack Grantham has been stuck in a downward spiral of grief ever since the car accident that left him a single dad and put his career on hold. Back on the road with the Carolina Cold Fury and still crippled by emotional baggage, he's in need of some serious help with his son. But while the nerdy new nanny wins his son's heart, Zack isn't sure he's ready for a woman's touch—even after getting a glimpse of the killer curves she's hiding under those baggy clothes.

Kate Francis usually keeps men like Zack at a distance. Though his athlete's body is honed to perfection, he refuses to move on with his life—and besides, he's her boss. Still, the sparks between them are undeniable, tempting Kate to turn their professional relationship into a personal one. But before she makes a power play for Zack's wounded heart, Kate will have to open him up again and show him that love is worth the fight.
First I loved Zack's story, second do not read this book or this review until you read at least Garrett, as Zack's world comes crashing down in Garrett's story. It is the reason why my Garrett review said I can't wait for Zack.
Ok.. last chance… look away….
In Garrett, Zack Grantham is left as a single father when his girlfriend, Gina, is killed in a car accident, one in which he was driving.
Zack opens with him struggling to find his way, trying to figure out how to live again, how to play professional hockey with all the travel in entails while raising a young son.
Enter stage left… Kate Francis… the adorable and sometimes dorky nanny who knows she is dorky….lines this made me smile for her:
"You may not know it by looking at me, but I am the type of woman who hopes her knight in shining armor comes to sweep her up one day. I know it's a long shot, especially since I don't do anything to encourage said knight to look my way."
Ms. Bennett elicits a range of emotions from the reader in this book: funny, sexy and emotional.
The author had me at times feeling sorry for Zack, at times wanting to hug Zack and yes at times wanting to strangle Zack, but since the frustration you feel for Zack fits the characters created and the plot, it truly worked for me.
Throughout this book, the author does a wonderful job at layering in Zack's guilt and the emotional upheaval left in the wake of these unexpected circumstances.
As Kate and Zack give into the attraction, the book gets hot… but since in the end this is an employee / employer relationship with a child woven into the mix; things are messy for a bit.
Yes, as I said I wanted to strangle Zack at times but in the end … let's just say though Zack had a son and has loved before Ms. Bennett is able to portray a love to a depth Zack has not felt prior:
"Kate…you touch me in a way that no other human being ever has. I'm not sure if it's your spirit and determination or your kindness. The way you care for Ben. Hell, maybe it's your dorky ways, because all I know is that you make me laugh. You make my world bright again. You make it brighter than it ever has been before. You were what was missing from my life and I'm not going to let that get away."
I have a feeling the best might be yet to come as I loved the use of Ryker in this story and this man is now the single dad of two little girls.
So now I can't wait for Ryker… this man's story already had my heart hurting for him, Ms. Bennett please give him the happy he and his little ladies deserve! http://amzn.to/1cXTX9P
Cold Fury is a Top Must Read Series for me! Yes, I already have a release week review date held for Ryker! #IwanttheGoalie
♥BUY THE BOOKS♥
Book 1 – Alex
Book 2 – Garrett
Book 3 – Zack