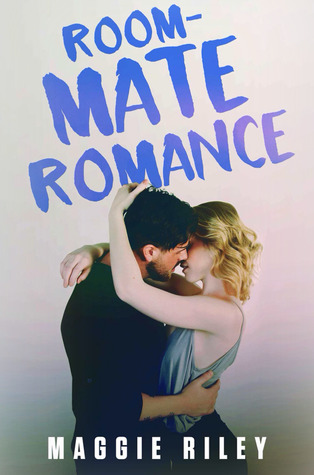 Roommate Romance

by Maggie Riley
on December 12, 2016
Goodreads

Falling in love is not on Allison Lawson's to do list. As a professional stage manager, she's got a plan for everything - and she doesn't like surprises. So when she shows up at the apartment she's subletting, the last thing she's expecting is a roommate. Especially a tall, hunky one.

Shane Garrett is back in Brooklyn. After his parents died five years ago, he moved upstate to take care of his younger sister. But now she's off at college, and he's ready to return to the bachelor life he used to have: living on his own, a fridge full of beer, and a new girl every night. But that didn't include a surprise appearance of a sexy brunette in his shower. He hadn't even taken her out to dinner yet.

Now Allie and Shane are sharing a one bedroom apartment - and bedroom eyes. Neither can deny the sparks that are flying between the two of them, but a relationship is not on Allie's agenda. Can Shane convince Allie that you can't plan for love?
Roommate Romance is LIVE and only $0.99! Enjoy a sneak peek into the book below and make sure to enter the giveaway for a chance to win a $10 Amazon Gift Card! Good Luck!!!
♥ Buy the Books ♥
Amazon US: http://amzn.to/2hsLEJx
Amazon UK: http://amzn.to/2hdNnSo
Amazon CA: http://amzn.to/2hsNASH

Shane was in the kitchen when I got back to the apartment. The entire place smelled amazing and my stomach rumbled, reminding me I had forgotten to get groceries.
"Hey." Shane looked up from the pot he was stirring.
God, he was handsome. He was wearing a well-worn T-shirt and an equally loved pair of jeans, both which fit him perfectly.
"Hi," I said, trying to keep my mouth from watering at both the food he was making and the way his jeans cupped his amazing butt.
"Hungry?" he asked, pouring the pasta he had been stirring into a colander in the sink.
"Oh, I was just going to run out to the bodega around the corner," I told him.
"Well, don't," he told me, gesturing to the tiny kitchen table. "I'm used to cooking for two, so there's plenty here for both of us."
I opened my mouth to protest, but he held up a hand.
"There's no point arguing with me," he said.
I frowned at him. I didn't like to be told what to do. He must have noticed my expression because he smiled.
"You can be annoyed with me after we eat," he said, pulling out some plates and piling them high with pasta and meat sauce.
Because I was starving, I sat. He placed the plate in front of me, complete with a thick slice of garlic bread, and took a seat across from me.
"Why do I get the feeling you've used that 'don't argue with me' tactic before?" I asked him, picking up a fork.
"Because I have," he said. "Younger sister, remember?"
I nodded and took a bite. Oh my god, it was delicious. I closed my eyes and allowed all my senses to focus on how good the food was. When I came back to reality I found that Shane was staring at me.
"You've got to stop doing that," he said.
"Doing what?"
"Having sex with your food," he told me.
I felt my face go red. "I do not!"
"You do." He took a bite and closed his eyes. Then he let out a deep, sexy moan, clearly trying to imitate me. His blue gaze focused on me again. "It's very distracting."
No kidding. My entire body was on high alert and I could feel my nipples go hard. It took all my concentration to keep from looking down to see if they were visible through my bra and dress.
But then Shane's gaze shifted lower for a moment, and the wicked smile that crept across his face indicated that yes, my nipples were standing at attention.
"It's cold," I snapped, my face burning with embarrassment.
"Uh-huh." He had a satisfied look on his face as he took another bite of pasta.
We ate in silence for a few moments while I mentally yelled at my body for being such a fucking flirt. That ache that I had felt all last night returned in full force and I had to cross my legs tightly under the table.
"So." Shane glanced up at me. "Did your interviews go well?"
"I got a job offer," I told him. "I start tomorrow."
His eyebrows went up. "Wow. That was fast."
I nodded, pushing some pasta around my plate.
"Why do I feel like you're not happy about it?" Shane asked, giving me that 'I can do this all night' look. Of all the things I wanted to do all night with him, talking about my career was at the bottom of the list.
I lifted a shoulder. "It's a new theatre," I told him, explaining my concerns. "Inexperienced director and producer. Not really what I'm used to."
"But that could be good, right?" he offered. "What's the show they're doing?"
"An all-female production of The Iceman Cometh. With puppets."
Shane pressed his lips together, obviously trying to keep from laughing.
"It's avant-garde," I explained, spearing a lone noodle with my fork.
"Sure," he said, still attempting to hide his smile. "I bet it will be great."
I put my face in my hands.
"How's the apartment search going?" he asked, mercifully changing the subject. Unfortunately, it wasn't one I wanted to talk about either.
"It's fine." I took another bite of garlic bread.
"Did you make a list?" he asked, and I glanced up at him, surprised.
"Of course," I said eagerly. "It's really the only way to organize what you want and to make sure you are getting it . . ." I trailed off when I realized he had been teasing me. "Lists are very useful," I said.
He nodded, hiding a smile. "I'm sure they are."
"They're the only way I'll be able to find a place." I finished up the last of my dinner. "I promise I'll be out of here by next week at the latest."
Shane cleared my now-empty plate. "You don't have to rush," he said, taking it over to the sink. I followed with the silverware and the bread bowl. "I said you could stay as long as you needed and I meant it."
"You can't keep sleeping on the sofa," I told him, trying to ignore how close we were, standing next to each other at the sink. He smelled so good.
"Sure I can," he said, taking the bowl from me, his fingers brushing against mine.
A jolt of electricity shot through me, and my pulse sped up. I kept my attention focused on drying off the dishes he had washed, trying to ignore each time we touched. As he handed me the last plate, however, he put his hand over mine. I looked up at him, his blue eyes burning hot.
"Unless you want to share the bed," he said, his voice husky.
"Uh," I managed as he took the plate from me and put it down on the counter.
He stepped closer, his hand coming up to trace the line of my jaw. My own hands found themselves flat against his chest. His rock-hard chest. I could have pushed him away, but instead I fisted his shirt in my fingers, pulling him closer.
"Though we probably won't get any sleep," he murmured, and then he kissed me.

*Giveaway now over – congrats to Sue G.*
Enter to win: a $10 Amazon Gift Card (US ONLY)
All you have to do is share this post and giveaway on your social media account(s) (Facebook, Twitter, Instagram, etc). Sample message below:
Roommate Romance is #LIVE and $.99 #SneakPeekAndGiveaway http://amzn.to/2hsLEJx @heapress @shhmomsreading
 Please make sure to post a link to your shares below. You can enter daily! One winner will be chosen Sunday December 18th. Thank you for sharing!