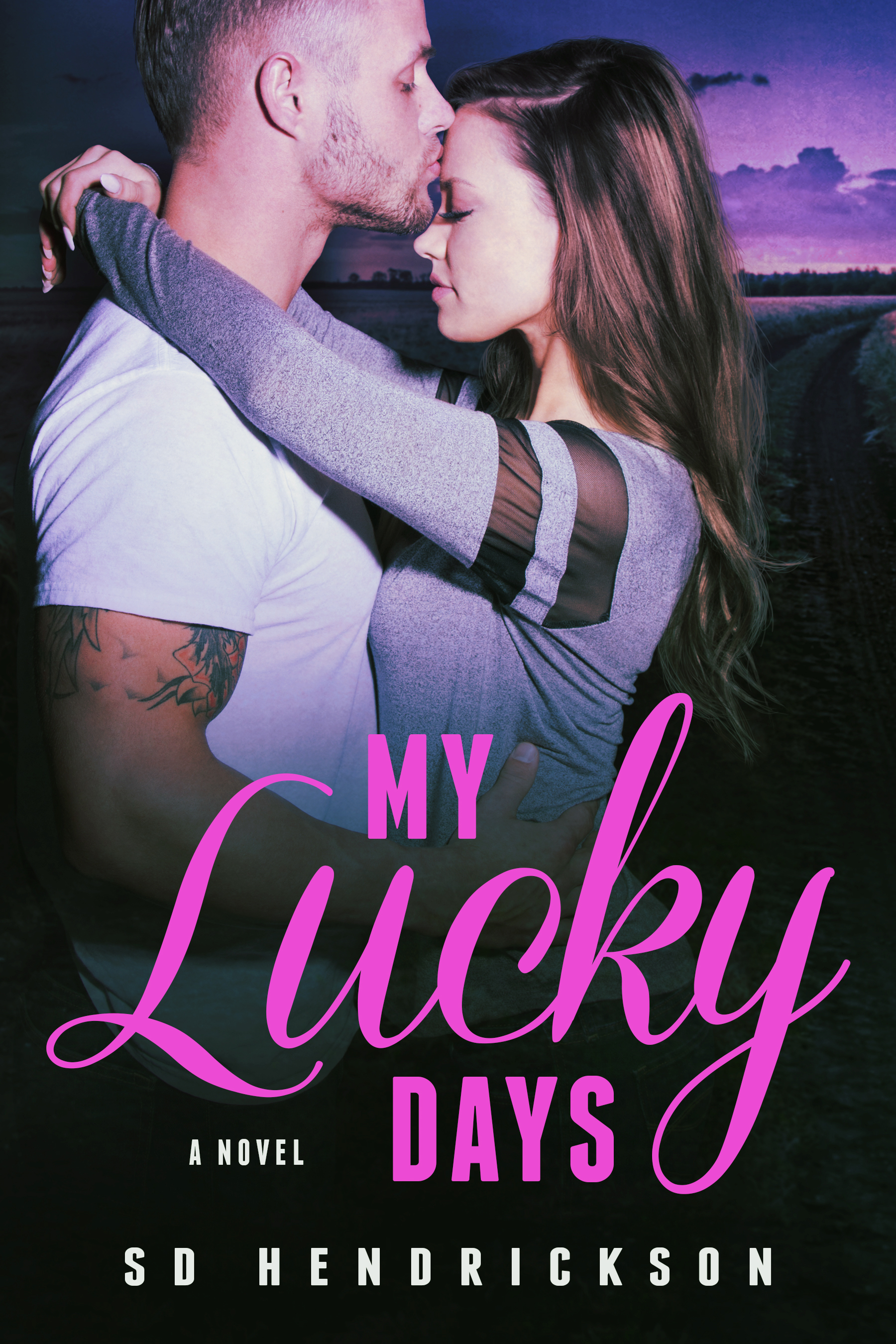 My Lucky Days

by S.D. Hendrickson
on September 20, 2016
Buy on Amazon, Buy on B&N, Buy on iTunes
Goodreads

He was an up-and-coming country singer.
She was the last girl you'd ever see in a bar.
*But one night, under those neon lights,*
Lucky and Katie found each other.

Beginnings are always exciting.
Always fun. Always hopeful.

Katie was in her last year of college.
Lucky was still playing local stages.
She fell for his voice. She fell for his words.
*They fell in love.*
It was beautiful.

But time changed their world.
She was alone. He was on the road.
Life happened.
And that love was torn apart.

Endings are always painful.
Always heart wrenching.
But not always final.

One day, Lucky came back to Katie.
*And this is their story.*
Christine is a HUGE fan of this author and is so excited to read MY LUCKY DAYS. Take a sneak peek into the book below!!! This is a New Adult, Coming of Age, Contemporary Romance with sets of original song lyrics. 
Cover created by Najla Qamber Designs
Photo taken by Lindee Robinson Photography
Cover Models: Garret Pentecost & Daria Rottenberk

Lucky parked in the driveway, turning off the motor. He unbuckled his seatbelt but didn't get out of the truck. Reaching across the seat, he took my hand. "Come over here."
Even though he only touched my fingers, my whole body felt the tingles of anticipation at the meaning behind his words.
"I think you already used your kiss credit tonight," I teased.
He laughed. "Well, if you think that was a kiss earlier, then I must not have much past competition to erase."
Lucky scooted out from behind the steering wheel into the middle of the bench seat. Tugging my hand, it didn't take much con­vincing to close the gap between us. He slipped an arm around my back, holding me against him.
Lucky touched my cheek with his other hand. "Close your eyes."
I did what he asked, sending the cab into dark­ness. The rest of my senses heightened. His body felt warmer. His cologne smelled stronger. I felt his breath against my lips. "Katie, I want you to know that I have thought
about this moment for forty-six hours and about thirteen minutes. And every second that passed, I just wanted to kiss you more."
His mouth touched mine with a faint brush. He captured my upper lip, pulling it slightly before letting go. He did it again with just a little bit more pressure, letting his tongue graze my bottom lip.
I let out a gasp as the next kiss went deep and his tongue brushed over mine. Our mouths blended together effortless­ly.
First kisses had always been awkward. Noses hitting. Tongues passing just a little too much spit. I had always as­sumed there wasn't any way around it until you got used to the other person's movements.
Tonight was different.
I wasn't in control. It was all Lucky. He was almost pos­sessive, tugging and pulling at my lips, making the adren­aline pump through my body as I struggled to catch my breath. And then he went back to slow, delicate passes with his tongue, fanning the ache in places I shouldn't have while sitting in a truck with someone I had only met two days ago.
But I didn't have a choice in the matter. He was a better kisser than a singer. And that was saying a lot because his voice could melt ice cream.