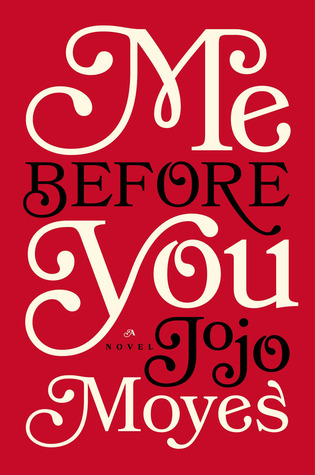 Me Before You

by Jojo Moyes
on December 31, 2012
Pages: 369
Buy on Amazon
Goodreads


Lou Clark knows lots of things. She knows how many footsteps there are between the bus stop and home. She knows she likes working in The Buttered Bun tea shop and she knows she might not love her boyfriend Patrick.

What Lou doesn't know is she's about to lose her job or that knowing what's coming is what keeps her sane.

Will Traynor knows his motorcycle accident took away his desire to live. He knows everything feels very small and rather joyless now and he knows exactly how he's going to put a stop to that.

What Will doesn't know is that Lou is about to burst into his world in a riot of colour. And neither of them knows they're going to change the other for all time.
I know..I know..you ask yourself where has Christine been? How could it have taken her THIS LONG to read this book…my answer…I DON'T KNOW!
But it came at the most perfect time…again I was in a book slump. I have read a couple of real gems this year but 2015 has really been a struggle for me with books.
This is a short review as I am sure many of you have read this before and if you haven't then you have to just stop now and go and one click this book.
This is definitely one of my favorite books of 2015. Me Before You is breathtakingly beautiful, freeing and emotional…a book that I will never ever forget.
The story follows the lives of:
Will who is a quadriplegic, after being in a horrible motorcycle accident. To be quite honest, I felt so completely in tune with Will because though people will tell you that it is hard and that you should be thankful that you are alive, this type of life would be SO hard to live.
Louisa is his caregiver, having recently lost her job, this is the first time she has to look after someone and it completely changes her life. You see, I loved Louisa's quirkiness and her sheer willpower to give Will something to look forward to in his life.
What I most enjoyed about this story was their closeness, their bond and that Louisa was able to get Will to open up. Their story is touching, and heart wrenching but completely beautiful all the same and I was so happy to experience it in both of their eyes.
Is love ever enough? In this circumstance, I am not sure it is…I have NEVER felt such devastation beyond compare when reading a book. But in the end, I knew that the best decision was made because it was not only freeing for one but also because it gave the other the means to just live.
I know I am not saying much…and I don't want to because this is a journey that you have to experience on your own. Be ready for tissues…this is a story that will stay with you for a long time to come!
I purposely waited to read this book so that I would be able to read book 2 right after. I was SO excited to hear that Jojo Moyes was writing After You – because as a reader you always want to know what happens after the ending. Unfortunately After You didn't work for me. Me Before You left such an impact on my heart..it was so touching and powerful. Unfortunately I felt that After You wasn't really needed and Me Before You was better left as a standalone. Often times I found myself skimming because it just didn't hold my attention and I missed the dynamic of Will and Lily, their humor and dialogue – their beautiful connection.
I was hoping for another gripping story that would resonate with me but I felt that this book fell a little short for me. I SO wish I loved it because I think the author writes well-written stories from the heart. Maybe it's just me and you will love this book (it has received a lot of great reviews) so I urge you to give it a try and see for yourself 🙂
♥ Read the Series ♥
Book 1- Me Before You
Book 2 – After You