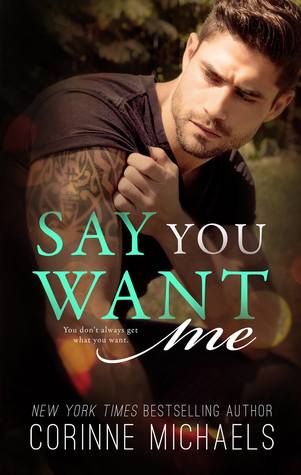 Say You Want Me

by Corinne Michaels
on October 31, 2016
Buy on Amazon, Buy on B&N, Buy on iTunes, Buy on Kobo
Goodreads


There's no way I'll fall for Wyatt Hennington.

He can keep his Southern drawl, irresistible smile, and those pick-up lines
all to himself. I made the mistake of sleeping with him not once, but
twice. I'm not stupid enough to give him round three, especially after he
left me in the middle of the night so I could see myself out. I vow to
return to Philadelphia and forget him.

It proves easier said than done.

When the doctor informs me I'm the winner of door prize number two, I put my life on hold and head back to Bell Buckle. Three months and if we can't make this work, I'm gone.

The problem is—when the cards are stacked against us, and I can't bring
myself to leave him, I'll finally know if he truly loves me or if all my
fears were real . . .
There is something about Corinne Michaels' country boys that pull at my heart strings – Wyatt Hennington *le sigh*
Corinne has yet again stole my heart in Say You Want Me and boy, is this man drool worthy and book boyfriend material. He has the best heart EVER!!!
We met Wyatt in Say You'll Stay – his interactions with Angie (Presley's best friend) were delightful and I knew that there would be more to come with this couple.
Wyatt and Angie find themselves in a predicament after one HOT night that they will never forget. This predicament will force Angie to move to Bell Buckle where she will be in constant contact with the one man who for the first time makes her feel, who makes her see things in a different light. You see, Angie is independent and strong and used to doing things on her own terms and in her own way. She doesn't want a relationship and just wants to have fun.
Wyatt has a different mindset when it comes to this predicament and surprised me with stepping up to the plate. Yes there are rules that come with their newfound relationship but this man had sass along with his selfless loyalty and kindness that just made me swoon even more. Wyatt will make you smile and laugh and he will tempt you with his sexiness and I am predicting now that he will steal your heart.
Something unexpectedly devastating happens in this book that will break you and will change these characters forever. Navigating though pain is hard but coupled with guilt will make even the strongest people crumble.
I loved the outcome of this book – the fight for what you love, the realizations made, forgiveness found, and that despite the pain, these characters never let each other down. Through it all, love shined through and this book will break you but I promise that it will build your heart back up again so that when you close your kindle, you will FEEL the love. The epilogue was THE BEST!!!
Corinne Michaels gives readers angst, heartbreak and joy like no other and this is another masterpiece by an author who has never let me down. Pick up this book – it's another that can't be missed! <3