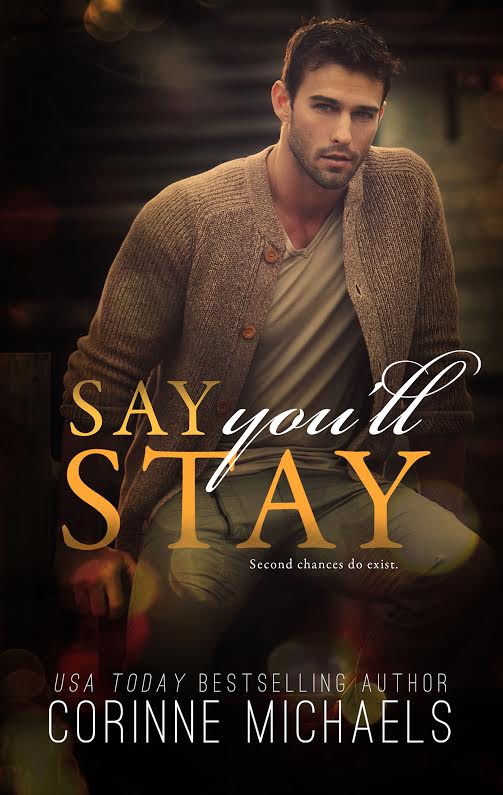 Say You'll Stay

by Corinne Michaels
on June 20, 2016
Buy on Amazon, Buy on B&N, Buy on iTunes, Buy on Kobo
Goodreads


One word.
Stay.

It was all he had to do. Instead, he got on that bus and took my heart with him.

That was seventeen years ago.

I moved on. Marriage. Kids. White picket fence. Everything I ever wanted, but my husband betrayed me and I was left once again.

Alone, penniless, and with two boys, I had no choice but to return to Tennessee. He wasn't supposed to be there. I should've been safe. However, fate has a way of stepping in.

This time around, the tables are turned. It's my decision. Second chances do exist, but I don't know if we can repair what's already been broken . . .
There's something about second chance love stories that completely captivate me, melt my heart, and fill my soul with happiness. It is without a doubt my favorite troupe and I have to say that Say You'll Stay is my favorite Corinne Michaels book to date. Deeply emotional and riveting – This is her best work yet!
So what's it about without spoiling it for you?
Presley's life changes one fateful day and everything she thought she knew about the life she was living with her husband and 2 boys no longer exists. Having lost everything, she has to move back to her small town home in TN, the home that she escaped so many years prior, and she moves back in with her parents on their family ranch to try and regain her life and to find herself again.
With moving back home comes all of the history she wanted to escape from – namely her first true love Zachary Hennington. I want to pause here and say that I am COMPLETELY in LOVE with Zach <3 Yes, they have a past and reasons for why they broke up when they were younger, but this man with his patience, kindness, understanding and friendship to Presley was just EVERYTHING for me.
Nothing in this story was ever rushed….yes, the emotions and feelings were always present; so much so that they were emitting from the pages but healing had to happen for all of the characters to be able to move forward and I think the author did this so well.
I completely adored Zach's relationship with Presley's boys; he was so good with them that it just added so much to him as a character. I have to say he is my favorite Corinne Michael's hero to date! And every time he said "Darlin"…le sigh….He melted me each and every time!
Zach and Presley will have bumps along their journey; no one ever said that love was easy.
I will say this…Say You'll Stay hit my kindle at the most perfect time. I was looking for epic, emotional, heartfelt, and sexy – most of all I wanted a good story. And this was it and so much more – Corinne knocked it out of the park! After reading this book, I had complete and utter book hangover and I couldn't pick up a book for days after. It was such an emotional high and I LOVE THAT when reading books.
Corinne has also created secondary characters that you want to know more about and I was so excited to see that there will be more for these characters because I just couldn't let them go yet; for me their stories were not over.
Readers looking for a second chance romance with the feels, who like cowboys, who love feeling that hope in your heart that all good things will happen in the end should look no further and pick up this book – Say You'll Stay will be in my heart for a long time to come <3

"Hey." Zach peers at me as I shake off my thoughts. "I figured you'd be asleep." He climbs the steps slowly as I get to my feet.
"I figured you'd be gone."
I walk toward him, unsure of why he's here. "I left for a bit, but wanted to come check on you."
"Oh."
He snickers. "I couldn't sleep."
"Me either." He's close enough that I can smell his cologne. Even after a long night, being in the woods, he smells like home.
I take another step.
Then another.
I'm so close I have to tilt my head to look into his eyes.
I breathe him in, feel his heat, and I can't stop myself. I want him. I need him. I grip his neck and yank his mouth to mine. I kiss him. I kiss him and give in to everything I've been feeling. He doesn't waste a second. His arms wrap around me, holding my body against his. My fingers grip his neck, keeping him exactly where I need him. This kiss is frantic, but God it feels good.