Reignite

by J.M. Darhower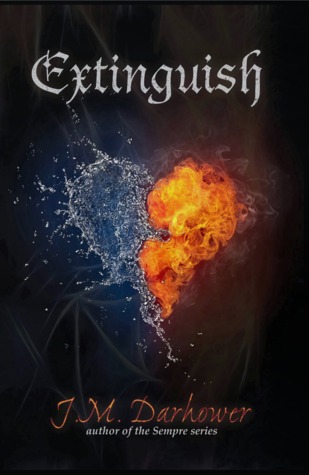 One… Two… Three… Four…
I Declare War
Serah always believed the world around her was perfect. As a Power, one of the warrior angels, she has spent her existence defending the innocent from evil. After tragedy strikes, tearing Serah's brother from her life, she's given the task of stopping the approaching apocalypse before it's too late.
Only one thing, though: she has to venture to Hell to do it.
Lucifer—or Luce, as he prefers to be called—has been biding his time in Hell, longing for revenge against those who oh-so-easily cast him into the pit. When the heavenly beauty shows up at his gate, he's just as captivated by her presence as she becomes of him. The attraction between them is palpable, and Serah's willpower slowly slips. How can this charming creature, this scarred Archangel, be the one annihilating the world she so loves?
As the war wages on, the world entwined in chaos, Serah starts questioning everything she ever knew. When the light and dark, hot and cold, finally collide, she has to make a choice—a choice that sets her world on fire, black and white exploding into colorful flames.
Serah has questions. She wants answers.
Luce just wants to play a game.

The moment the short-lived apocalypse came to an end, life returned to normal. Mortals continued on with their oblivious existences while the earth healed and flowers again bloomed, the devastation instantly wiped away. It was as if it had never happened.
But it did.
Luce knows. He's cursed to remember every moment, forced to live with everything he has done. Suddenly finding himself out of confinement, he's faced with a decision: where to call "home". Free will turns out not to be the freedom he expects when the only thing he wants doesn't know he exists.
Serah woke up with no memory of where she came from or who she was before that moment. Struggling to adapt to the world as a mortal, she's haunted by a set of bright blue eyes that always seem to be watching her. She can't shake the feeling that he could be her salvation… if only she can remember him before it's too late.
Lucifer didn't fall from Grace alone. He's not the only angel with a grudge, nor is he the only one fascinated by his beautiful mortal.
The road to Hell is paved with good intentions…


Did you ever read something that totally made you question what you thought you knew, made you question your beliefs and if what you learned was actually accurate? Reading Extinguish and Reignite had me questioning everything I believed about my faith in God, in heaven and hell and of course the Devil himself.
I didn't even realize that J.M. Darhower wrote anything paranormal until one of my good blogger friends Megan encouraged me to read Extinguish. I have to say that after reading the blurb of the book, it was hard to say no. And as I mentioned in my review the other day of Torture to her Soul, I am on a J.M Darhower high and it is SO hard to want to come down from it. I just want to read more and more from this author (if I only had more hours in the day!)
So what is this series about without revealing too much info??
Well, this is forbidden love at its best! I LOVE LOVE LOVE forbidden love and the whole aspect of a fallen angel (Lucifer aka Satan himself) falling in love with Serah, an angel of Power, whose job is to protect the innocent humans from evil was too delicious to pass up. Serah is tasked with trying to persuade Luce to stop the war and prevent the apocalypse.  But as she visits Luce in Hell, she begins to question many things that God has said; rather than what she has always done before which was accept it because God deems it correct.
There are so many aspects to this story that I am not even touching upon because I don't want to give away too much….but this is what I loved if I could sum it up in a couple of bullet points:
Serah's relationship with her brother Samuel really touched me and I adored the flashbacks to their past so that I could live her relationship with her brother and get to understand their dynamic better
Serah's relationship with Luce was really interesting because she was the first person that he really opened up to; showing his vulnerabilities and making me see the person behind what I have come to believe the Devil to be – it made me question everything because YES I was rooting for him! I could't help but have hope for him because yes he was cocky, yes he was arrogant and pushed many buttons, but to me, he still had a sliver of goodness too
When this book ended, I couldn't wait to dive right into Reignite because I had to know what would happen in the war between good vs. evil. I had to know if there would be peace like God intended.
Reignite picks up where Extinguish left off and Luce is now out of Hell and being left alone to roam with no one coming after him. Only it's different this time around because for once he has the freedom of choice…free will. The question will be if he will use his powers for good or for evil?
Luce and Serah, whose relationship was severed in Extinguish will remain connected throughout this story but in a different way than what you would expect. I know I am purposely being vague here, it's because I don't want to spoil either book for you. I will say that their journey is a tough one. Luce will learn what is important to him, what brings him meaning to his life. Ultimately Luce will have to make a very hard choice – to continue on his path of evil as the Devil himself or to sacrifice all the power in the world for the power of infinite and everlasting love.
So what will he choose? You will have to read this book to find out 🙂
So yes these books may not be for everyone. Some may even find it offensive. But for me, it was completely captivating, different, inspiring and just an amazingly entertaining story. For those who enjoy paranormal and angels in particular, for those who are looking for something good to devour that is different and will make you question your beliefs, look no further. You will not be disappointed. Though Reignite left me with a smile on my face and yes tears in my eyes because it ended so beautifully, I can't help but hope for more because I am not ready to say good-bye yet. So selfishly, Ms. Darhower, I hope you give us more!!!!!!! <3 <3
♥READ THE SERIES♥
Book 1 – Extinguish
Book 2 – Reignite