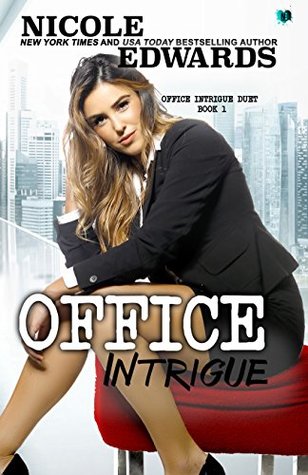 Office Intrigue

by Nicole Edwards
on December 5, 2017
Pages: 397
Goodreads


Both books in this duet are being released on the same day!

Do you get up every morning, spend close to an hour or more getting ready, pick out the perfect outfit, make sure your makeup is suitable, then style your hair just so? Do you slip your feet into your favorite heels, lock your modest one-bedroom apartment, climb into your practical car? Do you drive twenty minutes to downtown, find a spot in the company parking garage?

If you do, then you're very much like me.

However, I think our stories will differ significantly once you get to your office and I get to mine.

Sure, it's possible you work in a high-rise office building in the heart of downtown. It could be any downtown office in any big city, in fact. New York, Chicago, Dallas. The location doesn't matter. It's even feasible to think that you're a secretary for a multi-billion-dollar PR firm. You could even have four bosses like I do. Four mouth-watering, male bosses, even.

But, like I said, at that point, our stories will likely be drastically different.

In order for you to understand why, I'll have to start at the beginning…

This is the first part of a duet - the 2nd book is being published on the same day. This book is not for the faint of heart. It contains explicit sexual content, including, but not limited to BDSM, swapping, sharing, voyeurism, exhibitionism, m/f/m, m/m, and m/m/f encounters.
This duet had me captivated, pulled me from a MAJOR bookhanger, and caused one as well.  In a year where I put so many books down, it was so wonderful to read two back to back stories that reminded me of why I love reading; that a great book can transport you to places you never imagined; that great book makes you feel the character emotions; that a great book crafts a world that you believe to be true; that a great book has you wondering what the cast of characters is up to after you close your kindle, because yes you don't want to believe they are fictional! 
The author has masterfully crafted a story with a woman and more than one man (yes it works… amazingly it works)… with BDSM elements that is deeply emotional while being filled with hot, fun, and kinky sex!  
Book 1 Office Intrigue finds Luciana (Luci) interviewing for a position with four men who run a powerful PR firm, hence the office in the title. As Luci's story progresses, the reader gets to join her on her exploration into the world of BDSM.
This duet allows the reader to hear from not just Luci but all four men—Landon, Langston (twins), Justin and Ben. I truly adored this element in the book, it added so much to the story.  
It was so much fun to watch these men "play" with Luci.  I also want to add that I loved LOVED how they tried very hard not to play with her emotions. I will stop here about emotions because I really do not want to tell you how the story plays out. 
Book 2 Intrigued Out of the Office takes place right after book 1 ends so make sure to have it ready from the minute you finish book 1.
Book 2 brings with it additional characters who really added to the story. We  get to meet the twins parents, I truly adored them, King (yes there is a story… nope not telling read the book) and Mel, the twins parents. And finally finally getting an up close and personal (like really up close look) at Luci's friend who told her about the position with the PR company was eye opening to say the least ….ok yes super HOT BDSM Christmas scene lol 
The look into the vast and diverse world of BDSM through Luci's eyes was hot yes but also emotional and the author worked to educate the reader as to what the characters were feeling.  
This is a story that is unconventional, hot, compelling and in the end a book that continues to run though my head long after I put it down.
I am so thankful the author is releasing the duet on the same day for readers, the story in this duet is a layered well done story with multiple main characters so being able to live in the moment and read all the way through will make the readers experience amazing!
The blurb informs the readers there is lots of sex in various combinations which are both hot and laced with emotion especially as the story progresses. All of this is accomplished with a number of very well-crafted characters  and scenes that were just WOW—captivating, intriguing, mesmerizing and thought provoking.
I know this duet was billed as the end of the story and though it is a happy for Luci and her story…  I truly hope the author will write a happy for the rest of the cast.
Ms. Edwards did such an amazing job with the characters in this one… I truly want to see a happy for all of them.