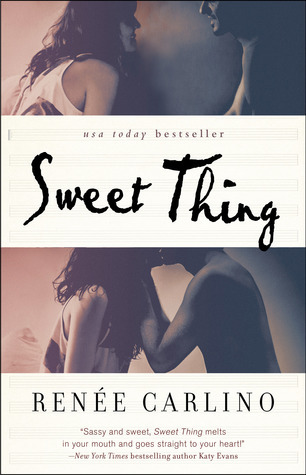 "You have to teach your heart and mind how to sing together…then you'll hear the sound of your soul."
Mia Kelly thinks she has it all figured out. She's an Ivy League graduate, a classically trained pianist, and the beloved daughter of a sensible mother and offbeat father. Yet Mia has been stalling since graduation, torn between putting her business degree to use and exploring music, her true love.
When her father unexpectedly dies, she decides to pick up the threads of his life while she figures out her own. Uprooting herself from Ann Arbor to New York City, Mia takes over her father's café, a treasured neighborhood institution that plays host to undiscovered musicians and artists. She's denied herself the thrilling and unpredictable life of a musician, but a chance encounter with Will, a sweet, gorgeous, and charming guitarist, offers her a glimpse of what could be. When Will becomes her friend and then her roommate, she does everything in her power to suppress her passions-for him, for music-but her father's legacy slowly opens her heart to the possibility of something more.
A "heartbreaking and romantic" (Aestas Book Blog) debut, Sweet Thing explores the intensity and complexities of first love and self-discovery.
---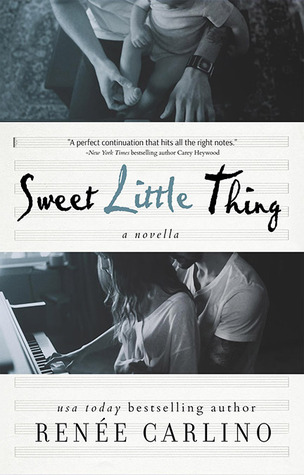 Ever wonder what happened after the final pages of Sweet Thing?
From his candid and sometimes neurotic point of view, Will tells all in this musical and sexy follow-up novella to Renée Carlino's USA Today Bestseller.
Life is pure bliss for Mia and Will. They have a puppy, a loft in Brooklyn, and a new music studio on the rise. It seems things couldn't get any better for this talented couple when life decides to throw them a sweet little curve ball.
They quickly learn that things don't always go according to plan. Sometimes happily ever after is one giant leap of faith away.
With the help of good music, good friends, and one eccentric old lady, they overcome a few of life's little bumps to find the sweetest thing of all.
Watch this duo grow in more ways than one in SWEET Little THING.
---

Christine's 4 STAR Series Review!!!!
Admittedly I have been DYING to read this series and haven't had the chance until now…I am SO glad that I waited for the novella to come out as together this was a complete read for me…the novella acting more like an extended epilogue…I am a sucker for HEA epilogues and this was such a treat to read back to back together without the wait in between.
I will try to keep this relatively short as this is a review for both books.
We first meet Mia and Will on the plane in Sweet Thing and I am immediately drawn to them and their fun bantering.  This chance meeting becomes so much more when Will becomes Mia's roommate in her new home in NYC.  For those who haven't read this book yet, Mia's father passed away and she moved into his apartment to take over his cafe.  Will is a musician and they bond over their love for everything and anything music related.
I have to say that at times this relationship was really frustrating for me.  While Mia attempts to keep Will at a distance, we the readers know that she does feel something more for him but she tries to sway herself to think that he is not her "type".  A lot of this is Mia's need to protect herself knowing how her parents struggled in their relationship with her dad being the musician and her mother being the more sensible one.  I did at times feel that Mia was intentionally and wrongly keeping truths from Will and it made me angry at her because as we watch Will in this book, he is genuinely and wholeheartedly a great guy with a heart of gold and I wanted to knock some sense into Mia for her to realize what was right under her nose.  When secrets are revealed to Mia, will she come to terms and realize how much of an important piece Will is in her life, will she push him away so much that he won't want to come back?
You will have to read this book to find out!
Sweet Little Thing is in Will's POV and gives us a taste of what life will be like for Will and Mia after Sweet Thing.  I have to say that if you loved Will in Sweet Thing you will LOVE him EVEN MORE in Sweet Little Thing!  Truthfully I enjoyed Mia a lot more in this story. Will completes her, he is her missing puzzle piece and with that comes confidence, self assuredness and the comfort knowing that her life is going the way that was intended. Their life moving forward was enjoyable to watch complete with some unexpected surprises that put a smile on my face.
Overall, this was a well written, romantic and enjoyable series.  I truly enjoyed the music throughout both books as it brought the story together and brought it to another level for me.  Watching these two grow as a couple was a captivating experience and I recommend this series to anyone looking for their next fun and sweet read…you will not be disappointed!

Renee's first friends were the imaginary kind and even though her characters haven't gone away, thankfully the delusions have. She admits she's a wildly hopeless romantic and she blames 80's movies staring Molly Ringwald for that. She lives in Southern California with her husband, two sons, and their sweet dog June. When she's not at the beach with her boys or working on the next book, she likes to spend her time reading, going to concerts, and eating dark chocolate.


a Rafflecopter giveaway
Buy the Books!!
Book 1 – Sweet Thing

Book 2 – Sweet Little Thing