It's the summer of 1974 and 21-year old Dawn Emerson has only three things she wants to do: compete one last time in the Ellensburg Rodeo, win back her ex-boyfriend Ryan, and become the best damn music journalist at Central Washington University. But all her plans are left in the dust when she's contacted by Creem magazine to go on the road with one of her favorite groups, the up-and-coming metal band, Hybrid.
At first the assignment reads like a dream come true. Not only will Dawn land some much-needed credibility as a female music journalist, but she'll finally get to experience life from the other side of the stage, and maybe crack the drunken, enigmatic code that is guitarist Sage Knightly. Instead, Dawn finds herself on an aging tour bus filled with ego-maniacs, band politics and a whole lot of sex, drugs and rock n' roll. When monsters start showing up in dressing rooms and some of Sage's groupies become increasingly strange and dangerous, Dawn discovers the band is not only going places – they're going straight to Hell.
And Dawn has a backstage pass.
***
The Devil's Metal is the first book in a two-part New Adult Horror/Paranormal Romance and very (very!) loosely based on the author's exploits as a music journalist. Hell comes in different forms.
---
Given a second chance, music journalist Dawn Emerson and guitarist Sage Knightly are reunited, only to have their lives threatened again by a demonic bargain. The sequel to THE DEVIL'S METAL, from USA Today bestselling author Karina Halle.
When Dawn Emerson got the chance to go on tour with her favorite metal band, Hybrid, she thought she landed the writing gig of the century. But what started off as a dream for the budding music journalist quickly turned into a nightmare that she and guitarist Sage Knightly barely escaped alive.
Now, months after they went their separate ways, Sage invites Dawn to accompany him on his first solo tour across Europe and write about it for Creem Magazine. But like the last tour, nothing is as easy as it seems. Sage is a broken man on the path to self-destruction and Dawn isn't sure if she's the right person to save him. And aside from having to pick up the pieces of their burgeoning relationship, they have to negotiate the mysterious new photographer assigned to Dawn's story, as well as vindictive promoters and demonic groupies they thought they'd never see again.
Because this time, it's Dawn who made a deal with the devil and the only thing worse than having to uphold a bargain with the prince of darkness is not remembering how you're supposed to pay it back.
It may be with their souls.
THE DEVIL'S REPRISE is the sequel to THE DEVIL'S METAL and the final book in this series.
---
5 STARS!!!
I first read Karina Halle when I was introduced to her Artist Trilogy Series and I was hooked on her writing style and characters and couldn't wait to read more! So just in time for Halloween, I picked up this series and was taken on a journey about musicians, a journalist, demons and the devil – oh my! So just in time for Halloween, I was scared but what a great treat!
Book 1 in this series is The Devil's Metal where I am first introduced to the wonderful characters in this story. Dawn is an aspiring music journalist and is a pretty tough chick – growing up on a farm, riding horses in rodeos, living with her alcoholic father while helping to raise her brother Eric who has Tourette's Syndrome. She loves music and her dream in life is to become a journalist. So it's an opportunity of a lifetime when Creem Magazine calls her to go on the road for a couple of weeks with one of her favorite bands, Hybrid.
I loved meeting and getting to know the members of the band. Each one adding a different element to the story. From Robbie the singer, Noelle the only female band member playing the bass, Mickey her boyfriend playing the guitar, Graham the drummer, Chip the sound check guy and Jacob the manager (who I adored!). But it was Sage the guitarist who really pulled at me because of the mystery surrounding him. I wanted to get to know each and every one of them and despite their many flaws and issues, I grew to love them as almost a family as I experienced their life together on the road and saw what fame could do to you.
This was a roller coaster ride of a journey complete with rock and roll, alcohol, drugs, sex and demons. And yes, though at times I was scared, I couldn't put this book down nor did I want to because I had to know what would happen next. Why were these demons targeting the members of Hybrid? Why were these insane things happening to them and would they survive? Will anything happen between Sage and Dawn as their attraction is undeniable and will we learn the mysteries that surround him?
So many of these questions are answered in The Devil's Metal and you will have to read it yourself to find the answers! All I will say is…."Be careful what you wish for…"
I LOVE Karina's attention to detail in this book. Not only did I really get to know each and every character she created but the concert scenes, the backstage antics complete with crazy groupies were magnificent. I lived every moment that Dawn sat on the side of that stage at every concert. I could feel it to my very core. And similar to The Artists Trilogy, it was like being in a movie. The scenes were so descriptive and so well done that the images lived vividly in my mind. Karina is an author that has a true gift of story telling. She makes you see, believe, live and experience. She made me a true FAN of not only Hybrid but with Dawn, music, love and life. This was a book unlike anything I have read and it was AWESOME!
So of course I HAD to dive right into Book 2 in this series, The Devil's Reprise.
This books saddens me from the start as we see Sage so self destructive but understandably so after everything he has been through in The Devil's Metal. I will admit that right away I am nervous for these characters as I feel that there is unfinished business left from book 1. Seeing Sage and living and experiencing his new music filled with such despair and frustration breaks my heart.
After being separated for months, Sage invites Dawn to go on tour with him again and the first time they see each other is heavy. A lot of questions still surround them and in a way it's like starting over from the very beginning 🙁
And again Karina doesn't disappoint in that I can feel it all…I can feel the feelings that are still so obviously there. I can feel the rockiness in my soul. I ache for them. But is the connection still there? Can Dawn save Sage and vice versa?
These characters, for me, were like pieces of a puzzle. Without each other, they were never complete. But for them to try and reconnect again, filled my heart with love because it's what I wanted most for them – to be whole and complete. This was another fast paced journey for these two characters where they had a lot to learn – how not to run from their problems, how to stay by each other's sides even through the good and bad so that the other would never feel alone. To not waste time, to always tell the truth and ultimately to be happy with what you have as that is what's most important. The lesson I learned – be careful what you wish for…
I lived this journey to the fullest – both through the good and the bad. But in the end, my heart was content. I got the hero I wanted and a story I would not soon forget.
So thank you Ms. Halle for sharing your wonderful stories with me and I can't WAIT to read what you have for me next!! <3
About the Author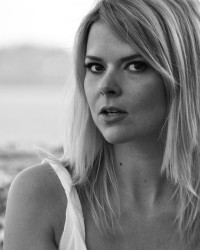 The daughter of a Norwegian Viking and a Finnish Moomin, Karina Halle grew up in Vancouver, Canada with trolls and eternal darkness on the brain. This soon turned into a love of all things that go bump in the night and a rather sadistic appreciation for freaking people out. Like many of the flawed characters she writes, Karina never knew where to find herself and has dabbled in acting, make-up artistry, film production, screenwriting, photography, travel writing and music journalism. She eventually found herself in the pages of the very novels she wrote (if only she had looked there to begin with).
Karina holds a screenwriting degree from Vancouver Film School and a Bachelor of Journalism from TRU. Her travel writing, music reviews/interviews and photography have appeared in publications such as Consequence of Sound, Mxdwn and GoNomad Travel Guides. She currently splits her time between her apartment in downtown Vancouver and her sailboat, where a book and a bottle of wine are always at hand. She's hard at work on her next novel.
Book 1 – The Devil's Metal

Book 2 – The Devil's Reprise