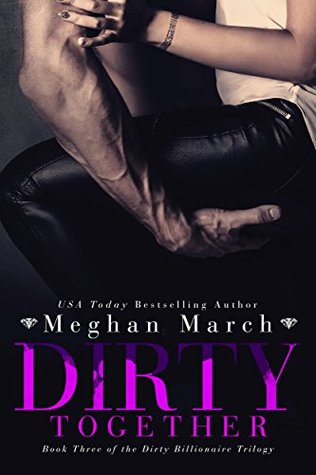 Dirty Together

by Meghan March
on January 12, 2016
Pages: 204
Buy on Amazon
Goodreads


My wife.

I love saying those words.

She's mine, and if she thinks I'm going to let her run without tracking her down and bringing her back to where she belongs—with me—then she's about to be introduced to a new reality.

Because I'll fight dirty to give her the happily ever after she deserves.

Dirty Together is the final book in The Dirty Billionaire Trilogy and should be read following Dirty Billionaire and Dirty Pleasures.
So I must admit that I waited for this series to come out all together so I could read at once and I am so glad that I did because I devoured it basically in one sitting. Though with a blurb that started out like this for Dirty Billionaire (book 1 in the series) …it was SO hard to resist picking it up lol
I've got a big dick and an even bigger bank account. That's pretty much where my bio ends. Honestly, I don't need to say anything else. I've just sold 99% of women on going home with me. 
Do I sound like an asshole to you?
That's because I am.
So this series came at just the perfect time because I needed something fun and sexy. Meghan March writes hot and provocative and these books grabbed me from the very first page.
So what's it about in a nutshell as this is a review of all three books?
Holly Wix is an up and coming country music star. Creighton Karas is a hot billionaire. And while this story has been done before, Meghan still is able to put her own spin on the attractive and captivating rich man who will save the girl and vice versa.
I just loved Creighton! There was so much more to this man than his  initial want and desire for sex with Holly. He takes care of what is his and I LOVE THAT IN A MAN! Yes, I am shouting that! Yes, the sex is steamy and erotic but as the journey for these two progressed from their initial meeting to marriage, Creighton will realize that there is more to marriage than just himself and his wants and desires. That sometimes you have to put your loved one first to really make your marriage work because ultimately marriage is based on the foundation of your relationship with your spouse.
So yes, Holly ran away a lot, sometimes warranted sometimes not. But what I loved about her was that she was unwilling to compromise her own self and her own dreams for love.
Marriage takes work..which a lot of us know. I enjoyed being on this journey with Holly and Creighton for many reasons. I think my favorite part was experiencing their "firsts" for the first time because of the emotions, the passion and that feeling of trust that you could see build between them. Watching their growth as individuals and as a couple made me so happy in my heart and seeing their support of one another really showed the depth of their care and love for each other.
This was a perfect ending for a couple that I hope we don't have to say goodbye to just yet…I am hoping for more as their happy time together was so quick – I would love to see more of the "after"…please please please Meghan??!! What a fun series!
♥READ THE SERIES♥
Book 1 – Dirty Billionaire
Book 2 – Dirty Pleasures
Book 3 – Dirty Together