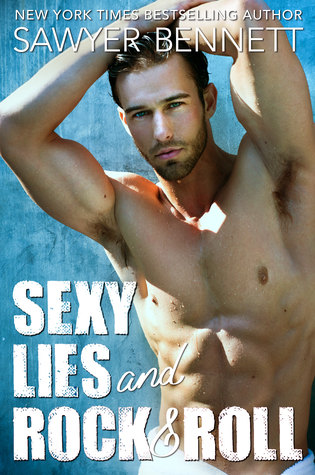 Sexy Lies and Rock & Roll

by Sawyer Bennett
on November 14, 2016
Buy on Amazon, Buy on B&N, Buy on iTunes, Buy on Kobo
Goodreads

From New York Times Bestselling author, Sawyer Bennett, comes a SEXY new stand alone romance…

When you're a rock god, fame and fortune are your two best friends, but they can be fickle bed mates. It seems everyone wants a piece of me. I'm being sued, pressured to sign contracts, and fending off rabid women who want to steal my virtue. Just kidding on that one. We all know I don't have much virtue left.

That's why I need Emma Peterson. The sharp-as-a-tack and sexy-as-sin lawyer saved my ass before and I know she can do it again. The only problem is that sweet, prim and totally straight-laced Emma doesn't want anything to do with me. Not professionally, and certainly not personally.

But c'mon. Everyone wants me, and even though it would take a crow bar of epic proportions to get her to spread those sexy legs for me, all I want is her mind. I swear. Her beautiful, brilliant mind to make sense of my crazy world. Good thing I have something up my sleeve to get her to say "yes". Some might call it blackmail. I call it something else.

Looks like Emma Peterson just became my biggest defender. If only I can resist wanting to screw my attorney six ways to Sunday.

*Sexy Lies and Rock & Roll is a hot, romantic comedy stand alone.
Rocker and playboy Evan Scott will pull you in from the moment you meet him in Sexy Lies and Rock & Roll! It is an interesting first scene filled with sex and intrigue.
I adored how Emma Peterson came into this story and the cute way in which a character from a prior Sawyer Bennett book is woven in!
Emma is a professional, a young lawyer with plans; plans she thinks are derailed both by the firm she ends up with and then by her assigned to work with Evan.
It was so much fun to witness Evan and Emma bonding. Emma opening up in so many ways and using her education and career to truly be of value to Evan was something I loved! She is not a groupie along for the ride, oh far from it, she is a woman on a mission who in the process of doing her job when she happens to fall for the handsome and talented Evan Scott (the real man not the persona the media wants to paint).
I truly believed what Evan felt for Emma was different than anything he has ever felt for anyone, that he wants to share his life with her.
The uggghhhhh moment in this book broke my heart, not because I ever doubted Evan but because it sucks that with fame often comes the loss of friends and danger of trust (nope not saying anything else read the book).
In the end Emma ends up with a job that is more than she ever dreamt of, using her degree and new found love to build a life so perfect for her!
P.S. Emma's puppy plays an adorable role throughout the book; excellent fluffy character addition!