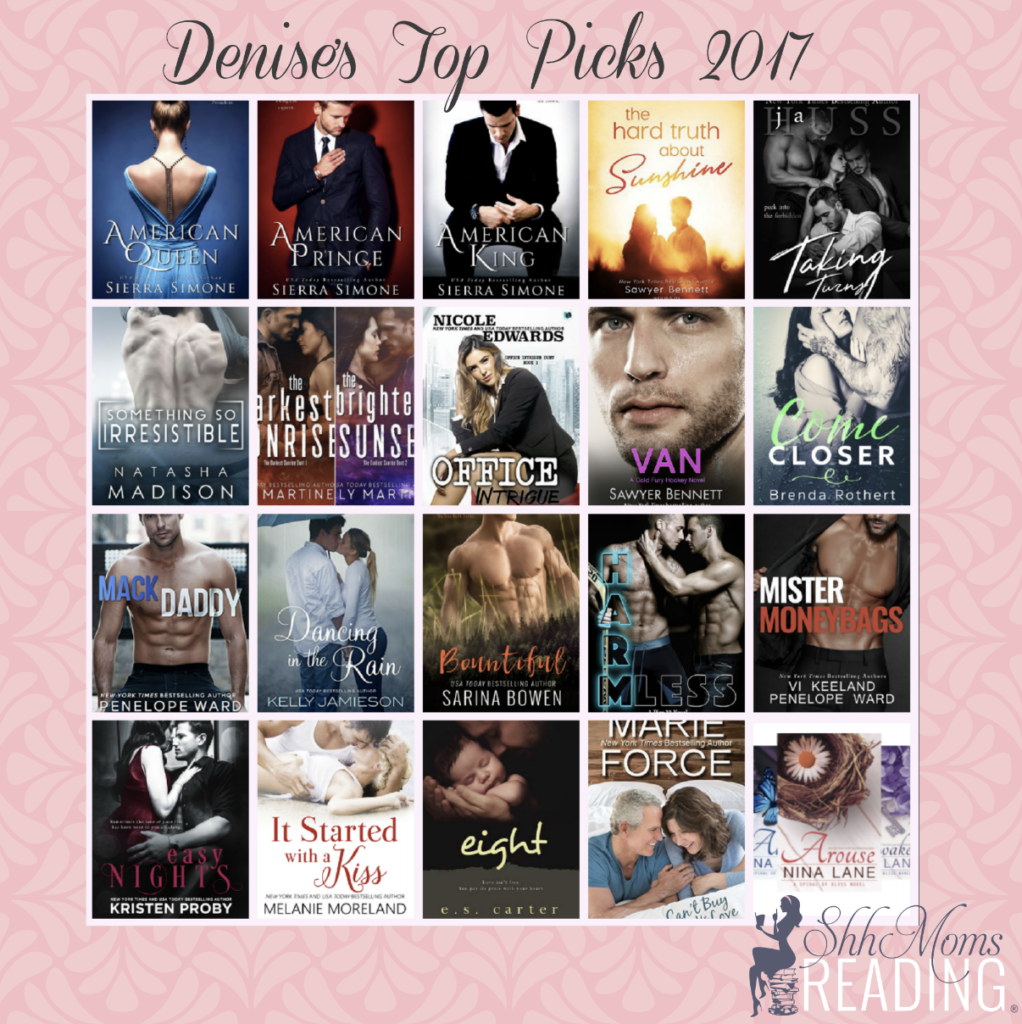 Denise here… 2017 was another great year in books. Here are my favorites of this year!
1. American Queen by Sierra Simone —Yes, while reading this one I really did say Shh…Mom's Reading.
2.
American Prince
by Sierra Simone—Embry be still my heart,; Your love; your sacrifices; I want to know what happens next and I don't want it to end.
3.
American King
by Sierra Simone—I wish I could simply say you must purchase American Queen, American Prince and American King and that would be enough but I know it isn't so I will say absolutely loved this trilogy… ok I had broadline obsession with this trilogy that results in a book hangover that lasted over a week.
4.
The Truth About Sunshine
by Sawyer Bennett—A powerful, poignant look about the human condition; a window inside of the four character's souls. This book written in the male POV will touch you deeply as the author elicits a wide range of emotions from the reader. There is no doubt this story will reside in your heart long after you finish reading it.
5.
Taking Turns
 by J.A. Huss—Twisty bendy, hot read…where you are glued to the book as your heart races because you can't wait to see what comes next and where the story leads!
6.
Something So Irresistible
by Natasha Madison—#MadMax is everything! His character evolution is true testimate to Natasha Madison's talent.
7.
The Darkest Sunrise Duet
(The Darkest Sunrise and The Brightest Sunset) by Aly Martinez—A truly amazing and unique story; this duet is the reason people love to read!
8.
Office Intrigue
by Nicole Edwards—Unconventional, hot, compelling and in the end a book that continues to run though my head long after I put it down.
9.
Van
(Cold Fury) by Sawyer Bennett—
Why was this book so WOW you ask? Well that wow comes in the form of Van's secret—Van's past—his haunting, grabbing your soul, breaking your heart past.
10.
Come Closer
by Brenda Rothert—I
 am struggling to put this one into words, but I want to start with it was truly a powerful read. I know I am going to have to fight to stay on track as this book my heart and dealt with a clause that resides deep in my soul.
11.
Mack Daddy
by Penelope Ward—Mack Daddy is at its core a friends to lovers story…. it's an almost second chance romance that stole my heart!
12.
Dancing in the Rain
by Kelly Jamieson—This book made me feel. It did have me shedding a tear or two and I closed my kindle with a full heart! By the end of this one, I loved Drew for more reason that I can even list!
13.
Bountiful
(True North #4) by Sarina Bowen—It felts truthful and powerful… no fluff two guarded people finding a happy they never expected but would give up for the world!
14.
Harmless
(Pier 70 #4) by Nicole Edwards—HEAT when you open it.. and deep powerful emotions within a few page turns! Ms Edwards at her best.
15.
Mister Moneybags
by Vi Keeland and Penelope Ward—Loved Dex HARD this book contained a wonderfully engaging story and is sooooo much more than the blurb!
16
Easy Nights
by Kristen Proby—Ms. Proby does an outstanding job at allowing the reader to feel why Ben and Van didn't work before and more importantly why now, now is the right time for them.
17.  
It Started with a Kiss
by Melanie Moreland—I think I need to start backward when reviewing It Started with a Kiss…OMG …. the epilogue, a stroke of genius and one that so suits Daniel.
18.
Eight
(Love by Numbers #6) by E.S. Carter—The emotions in EIGHT were so powerful and so raw that there were times due to having experienced grief in my own life that I did have to put the book down—it was layered with that much emotion.
19. 
Can't Buy Me Love
(Butler, Vermont #2) by Marie Force—This book about mature characters was pure romance, Marie Force at her best.
20.
Arouse, Allure, Awaken, Arrive, Adore, and Always
(Spiral of Bliss Series) by Nina Lane—Arouse, Allure, Awaken, Arrive, Adore, and Always ….these beautiful words are the titles of the books that make up the beautiful story of Dean and Oliver West.