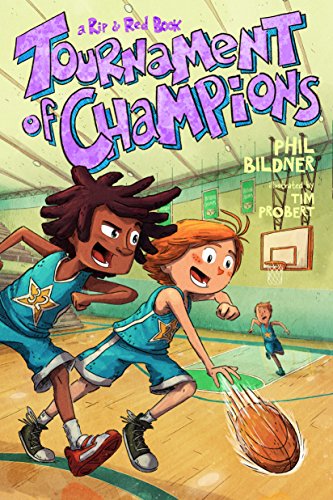 Tournament of Champions

by Phil Bildner
on June 6, 2017
Pages: 256
Buy on Amazon, Buy on B&N, Buy on iTunes, Buy on Kobo
Goodreads

It's spring of their fifth-grade year and Rip and Red have a thrilling opportunity to participate in a weekend basketball tournament with a few other members of Clifton United. While the tournament is only a short bus ride away, both boys will travel outside their comfort zones. Ultra-competitive Rip must play on a team with kids he doesn't like. But he faces an even bigger hurdle when someone from his past returns, someone he hasn't seen in years, someone who just may derail the entire weekend. As for Red, because of his autism spectrum disorder, he's never traveled anywhere without his mother. Will he muster the courage to take the trip? Fortunately for both boys, also on the team is an unlikely addition, a source of inspiration who helps everyone discover the true meaning of the word champion.

Tournament of Champions is the third book in Phil Bildner's Rip and Red series.
Denise here… this post was named by my 10 year old son 

Jeremy

 and contains his ARC review of

Tournament of Champions

by Phil Bildner scheduled for release in June of this year.

You can imagine the big grin on my face when 

Jeremy

 came home from 5th grade earlier this year informing me how cool it was that his teacher receives ARC's of books. He then went on to explain what an ARC was while I tried to hide my eye roll, since as you can imagine I have explained to him more once that Mom is reading an early copy of a book (ARC) so she can put her a review on Shh Moms Reading

™

 close to the book release.

You see, this year 

Jeremy

 has a true educator for ELA (English). This amazing woman works hard to pair her students with books they will love. She has fostered the love of the written word in our son, our son who has read more books this year than in previous years combined. He now has "favorite" authors, series he loves and thrives to find deeper meaning in the books he reads.  This teacher's email updates and her twitter account @KPStars5 keep parents informed and engaged as well. If you have middle schooler or are an educator check out the Twitter feed for some great reads and tips.

My husband and I want to say thank you to this educator for her dedication and passion.

One of 

Jeremy

's favorite authors is Phil Bildner. If your child has not read him, I encourage you to look him up. Mr. Bildner writes wonderful books and does school visits; he visited our son's school recently and the children all had an amazing time!

Huge thank you to Mr. Bildner and his publisher Macmillan Children's Publishing Group as our son was so honored to read and review Tournament of Champions
Tournament of Champions by Phil Bildner Review by 

Jeremy

 Sprung
The book Tournament of Champions by Phil Bildner, is the third book in the Rip and Red series with complex characters. It is a fun realistic fiction series. It gives me a window into a different world.  Red, one of the characters has autism. He has many routines that he follows. And Rip is Red's best friend. The first two books in the series focuses  mostly on school with some basketball tied in however this book highlights Clifton United, Rip and Red's basketball team, as they get ready and play in their first tournament. But this is not the same Clifton United that you know from A Whole New Ballgame and Rookie of The Year. Rip and Red are best friends that go through everything together. Red does not like being touched making it hard for him to play in the basketball games, or staying in hotels. Can the team convince him to play in the tournament? After all he is a free throw shooting machine.
Phil Bildner wrote a descriptive book. I  like how in the important moments he slowed down time. This book teaches lessons of how to not be judgmental and forgiveness. I recommend this book to readers who enjoy sports and realistic characters.
★¸¸.•*¨*•★ Read MORE in this Series ★¸¸.•*¨*•★ 
Book 1 – A Whole New Ballgame
Book 2 – Rookie of the Year