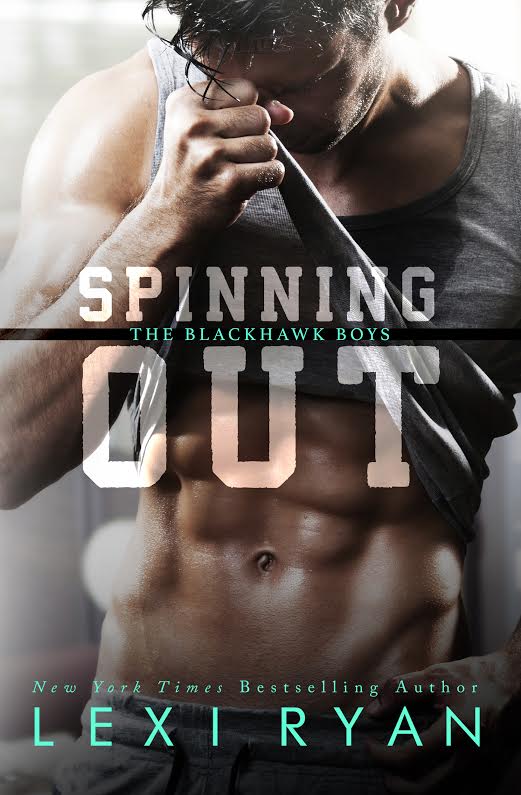 Spinning Out

by Lexi Ryan
on May 3, 2016
Buy on Amazon, Buy on iTunes
Goodreads


Once, the only thing that mattered to me was football—training, playing, and earning my place on the best team at every level. I had it all, and I threw it away with a semester of drugs, alcohol, and pissing off anyone who tried to stop me. Now I'm suspended from the team, on house arrest, and forced to spend six months at home to get my shit together. The cherry on top of my fuckup sundae? Sleeping in the room next to mine is my best friend's girl, Mia Mendez—the only woman I've ever loved and a reminder of everything I regret.

I'm not sure if having Mia so close will be heaven or hell. She's off-limits—and not just because she's working for my dad. Her heart belongs to someone else. But since the accident that killed her brother and changed everything, she walks around like a zombie, shutting out her friends and ignoring her dreams. We're both broken, numb, and stuck in limbo.

Until I break my own rules and touch her.
Until she saves me from my nightmares by climbing into my bed.
Until the only thing I want more than having Mia for myself is to protect her from the truth.

I can't rewrite the past, but I refuse to leave her heart in the hands of fate. For this girl, I'd climb into the sky and rearrange the stars.

THE BLACKHAWK BOYS, an edgy, sexy sports romance series from New York Times bestseller Lexi Ryan. Football. Secrets. Lies. Passion. These boys don't play fair. Which Blackhawk Boy will steal your heart?
Book 1 - SPINNING OUT - Coming May 3rd (Arrow's story)
Book 2 - RUSHING IN - Coming late summer 2016 (Christopher's story)
Book 3 - GOING UNDER - Coming late 2016 (Sebastian's story)
I truly LOVED reading Spinning Out by Lexi Ryan. I have read many books by her but this one stands out among the past few of hers that I have read because of the depth of detail and characterization the author went into to make this story so heartfelt, emotional, and engaging.
What we know from the blurb of Spinning Out is that Arrow Woodison has such hatred for Mia Mendez. Mia is the girlfriend of his best friend and something went down with these characters, something so bad that it has torn apart not only the lives of these characters but has made them a shell of the person that they used to be.
Now I can't tell you what happens as this should be revealed to the reader as you read the book but I had an idea as the story progressed but when it was actually confirmed..just WOW…the guilt that the characters feel, the despair and sadness was so overwhelming and I could feel the devastation emitting from my kindle.
So things I completely loved about this story….
I loved the alternating POV's told in the past and present. The reader will get full insight into the background of these characters, what everyone is thinking and feeling. I thought that this was so well done as it added such depth to the story and made the reader feel as if they were a part of the story and not missing out on any details. I most especially loved how we got to experience how it all began; the little intricate details that went into Arrow and Mia's relationship – everything was detailed to perfection.
I absolutely loved these characters. Both characters so broken and guilt ridden but so worthy of love and living life. Readers will fall in love with these characters, their chemistry, the romance and OMG the angst!
But most of all, I loved the TWIST – OMG THE TWIST that I didn't see coming….I wanted to know the answers, I kept guessing throughout reading but when the questions are finally answered OMG – it was unexpected, surprising, and left me completely awestruck.
Lexi Ryan has created another masterpiece in Spinning Out and readers looking for a book that will keep you on the edge of your seat, that will give you the feels from beginning to end, and that is completely heartbreaking, emotional, and suspenseful should look no further. I look forward to more in this series!