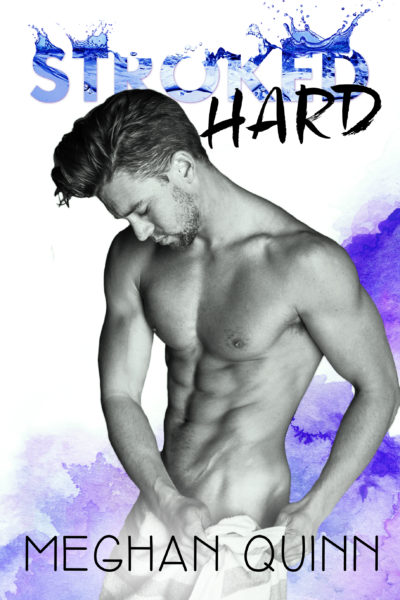 Stroked Hard

by Meghan Quinn
on November 1, 2016
Buy on Amazon, Buy on iTunes, Buy on Kobo
Goodreads


He's hot. Like, stop breathing kind of hot with his killer body, vivid blue eyes, and constant five o'clock shadow.

Did I mention his body?

Watching Hollis Knightly, Olympic diving gold medalist, man-pony specialist—and cocky bastard—stand up on the diving platform in nothing but a small piece of Spandex? Yeah, I'm beguiled.
And easily seduced.

I want to keep things light but he won't leave me alone. And hell, if he's not wearing me thin.

What is supposed to be a simple summer fling with a very hot man, has now morphed into a f*cked-up mess of feelings, attachment, and dare I say it…love. But I don't do relationships. And Hollis Knightly does.
I love the Stroked series! Meghan Quinn writes rom-com like no other and whenever I need something to make me laugh out loud and to keep me smiling and happy throughout my read, I will pick up one of her books. I couldn't wait to get my hands on Stroked Hard, another Olympic athlete to fall in love with in this series. The timeline of Stroked Hard follows the timeline of the other books in this series except that this is Hollis Knightly's story of finding his HEA.
I adore Hollis and his thoughts on love and romance. He is not that kind of guy looking to hook up just for the sake of hooking up, he wants to settle down, wants to find his forever love, and he is a genuinely nice guy at heart. He may come across as a cocky player but he is nothing but complete sweetness.
I understood where Melony was coming from with her past but sometimes I wanted to knock some sense into her. Understandably, she has trust issues and self worth issues when it comes to men because of her issues with her dad but I know that if anyone could break down the wall around her heart that it would be Hollis. To Melony, all men leave and I smiled internally with glee knowing that Hollis with his big heart would be the one to convince her that he will stay no matter what.
Hollis has his work cut out for him if he wants to woo her and his funny antics, hysterical pet names and his need to take her on a date to prove her worth made me love him even more <3
This was not my fave in the series because of some of my issues with Melony but Hollis really stole the show for me. And I completely loved the ending especially the surprise ending for Bellini *omg – evil laugh*
3.5 Noah Calhoun stars! I am looking forward to whatever Meghan writes for us next!


A joke about Reese getting his makeup done is on the tip of my tongue when I turn to see a little brunette with sun-kissed hair, beautifully bronzed skin, and the biggest fucking green eyes I've ever seen standing behind Reese.
Holy shit.
The hottest fucking woman I've ever seen is standing behind him wearing ripped jean shorts, a tight-as-hell white tank top, and teal Converse. Her hair is shoulder length, wavy, and looks so fucking soft that all I want to do is bury my head in it. But what's really causing my pants to grow tighter by the minute are her pink-glossed plump lips. I'm mesmerized by the way the lights bounce off them and I can't fucking help the way my mind wanders, wondering all the ways I can have fun with those lips.
"Are you coming, man?" Reese asks as he walks away.
What? Oh shit.
"Sure. You need me to hold your hand like last time?" I ask, chasing after them. "I don't mind, but when the scary blow dryer comes at you again, I won't be cleaning your inner thighs again from pee dribble. I did it once and it was fucking creepy. Never again."
I don't get a response besides the middle finger directed at me from behind his back.
Reese sits in a black chair, his large body making the poor seat look like a toothpick. He exhales and slouches as Miss Pouty Lips starts to play around with his hair.
Jealousy instantly consumes me. I want to blast my best friend from his seat and take his place just to experience the feel of her pink painted nails running through my hair.
Are her toes painted pink as well? Or does she have them painted a different shade? Fuck, I don't care, either way I'm hell-bent on figuring it out.
"Do you have dryland later today or do you want to grab dinner?" Reese asks, pulling my eyes off her fingers for a second.
"Are you paying?"
"Cheap fuck."
I shrug. "I save my money for more important things, like dates." The girl looks up at me and gives me a courtesy smile. Eh, I'll take it. "Dude, you're so fucking rude."
"What did I do?" Reese asks.
"Uh, you didn't introduce me to your friend." I nod at the girl.
"Because I don't even know her name." Reese looks a little ashamed as he admits his fault.
I come closer and say, "Then you are fucking rude." I hold my hand out. "Hi, I'm Hollis and this is my rude as fuck friend, Reese."
The girl shakes my hand quickly, giving me a brief taste of how her palm would match up with mine. "Melony. Nice to meet you."
"Melony, what a beautiful name."
Reese snorts, right between us. Not in an awkward kind of a way, more in a dude's blowing up my game kind of way.
He sits back in his chair and crosses his arms over his chest. "Oh shit, this is going to be good."
Ignoring him, I keep my attention focused on Melony. "Do you frequent these shoots often?"
Another snort. "That's the best you got?" Reese asks. "Come on, man. You're better than the old 'you come around here often' pick-up line."
He's right, but fuck, I'm kind of thrown off my game a little. It's the glossiness of her lips; they're distracting me. Would that gloss help her slide right along my dick?
Melony ignores Reese's barb and says, "I do all hair and makeup for the show, mostly for Bellini."
Conversation door open.
"Oh shit, and you haven't been burnt by dragon lady's spitting fire yet?"
She flips her hair to the side and grins at me. "Why do you think my hair is short?"
Fuck. I like her. Just like that. The sexy grin, the flip of her soft hair, the mischief in her eyes. Yup, I'm a fucking goner.
But just as soon as the words slip from her mouth, she straightens up and looks at Reese. "Oh crap. I didn't mean that. I'm sorry, Mr. King. Bellini is . . ." she swallows hard and continues, "a nice lady."
Reese waves it off. "She can be a bitch."
It's all he says but I know what he really means. Bellini is the epitome of the devil reincarnated. Unfortunately, given his situation, he has to be politically correct. Frankly I don't know why he's putting himself through this kind of torture. Trials aren't for six months; you would think his publicist could come up with something else for him to do after his last stint at the Olympics. If I were him, I would fire my publicist's ass.
"Reese, can you spare a moment over here for a second?" a squirrely man I know by the name of Jasper asks. Reese excuses himself giving me the perfect opportunity to talk with Melony.
She's washing some makeup brushes, busying herself and staying as far away from me as possible. Too bad for her, I have other plans.
"Where are you from, Melony?" She glances in my direction but turns back to her brushes.
"Here," she says curtly.
"Born and raised a Cali girl, huh? That's—"
"I'm going to stop you right there." She holds her hand up. "I see where this is going."
"And where is this going?" I ask, stepping closer to her.
She gives me the once-over and puts her hand on her hip. "You say some cheesy stuff trying to get to know me. To be polite, I'll entertain you and then you'll ask me out. I'll say no and then you'll take that as a challenge."
I scrunch my nose. "You would say no?" That's kind of a first for me, so I'm interested to hear her answer.
"Not used to the word? Does the Olympic diver always get what he wants?"
"Ah, so you know who I am." I knowingly point at her. "I knew you did from the way you tried to see through my shirt. Don't worry, sweetheart, the abs everyone talks about are real."
She scoffs. "You're pathetic."
Well, that's a first as well.
"Are you trying to make me cry?" I tease.
Rolling her eyes, she steps away, putting unwanted distance between us. "Seriously, not going to happen, Hollis, so pack up your pick-up lines and take them somewhere else."
"Wow." I rest my hip against one of the tables full of beauty shit and cross my arms over my chest. "Flatter yourself much? Who says I was even trying to pick you up? What if I was just trying to be nice? That's kind of embarrassing for you, assuming such a thing."
"Please, Hollis. Nice try. It's not going to happen."
Growing irritated, I ask, "And why not?"
"Because." She points a makeup brush at me. "You're not my type and I have zero interest in pursuing a relationship with you." With that, she fucking wags her pert little ass away from me.
Well, fuck me. That didn't go as planned.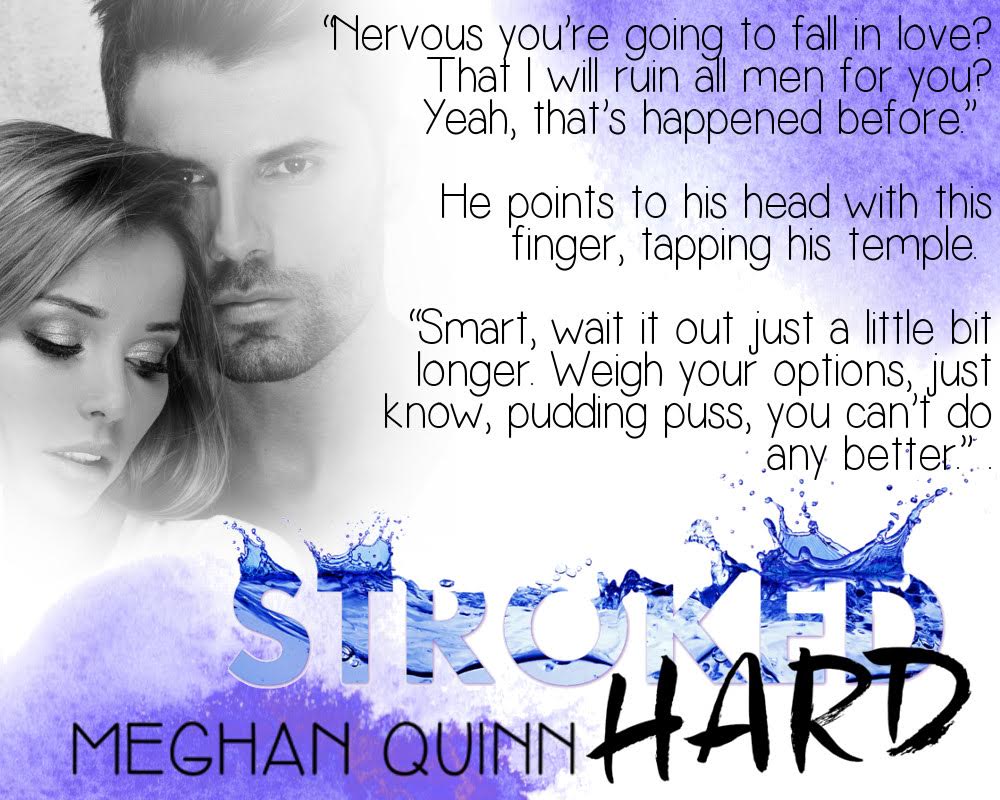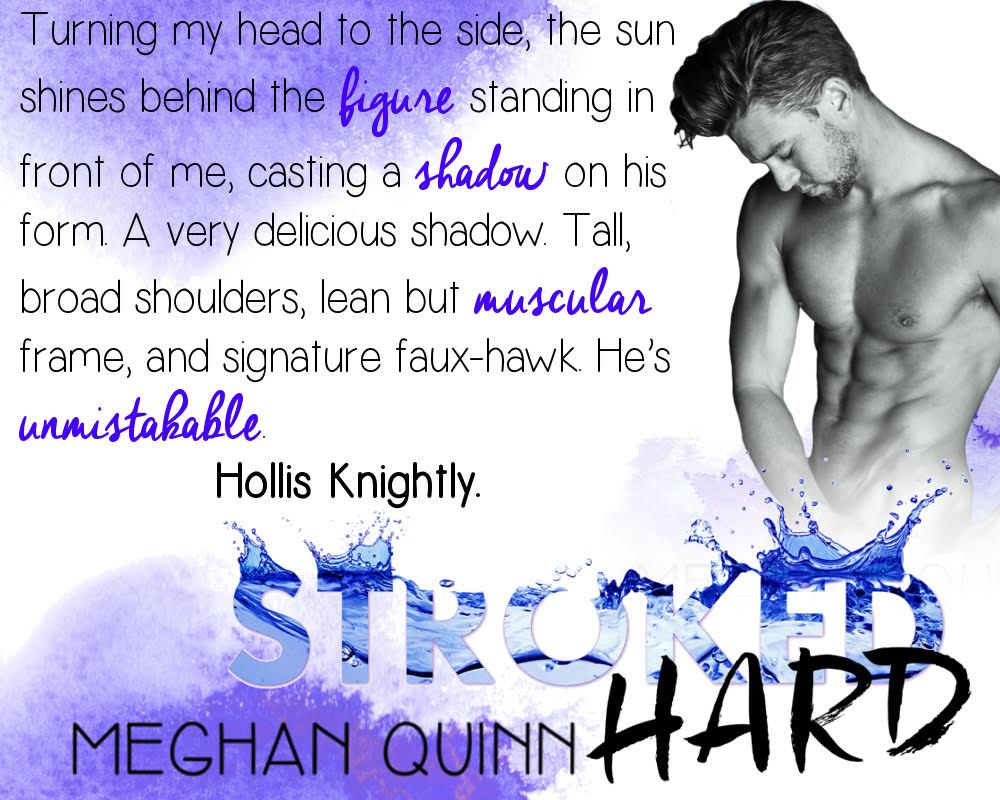 ** Catch up with the Series **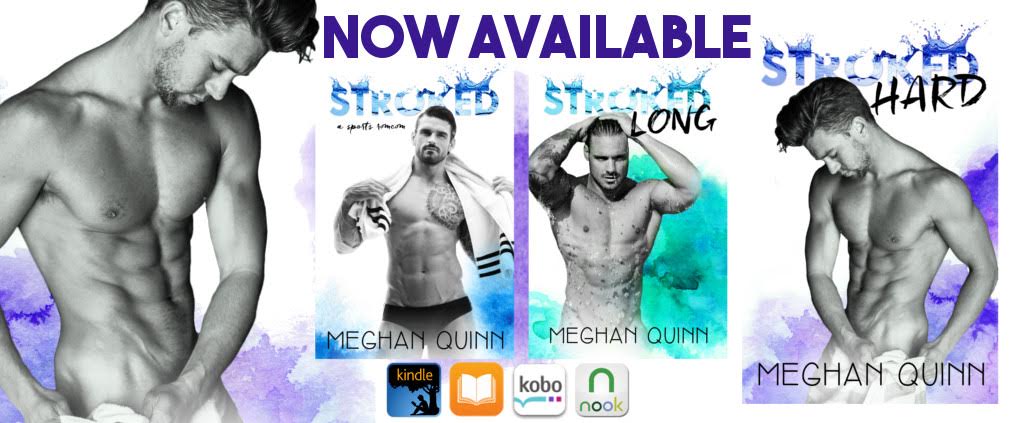 Please note that all books can be read as standalones.
Book 1 – Stroked