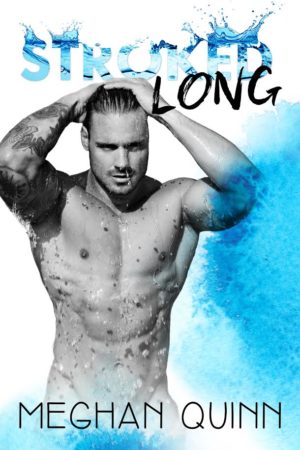 Stroked Long

by Meghan Quinn
on September 20, 2016
Pages: 337
Goodreads

From his dirty-blond hair and breathtaking smile, to the abs from heaven and the irresistible V in his waistline, everything about Bodi Olympic-gold-medalist Banks screams hot piece of @$$.

Yet there's more.

Dark shadows lurk behind his soulful, serious eyes.

I'm enamored. He's captured me.

How can running an art foundation with Bodi Banks turns into a slow-burning, epic romance, even though he tries to push me away at every chance? How can I stay away from a broken, routine-driven man whose soul cries to be forgiven for a crime only he believes he committed? Or is that a lie?
Enjoy a sneak peek into STROKED LONG by Meghan Quinn releasing on September 20th! We are SO excited for you to meet Olympic Gold Medalist Bodi Banks! Bodi is sweet and mysterious and you are going to LOVE HIM!
Make sure to enter the giveaway below for a chance to win an ebook of this book! 

Shifting in place, he grips the bill of his hat and says, "Okay, what would you like?"
Mustering up every ounce of courage I have and praying to Zeus that he doesn't turn me down, I say with gusto, "A kiss."
With widening eyes, he stares down at me, unsure if he heard me right. "A kiss?" His shocked expression puts doubt in my heart. Maybe I was reading him wrong, maybe what I thought was lust flowing between us was just one-sided.
But I've already committed, so I swallow hard and nod. "Yes, a kiss . . . on the lips," I add, in case he was thinking about going all Grandpa on me and puckering up only to drop a kiss on the top of my head. Holy hell, that would be absolutely mortifying.
Unsure, he searches my eyes and I shyly smile, trying to read what he's thinking. All I can see is the inner workings of his brain running a mile a minute through the uneasy look in his face.
Shit, shit, shit.
Too fast. What happened to baby steps, Ruby?
I know, the hand holding happened, the smile, the laughter, the brush of his fingers against my cheek. Yup, they all made me temporarily insane.
My gut is twisting in my stomach, a million bricks settling at the bottom, weighing me down in the most painful of ways. The urge to purge is overwhelming, the need to flee is making my feet fidgety, and absolute mortification takes over, raising my body temperature to uncomfortable levels of heat.
Fuck, I want to cry.
He's not doing anything. He's just staring at me, as if I'm crazy.
I can't take it anymore. I start to take back my request when he steps forward, causing my throat to close up and my palms to turn into monsoon season. His eyes stay trained on mine, his masculine stance overshadowing me.
Oh my God, will he kiss me?
Moving smoothly, his left hand connects with my hip, instantly setting every nerve ending on fire and causing a kaleidoscope of butterflies to flutter endlessly in my stomach. Just the mere touch of his hand on my hipbone causes a dull ache between my legs, reminding me how much I crave this man.
Turning his hat around, his hooded eyes indicate his intentions, and all I can do is stand there, stiff as a board, in awe that this actually might happen.
Slowly, ever so fucking slowly, he runs his hand up my arm, across my collarbone, up the column of my neck, past my cheek, and to my hat where he spins it around as well, only to lower his hand back to my jaw where his fingers skim my skin. His hand then falls to the back of my neck where it entwines with loose strands of hair.
Pulling me closer, I brace my hand on his chest for balance. My legs are wobbly, my knees weak, and there's a great possibility I might collapse from this sensual moment.
Whispering softly, inches from my face, he says, "Are you sure this is what you want?"
I can't help the gulp that travels down my throat as I nod. Oh, yes. Very, very sure.  I have no ability to speak, not with Bodi gripping me tenderly, mere moments away from caressing my lips with his. It's too much. His presence is strong, commanding, dominant.
Flat-out intoxicating.
With one last search of my eyes, he lowers his head, pauses right before our lips touch, almost as if he's waiting for me to stop him. There is no way I would do that. Not being this close, not when my body is humming with intimate need for Bodi.
With one last breath, he presses forward, connecting our mouths in a soft, explorative nature.
Light explodes around me, my stomach bottoms out, and my grip tightens on his shirt as he kisses me.
He's not demanding. He's tentative, delicate, as if it's a whisper of a kiss. While his lips gently explore mine, making soft feather-like movements, his grip on my hip is exactly the opposite. Hard, unforgiving, almost bruising, he holds on to me, deepening his grasp with each movement of his lips. The hand tangling my hair is also demanding, not letting me move, not that I would want to. There is only one place I want to be, and it's in Bodi's arms.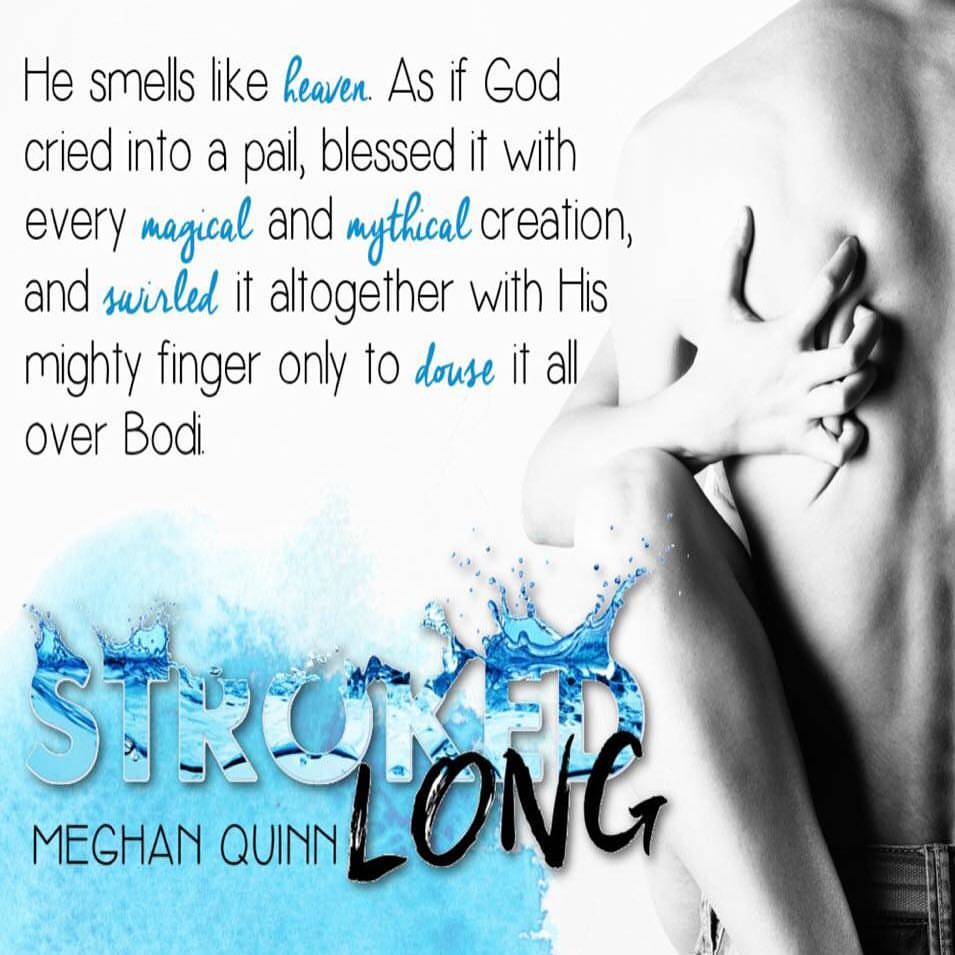 ♥ READ THE SERIES ♥
Book 1 – Stroked
You will want to meet Reese King: Olympic medalist, underwear model, Greek god!

Enter to win an ebook copy of this book (available on all retailer sites!)
All you have to do is share this excerpt and giveaway on your social media account(s) (Facebook, Twitter, Instagram, etc). Sample message below:
Suit up and get wet with #STROKED. Let the swimmer be your next book boyfriend #BodiBanks #ExcerptAndGiveaway @shhmomsreading @AuthorMegQuinn
 Please make sure to post a link to your shares below. ONE winner will be chosen Sunday September 18th. Thank you for sharing!