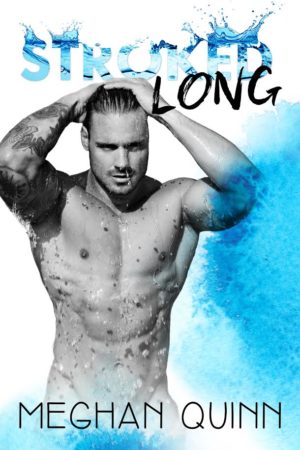 Stroked Long

by Meghan Quinn
on September 20, 2016
Pages: 337
Buy on Amazon, Buy on iTunes, Buy on Kobo
Goodreads


From his dirty-blond hair and breathtaking smile, to the abs from heaven and the irresistible V in his waistline, everything about Bodi Olympic-gold-medalist Banks screams hot piece of @$$.

Yet there's more.

Dark shadows lurk behind his soulful, serious eyes.

I'm enamored. He's captured me.

How can running an art foundation with Bodi Banks turns into a slow-burning, epic romance, even though he tries to push me away at every chance? How can I stay away from a broken, routine-driven man whose soul cries to be forgiven for a crime only he believes he committed? Or is that a lie?

**STROKED LONG can be read as a stand alone.
We're so excited about the release of STROKED LONG by Meghan Quinn! Enjoy a sneak peek into the book below and make sure to enter the giveaway for a chance to win a $25 Gift Card! This book can be read as a standalone!
I absolutely loved book 1 in this series and couldn't wait to read Stroked Long to get to know sweet Bodi Banks, another Olympic swimmer in the Stroked series. Wait until you read the prologue to this book – it will immediately suck you right into this book but also devastate you for Bodi because the events that transpire shape him into the man you will meet in this story.
Yes, Bodi is an Olympic swimmer and in the eyes of the public handsome, athletic, and strong but underneath it all is a man who is awkward, over protective, and nervous to the point that he limits the way he lives life and interacts with people. Bodi's self hatred and guilt made my heart break for him over and over again 🙁
Enter Ruby Hearts our heroine, someone who loves to talk, has a sunny personality, and is the complete and total opposite of Bodi. Ruby is working with Bodi on a fundraising gala project. Yes, she is attracted to Bodi and her interactions with him are hilarious but beyond that, she sees Bodi for who he is underneath and she wants to help him come out of his shell, to make him laugh, to help him live.
While I completely love Meghan Quinn's hilarious wit and humor, I saw a different side of her in this book. Ms. Quinn gave readers deep emotion and a storyline that will make readers feel. You will feel heartbreak for this poor man that on the outside seems to have it all together yet on the inside is so uncomfortable and closed up in his own skin. As the story progresses, to watch Bodi open up was just so inspiring and heartfelt. And let's not forget hot and sexy too! 🙂
Stroked Long can be read as a standalone and while it has Quinn's trademark humor, you will feel the warmth in your heart for a man who truly deserves a happy ending <3

My palms are sweaty; my anxiety is at an all-time high; and I'm so fucking nervous I'm two seconds from retreating. I'm sitting in the classroom next to the one Ruby teaches in, leaning against some cabinets while holding a bouquet of daisies—Eva's idea. One of the girls who works at the club is pulling Ruby out of the classroom right now and what should be a two-minute task seems like an hour as I wait impatiently, running my apology over and over in my head.
Just as I'm about to give up and leave, the door to the classroom opens and Ruby enters, looking confused and asking, "What's going on?" over her shoulder. When she turns toward me, her face falls and her cheeks redden. Shit. She doesn't look happy. Is she embarrassed?
From behind, the girl who helped me shuts the door, giving us complete privacy.
"Hey," I say lamely.
Looking around, Ruby asks, "Um, can I help you with something, Bodi?" She's being professional. I have to hand it to her; she's much stronger than I am.
Extending the flowers out to her like a robot, I say, "I got you flowers."
A little finesse, Bodi. Christ. 
She doesn't move so I realize I have to make a better attempt at this apology. I can't be Robot-Bodi; I need to use my feelings. I sound like Eva.
Stepping forward, I hand her the flowers, and she graciously takes them. What I think is going to warm her up, only confuses her even more. Her brow is furrowing.
Sticking my hands in my pockets, I shift in place and take a deep breath. "I was an ass this morning. I know you heard what I said to Eva, and I want you to know I didn't mean any of it."
"Bodi, you don't need to explain," Ruby cuts in. "We're colleagues, I get it. Last night I overstepped your boundaries and asked too much. I apologize and promise it won't happen again. From now on, we act strictly professional toward one another."
Fuck that and fuck me. This is not the same Ruby I've grown to know. Like. Feel safe around. There isn't a spark in her eye, a smirk to her pouty lips, or energy in her beautiful voice. She's lacking her sparkle, and it's slowly splintering me in half. Because I caused this.
"I don't want that," I say honestly. "You are more than someone I work with, Ruby." I grab the back of my neck, feeling unsure of my footing, and then choose to speak to her honestly. "I'm not good with this kind of stuff, and I really have no experience, but you make me want to try. Maybe we can be friends."
"Friends?" There is a slight twitch of her lips that makes me think my Ruby is coming back.
My Ruby? Shit. 
"Yeah, friends. I, uh . . ." I clear my throat and look her in the eyes. "I like talking to you. And even though you try to get me to eat sweets, I like hanging out with you as well. You make my days fun."
Now there is a full-on, mega-watt smile gracing her beautiful face. The flowers in her hand are now pressed against her chest in a hug, and she's moving toward me.
"I would love to be friends with you, Bodi." Opening her arms, she steps into my space and pulls me into a hug. Her face rests against my chest, and smelling the sweet scent of her shampoo instantly puts me at ease.
Wanting to reciprocate the affection, I wrap my arms around her and pull her small body closer into mine. That's bullshit. I want to hold her because I like holding her. Not because I want to reciprocate. "I'm sorry for being an ass this morning, Ruby. Sometimes I react before stopping to think. And poorly at that. I enjoyed last night."
"It's okay, Bodi. I could see you were under duress."
"You don't have to forgive me that easily." I chuckle. Eva was right. I'm pretty sure Ruby will let you off easy. She's cool like that. Yeah, she is cool like that.