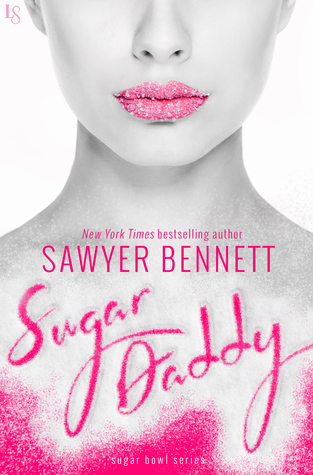 Sugar Daddy

by Sawyer Bennett
on May 24, 2016
Buy on Amazon, Buy on B&N, Buy on iTunes, Buy on Kobo
Goodreads


Seduction has never been so sweet! The New York Times bestselling author of the Cold Fury series—Alex, Garrett, Zack, and Ryker—returns with the first novel in a hot new trilogy.

Sela Halstead lost her innocence in a way that no sixteen-year-old should ever have to endure. She's spent years trying to forget that night even while wondering about the identities of the monsters who brutalized her—until a telltale tattoo flashes across Sela's TV screen. The incriminating ink belongs to Jonathon Townsend, the millionaire founder of The Sugar Bowl, a website that matches rich older men with impressionable young women. Obsessed with revenge, Sela infiltrates Townsend's world, only to come face-to-face with a tantalizing complication: Beckett North, his charismatic business partner.

The tech mastermind behind The Sugar Bowl, Beck always gets what he wants, in business and in bed. And yet, for a man who's done every dirty thing imaginable, there's something about the naïve, fresh-faced Sela that sparks his hottest fantasies. Because with her, it's not just about sex. Beck opens up to her in ways he never has with other girls. So why does he get the feeling that she's hiding something? In a world of pleasure and power, the shocking truth could turn them against each other—or bind them forever.

Note: Sugar Daddy ends on a cliffhanger. Sela and Beck's story continues in Sugar Rush and Sugar Free!
So truth be told, Denise has read a ton of Sawyer Bennett books and Sugar Daddy is my first. That gorgeous cover and the blurb grabbed my attention right away and I HAD to have this book. And all I have to say is WOW! Sugar Daddy was both sexy and addicting and I need more NOW. Denise has said so many wonderful things about this author and I am so happy to add another new author to my must read list 🙂
From the blurb, you will learn that Sela Halstead was raped as a teenager by a group of boys. Since then, she lacks trust in men and has never been in a relationship that has meant anything to her.
Sela sees a familiar tattoo on TV and she is now on a path for revenge against one of the men she thinks raped her. Jonathon Townsend, is the millionaire founder of The Sugar Bowl, a website that matches rich old men to younger women. Sela signs up for this dating website to be able to get close to the enemy to exact her revenge.
But is revenge always that sweet????
Sela didn't expect to meet Jonathan's best friend and business partner Beckett North. A man who is the first to touch a piece of Sela that has been hidden since that fateful night; a man who is able to make her feel for the first time.
"I realized that intimacy is actually something that I could learn to crave with a man like Beckett North and that I've only just begun to discover the true potential inside of myself."
Sela and Beck together are combustible. Beck has never had a relationship with someone from his website before but with Sela, he wants more.
So yes this book ends in a cliffhanger – and just WOW what a cliffhanger. Sugar Daddy is high intensity, passionate and captivating from the very first page to the very last. With Sela's plans for revenge in place, I was sitting at the edge of my seat, biting my nails, wondering what would happen next. Would her plans work? Would someone find out her true story? Can Sela and Beck's relationship ever be something more as feelings develop and as a reader you have such hope that she can finally find love, comfort and trust in a man?
So I can't say how it ended but I can say that I was SO SO SO upset that it did end because I NEED to know more. I just wanted MORE. Thankfully we get two more books in this series..I am completely obsessed!
Completely addicting, mysterious and sexy – yes this was my first Sawyer Bennett book, but I can promise that it will not be my last and I can't wait to find out how this journey will go.
You can read an excerpt from Sugar Daddy HERE.