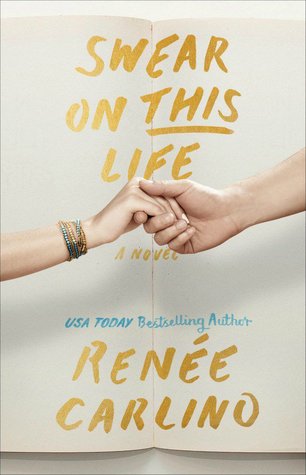 Swear on This Life

by Renée Carlino
on August 9, 2016
Pages: 320
Buy on Amazon, Buy on B&N, Buy on iTunes, Buy on Kobo
Goodreads


When a bestselling debut novel from mysterious author J.Colby becomes the literary event of the year, Emiline reads it reluctantly. As an adjunct writing instructor at UC San Diego with her own stalled literary career and a bumpy long-term relationship, Emiline isn't thrilled to celebrate the accomplishments of a young and gifted writer.

Yet from the very first page, Emiline is entranced by the story of Emerson and Jackson, two childhood best friends who fall in love and dream of a better life beyond the long dirt road that winds through their impoverished town in rural Ohio.

That's because the novel is patterned on Emiline's own dark and desperate childhood, which means that "J. Colby" must be Jase: the best friend and first love she hasn't seen in over a decade. Far from being flattered that he wrote the novel from her perspective, Emiline is furious that he co-opted her painful past and took some dramatic creative liberties with the ending.

The only way she can put her mind at ease is to find and confront "J. Colby," but is she prepared to learn the truth behind the fiction?
Happy Release Day to Renee Carlino and her new book SWEAR ON THIS LIFE! Make sure to enter the giveaway below!
I absolutely love Renee Carlino books and Swear on this Life was no different. I love reading different and I really enjoyed the premise of this book – a second chance romance where the heroine Emiline finds herself reading her childhood story in J.Colby's debut novel; a childhood that included her first real love Jase.
Swear on this Life is written in past and present day POV and the reader is taken on a journey as Emiline relives her childhood – a childhood that was filled with sadness, abuse and poverty, where the one light in her life was her time spent with her best friend Jase. I thought that the alternating POV's were done so well as it really gave me insight into what her life was like as a child but then I also experienced her heart palpitations, anxiety and the intense feelings she had while reading about her past, a heartbreaking past she wanted to forget. It was so well done and really had me gripping my kindle with my heart in my throat.
When Emiline is finally ready to go and meet J. Colby himself, to confront him about his story, my heart was literally beating outside of my chest because knowing that she would come face to face with her past, with the boy she had once loved; my stomach was in knots with how it would all go. You see, Emiline has been in a relationship with her boyfriend Trevor for years; a relationship that hasn't truly fulfilled her heart. Emiline is also struggling professionally as she is not happy being an adjunct writing professor and she is not able to write her own first book. And now besides all of this, this author J. Colby has written HER STORY for the world without her knowledge and permission. Admittedly, I was scared with how their first interaction would go.
So what I loved….well I loved the unique way that this story within a story was done. Renee was brilliantly able to evoke all emotions within me because I fell in love with these characters, I as a reader became these characters and felt all of the sadness and hope. I was truly lost in this story and it was SO hard to put down when real life came in the way. I LOVED Jase's patience and the path he took to get Emiline's attention (oh my heart!).
So how does it end you ask…Does the guy win the girl? Well of course I won't tell you because you have to read the book but I promise that all of the intensity you feel in your heart will all be worth it in the end!
There were some small things within the story that didn't work for me which is why this was a 4 star rather than a 5 star read for me however I have followed this author for quite a while and have watched her really grow as an author. She truly gets better and better with each book. Renee Carlino continues to astound me with her unforgettable and unique stories that touch readers hearts and I am a FOREVER fan.