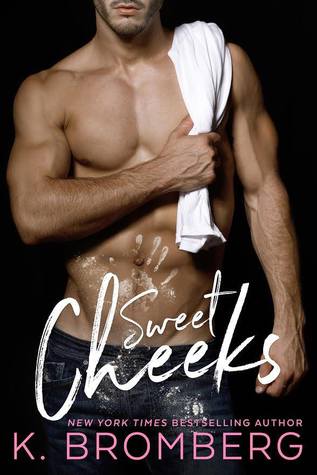 Sweet Cheeks

by K. Bromberg
on November 14, 2016
Buy on Amazon, Buy on B&N, Buy on iTunes, Buy on Kobo
Goodreads


An all new second chance love story by the New York Times Bestselling author of the beloved Driven series.

It all started with the invitation. To my ex-fiance's new wedding.

I should have ignored it. Thrown it away. Set it afire. But I didn't. I replied.

With a plus one.

And then my assistant accidentally mailed it.

Enter Hayes Whitley. Mega-movie star. The man who has captured the hearts of millions. But I gave him mine years ago. He was my first love. He was my everything. Right until he up and left to chase his dreams without so much as a simple goodbye.

When he showed up out of the blue ten years later, I should have known to steer clear of him. I should have rejected his offer to take me to my ex's wedding. I should have never let him kiss me.

But I didn't.

And now we're left wondering if the pieces of the life we once shared still fit together somehow. First loves are hard to forget. The question is, do we want to forget? Or do we risk the chance and see what happens next?
Denise: K Bromberg and a second chance romance … how could can you go wrong reading Sweet Cheeks! That and the use of cupcakes in the story made me love it even more!
Christine: As everyone knows by now, I LOVE second chance romance stories. I really loved everything about Sweet Cheeks. This is my first K. Bromberg book to read and I am a new fan!
Denise: The premise of this book was well laid out and layered in a way that will have the reader believing that the heroine would attend her ex-fiance's new wedding with a plus one.
Christine: OMG I was dying when the response card was sent in and she would have to show up for the wedding – the way they ended things wasn't great and the manner in which she was treated by everyone in her town made me hoping that Saylor would show up with the pride and confidence that she deserved.
Denise: I was glued to my kindle as I bared witness to Saylor and Hayes reconnecting.
Christine: YES! Any books where there is childhood love, then separation then reconnecting again takes my breath away. There is just something so special about seeing your first true love and realizing how much you still feel for that person or how you compared every other relationship to that person – I just LOVED everything about Saylor and Hayes's journey.
Denise: Ms. Bromberg did an amazing job at allowing the reader into each of the lead character's heads as this book is told in dual POV. This book had wonderful banter not just between the two main characters but also with the supporting characters: Saylor and her ex-fiance, Hayers and Saylor's ex-fiance (lol), Saylor and her brother Ryder. The flash backs to Saylor and Hayes growing up together were masterfully woven into this book too.
Christine: I loved being in the character's different perspectives because it truly allows for the reader to understand the depth of what they mean to each other, the guilt and hurt that comes rushing back with losing your first love.
Denise: Hayes is a male lead that will give you the warm and fuzzy, you will understand why he left and will NEVER question that he wants Saylor for his future.
Christine: Oh Hayes *le sigh* I loved his romantic gestures, the bantering – he was simply adorable!
Denise: In the end, the epilogue left my heart full!
Christine: I couldn't agree more – I loved EVERYTHING about this book! Sweet, romantic and completely heartwarming, Sweet Cheeks is a definite fave of 2016. 
Denise: I am so excited that Saylor's brother Ryder will get his story told in Sweet Rivalry 
Christine: Yes – I preordered this one already and I can't wait! I was sad to let these characters go but am very much looking forward to Ryder's story!!!!
Denise: On a personal note: it was so much fun to read this book along with my blog partner Christine. We so rarely get to read the same book and it's even more rare for it to happen at the same time!
Christine: <3