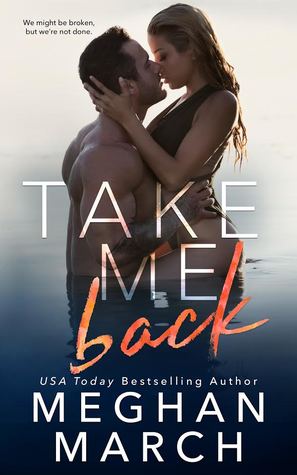 Take Me Back

by Meghan March
on March 20, 2017
Pages: 275
Buy on Amazon, Buy on B&N, Buy on iTunes, Buy on Kobo
Goodreads


We fell in love on a beach, got married in paradise, and I carried her off into the sunset. It should have been perfect, but saying "I do" doesn't guarantee a happily-ever-after.

Two years later, I barely recognize either of us behind the walls we've built.

It's time to bring it full circle. Back to a tropical paradise. Back to find out if we can still make this work.

I'm not willing to give her up, but to save us, I have to risk everything.

Two damaged people.

Countless secrets.

The fight of our lives.

We might be broken, but we're not done.
Completely unexpected and totally addicting! I went into Take Me Back blindly and fell in love with this story and the characters! When the author's publicist tells me that this is one of Meghan's best books yet, there is no way I can resist picking this book up! And I am SO GLAD that I did!!!!
A married couple on the brink of their marriage falling apart take a vacation to find out if their marriage and love still exist, come to learn that so many secrets have kept them apart. I have to say that this tore me up inside because so often people think that separating is the easy way out but I was so glad that Kat and Dane made an attempt to try to find out where things stood between them. Sometimes reminiscing and taking a break from the outside world puts things in perspective of what may have been forgotten for a bit but is not completely gone forever.
Their love so strong that nothing could break them. Add to this suspense, mystery and intrigue and OMG a perfect book!!!
Megan writes compelling stories that suck readers in and Take Me Back is my new favorite. She is Queen of romance with suspense and has given readers another must book that is sure to be a successful hit.
I love Meghan's writing, I love her stories and even though this is a standalone I would love to meet more of the secondary characters because I believe that those boys need HEA's too (hint hint) 😉