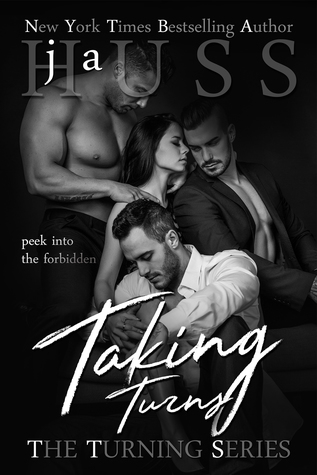 Taking Turns

by J.A. Huss
on January 18, 2017
Buy on Amazon, Buy on B&N, Buy on iTunes, Buy on Kobo
Goodreads


I've never been afraid of the dark...but that doesn't mean I wanted to live in it. And maybe everyone wants what they can't have, but I should've thought it over before I accepted the key and unlocked the door to their forbidden world.

Number One is mostly silent. He watches me with them very carefully. His gaze never wanders. His interest never wanes.

Number Two is mostly gentle. But it's the other side of him I like best. The wild side.

Number Three is mostly reserved. He refuses to cross the line. Even when I beg.

It was carnal, it was sensual, and it was erotic. That's it. That's all it was supposed to be. A trip into the dark. A peek into the forbidden.

I just didn't expect to like them.

*****
I heard the door open and close and said nothing. And the footsteps coming down the hallway towards the bedroom. I even heard him say, "Hey." So softly. "You awake?" Like he didn't want to wake me.

I listened as he stepped into the closet. There was that slick sound a man makes when he pulls his tie through his shirt collar. I heard the unclasping of his watch. The jingle of his belt buckle and the shuffle of his pants as they dropped to the floor.

I even heard his moan as he stood over me. I could feel his shadow from the streetlamp outside like it was heat.

Then the bed creaked, the mattress sank. And his warm, hard body straddled me.
Still, I said nothing.

I just buried my face in the sweet scent of the pillow and closed my eyes, feigning sleep.

"Rochelle," he whispered, leaning over me. His fingertips gently brushed the hair away from my shoulder. His mouth pressed against my skin. "Did you miss me? God, I've missed you. Two weeks is too long. We need to renegotiate."

He nipped my neck. Kissed it. Licked my ear as he positioned himself to begin.

And I said… nothing.

Even though my name is not Rochelle.
That's why I'm here. Tied up and gagged inside the closet. Sitting in the dark as three men on the other side of the door argue about where Rochelle went, why I was in her bed, and what they should do next.

I should be scared but I'm not.

I should be screaming, but I won't.

Because this just feels very, very right.

And the only thing on my mind is… what will happen next?
I have read a few JA Huss books and each time I do, I remember why I love her writing so much, it is captivating and as was the case with this book different!
I am going to try to relay my love of Taking Turns without telling you the story or how it ends or who ends up with who because experiencing the bonds and connections deepening between these characters was so much a part of the enjoyment I found in this book.
I know I know that sounds so odd for a book whose blurb speaks of one woman and three, yes, three men. Ms. Huss masterfully layered emotions into the sex, yes very hot sex in this book, she also with great skill highlights sex for sex and sex laced with emotion and connection.
Taking Turns is a 5 star twisty bendy, hot read…where I was glued to the my kindle because you can't wait to see what comes next and where the story leads!
I connected with each beautifully developed character in this book, each not only had their own personalities but their own motives and desires; the reader does toward the end learn more about one of the men but that part works so well as he becomes pivotal to the end the book (nope not telling read the book).
The author amazingly tells this book in 4 yes, 4 POV's and man did it work in spades! Hearing from the female, Number 1, Number 2 and Number 3 (the blurb doesn't give names so I won't in my review) laced this story with emotions, emotions that often took over the rules, the rules that outlines the terms of a sexy game. A game that becomes complicated with the one thing that could ruin it all, love!
I have read menage before but never anything like this and I think that is part of what I enjoyed so much about this book. It was different and unique and it had me emotionally invested in these characters pretty quickly in and yes amongst hot, sweaty sex!
The women in this book I also connected with, yes there is more than one, yes it works, yes you know the happy at the end is the right one!
Oh and speaking of the end I loved, LOVED the epilogue and now I am so very much looking forward to Turning Back (book 2) in the series!
The one thing I wish I did in hindsight was that I read this a bit slower so that I could re-live this story again and again and savor every moment!

I am panting with want. I am swimming in want. I will die of the longing. "Yes," I say.
"Take off my jacket."
I open my eyes, draw in a deep breath, and start undressing him. Underneath my pussy I can feel his cock growing through his pants.
Once I get the suit coat off, he says, "Loosen my tie. Take it off me. Put it around your head, and make it into a blindfold." His finger slips deeper into my asshole as he says this, making me squirm and gasp. "Do it," he gently urges. 
I loosen the tie, slip it over his neck, and place it over my head, pulling it tight again when it's over my eyes.
"That's better," Quin says. "Now take off my shirt."
My fingers reach for his chest, feel for the buttons. They slid up to the top one and begin to unbutton. When I get to the waistband of his trousers, I pull the shirt out. I caress the soft hair that leads down to his hard cock.
"Don't touch it yet, Marcella Walcott. Not until I say so. Understand?"
I nod. "Yes." I unbutton the last two buttons and then take a deep breath as I slip the shirt down his shoulders. I can't stop myself from feeling his muscles. I have a thing for shoulders and even though I'm blind, I can see them perfectly in my mind's eye, just from the light flicker of contact I have through my fingertips.
"Sit up," Quin says. "Unzip my pants, take out my cock and my balls, and then put me inside you."