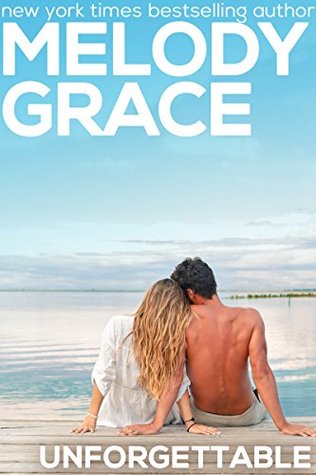 Unforgettable

by Melody Grace
on June 8, 2015
Pages: 266
Buy on Amazon
Goodreads

"My dearest grand-daughter, Listen to your heart, believe in a brighter tomorrow, and always, always leave room for dessert."

Noelle Olsen has never been impulsive, but when she inherits the old family bed and breakfast, she surprises everyone by quitting her corporate job and starting over in Beachwood Bay: the sleepy coastal town that's home to old memories, new friends — and the one man she never saw coming.

Ash Callahan isn't looking for love. He's built his real-estate empire out of discipline, control, and cool logic — so why does one kiss from a carefree stranger send his world tilting off its axis?

Their connection is undeniable; the chemistry, impossible to ignore. But just as Noelle considers opening her heart again, the pair find themselves facing off over the town's future — and their own. With so much as stake, will they find a way to bridge the divide, and build a love that's unforgettable?
For fans of the Beachwood Bay series, twelve books, a dozen happy-ever-afters, and it all ends with UNFORGETTABLE….This is the final title in Melody Grace's series. Unmasked is the surprise prequel novella that released June 1st (teaser below) and enjoy an exclusive look at Unforgettable…Enjoy!
"One night can change everything …"
UNMASKED BY MELODY GRACE IS AVAILABLE NOW AND FREE!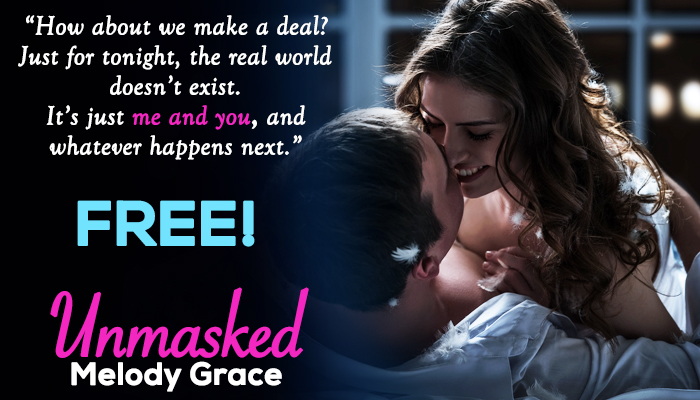 Enjoy a sneak peek into Unforgettable releasing NEXT WEEK!

"The bread!" I exclaim.
Ash looks startled.
"For breakfast tomorrow. I have to make the dough, so it can raise overnight. It won't take me a minute," I apologize, hurrying through to the kitchen. Ash follows, and leans against the counter, watching as I assemble the flour, yeast, and other ingredients.
"You don't need a recipe?" he asks, as I get to work.
I smile. "This one, I know by heart. Nana would be up baking every morning. She was a little more prepared than me," I add, rueful. I quickly measure out flour and water, and sift into the ancient stand mixer that takes up half the countertop. I set the machine to mix, and soon the dough takes shape in sticky ribbons; while it works its magic, I collect another assortment of ingredients: walnuts and cranberries, a bar of white chocolate, and some savory things too.
For a moment, I'm totally absorbed in the task at hand. I tip the dough from the mixer into a pool of flour, and work it by hand until it's light and springy. I'm just dividing it between the pans when I feel Ash move behind me. He brushes my hair to one side; then comes the hot kiss of his lips on the back of my neck.
I shiver and sink back against him. His mouth trails lightly over the hollow of my neck, whisper soft.
My body crackles to life, every nerve and sense lighting up like the night sky on the Fourth of July. My hands still, I'm too lost to focus, but Ash's voice comes, a low whisper in my ear.
"Don't stop," he murmurs, trailing his fingertips lightly down my arms, making my skin prickle sharply. "The sooner you're done here, the sooner I can take you to bed."
He bites down softly on my earlobe, making me moan as his hands smooth around to the front of my body. He strokes softly across my breasts, making my nipples stiffen beneath my thin cotton tank. Slow and sure, his hands don't stop, they just caress me, insistent, swooping down across my stomach and along the waistband of my cutoffs until my legs give way and I sink back, resting my head against his chest.
My body is on fire. Every touch, every whisper. I couldn't focus to save my life, all I can do is feel the waves of sensation roll across my skin, intoxicating.
"Ash…" I whisper, falling into the blissful haze.
He strokes back up, teasing and toying with my nipples through the fabric until I'm gasping for more.
"God, you're beautiful." Ash's voice is thick with lust. "You don't know what you do to me, Noelle."
I turn then, looping my arms up around his neck and pulling his mouth down to cover mine. I kiss him hungrily, desperately, already wound so tight I could break. He pushes me back against the counter, biting down gently on my lower lip, and then sliding his tongue deep into my mouth to claim me for good.
I surrender willingly, parting my lips wider to savor the smoky sweet taste of him, our tongues locked in an achingly sensual dance.
It's not enough, nothing could ever be enough to sate this need, clawing low in my belly and racing quicksilver in my veins. I arch up, clutching at his shirt, trying to drag him even closer. I want him, want every inch of him molded to me, until there's nothing between us anymore.
♥READ THE SERIES♥
Book .5 – Untouched
Book 1 – Unbroken
Book 1.5 – Untamed Hearts
Book 2 – Unafraid
Book 2.5 – Unwrapped
Book 3 – Unconditional
Book 3.5 – Unrequited
Book 4 – Uninhibited
Book 5 – Unstoppable
Book 6 – Unexpectedly Yours
Book 7 – Unwritten
Book 7.5 – Unmasked
Book 8 – Unforgettable 

Enter to win a $10 Amazon Gift Card and an ebook copy of Unforgettable by Melody Grace by liking this post and commenting below. AND if you would like, spread the word and share this post with your friends! Thanks! Winner to be picked Friday June 5th at 1pm EST.