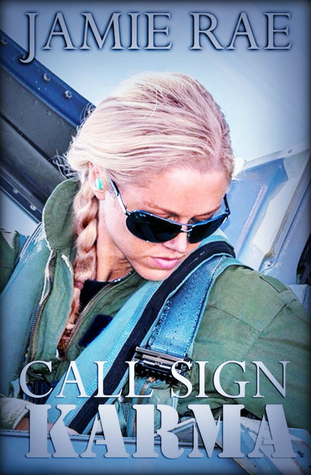 Call Sign Karma

by Jamie Rae
on January 5, 2015
Pages: 331
Buy on Amazon
Goodreads

Love in the no-fly zone…

Distraught over the loss of her brother in a fighter jet accident, Tinklee Pinkerton decides to follow in his footsteps and prove the tragedy wasn't his fault. But when she's chosen as the first woman to fly the Air Force's F-35, her plan for a life that revolves around work is thrown off course by a handsome, mysterious stranger…

Thanks to Locke's seductive British accent, sweet nature, and one too many beers, Tink is soon inspired to throw caution to the wind and herself into his arms. She thinks maybe love can heal after all—until she discovers Locke is her superior officer. Tink has no problem risking her life in the air, but with everything on the line, is she brave enough to risk her heart on the ground?
We can't wait to read this book by Jamie Rae – CALL SIGN KARMA! We have heard good things – make sure to add it to your TBR! Enter the giveaway below for a chance to win a signed paperback of this book good luck!
Jamie Rae sat down with us to answer some questions about her book and about herself – see what she has to say 🙂 
Also enjoy a sneak peek below – we have an EXCLUSIVE excerpt AND the trailer too! Enjoy!
What inspired you to write this book? How is it a book only you could write?

They say to write what you know and as an Air Force veteran and military spouse, I know the military. I also love and respect strong woman, especially women in the military and in jobs that are primarily male dominated.  As for why I was best equipped to write this story…Tink has a lot of my own voice––my inside voice, her outside voice. J Also, I'm married to a fighter pilot so it was awesome to able to consult with him to make sure the flying parts of the story were authentic. A lot of the flying scenarios in the book are loosely based off of real experiences.

What do you love most about your book?

I love the strength and vulnerability of my main character. I think she is very real. She's a total badass chick who is willing to take chances and stand up for what she believes in. She's also just a girl, who has unexpectedly fallen in love while dealing with the heartache of losing her brother.

Who was your favorite character to write? Why?

I spent so much time with Tink, that of course, I love her.  So I'll disqualify her from the running and say Ash. I really had fun writing his character. He has a boyish charm, quick-wit and he's an all-around stand-up guy. It also doesn't hurt that he's super hot and Special Forces.

Tell us something we may not know about you.

I have a fear of flying. I'd rather drive for days then ride on an airplane. I stress for weeks before the flight and my heart races the entire time. I suck it up because I love to travel, but I'm much more comfortable with my feet planted on the ground.

Three quick knocks rapped on the back door.
As I ran for my weapon, I caught a glimpse of the man standing on the deck. He peered through the glass of the French doors. I swung open the closet, pulled out the Louisville slugger, and limped toward him. I may have played soccer instead of Little League, but I still knew how to swing a bat.
"Go away. I called 911," I shouted.
I flipped on the outside deck light so I could get a better look at the man. I'm guessing the detectives, FBI, and office of Homeland Security would need a description.
He was six foot, possibly two, with short, wavy blond hair and lightning blue eyes that were squinted from the porch light. He held a handkerchief to his nose and wore a light blue, bloodstained, linen shirt that was partially unbuttoned revealing his ripped abs. I hesitated until I remembered I was in danger.
He had on khaki shorts, flip-flops, and a tattoo on his ankle. I scanned back to the top of his body. Muscular, tan, tall, and wow, those electrifying eyes. Holy hell, this guy was freaking hot. He was going to have a really good mug shot. If only we had met under different circumstances, I might actually offer him a beer.
A soft smile tugged at his lip as he dangled my smartphone in his hand. My wet, sand-covered smartphone.
"Son of a bitch," I moaned as I remembered that it was in my back pocket when I fell into the ocean. I had to get it into a bag of rice and fast. It had my music, my schedules, and all my passwords. I was lucky if I remembered my own number, let alone everyone else's.
"Leave it on the deck. And go."
I tightened my grip on the bat. Mr. Tall, blond, and handsome removed the handkerchief from his nose.
A tiny flutter tickled in my chest. My head tipped slightly to the side. He didn't look threatening. Minus the blood, lumps and cuts, he looked like he just stepped off the front cover of GQ.
"Sorry, Miss Nutter, but do you think I could trouble you for an icepack?"
"No," I replied.
"Please?"
He sounded and looked like a real life Prince Charming. The only thing missing was his white horse. Maybe the Karma gods had sent a peace offering? I shook my head. No. My house was built of stone and there was no way I was letting a freaking wolf in, no matter how smoking hot he was.
I needed to protect myself.
But why did I need protection? I looked at the bloodstain drying on his shirt. If anything, he needed protection from me.
As if he had read my mind, he shook his head and laughed. He sat my phone on the bench, raised his hand in the air in a non-threatening manner and turned to walk away. Where was he going?
I dove forward and gripped the door handle ready to pull it open, but I stopped as my father's stern, no-nonsense voice boomed in the back of my head––"Don't ever let strange men into the house."
But when in my life would I meet another crazy beautiful man with a British accent that twisted my lady parts into a knot? His hand rested on the railing as he was about to walk down the steps and out of my life forever. I cursed under my breath and prayed that I wouldn't wind up on the news.
"Wait," I called to him as I swung open the door.


♥BUY THE BOOK♥
Amazon:  http://amzn.to/1CdTOV4
B&N –  http://bit.ly/1BvGf4W
iTunes:   http://bit.ly/1F3djqo
Kobo:   http://bit.ly/14m1I5E